Dear Friends and Readers,
This month's newsletter announces the release of Karen Dionne's latest mystery Wicked Sister. We are planning a virtual event with Karen on Facebook and Zoom this Tuesday night: August 10, produced with our co-sponsors Michigan By The Bottle Tasting Room. Dionne will be signing copies privately at the store before the event. Please call ahead if interested.
Another batch of interesting small press book reviews by Tom Bowden has been posted, along with a selection of our favorite art books which includes Gordon Parks x Muhammad Ali among others. A few longer reviews take a closer look at; Rated SavX: a book on UK underground artist and a founder of the punk aesthetic Savage Pencil, and a couple wonderful mystery-like biographies on artists Dora Maar and Frida Kahlo.
Local author Lynn Crawford has just released Paula Regossy, an experimental 'secret agent' mystery novel with excursions into the Detroit art scene. Sections of the book are hilarious! And if you find yourself with any extra or unwanted face masks to spare, we found Song and Spirit, a local organization helping people in need stay safe.
If you're not receiving our newsletters, please consider subscribing. You'll receive store updates, reading recommendations, and other book related tidbits. We value your privacy and never share or sell information with third parties. To subscribe, simply enter your email at the Book Beat Homepage.
We are now scheduling appointments for private (30 minute) in-store visits between the hours of 5 PM – 7 PM, Mon.-Sat.. If interested, please call us at (248) 968-1190 or email us your name, phone number, and preferred time to: BookBeatOrders@gmail.com And if you're nearby the store (and without an appointment) during 'after-hours' consider calling us and we'll try and accommodate you. Properly worn masks and hand sanitizing at the door are required. Curbside pickup and $3 mail orders will continue.
If conditions improve, our goal is to open daily around mid-August with a limit of 4-5 people inside the store at any time. We're sorry to be going slowly, but the safety of everyone is our top priority. Thank you for your support and love of reading. Enjoy the summer and stay safe!
Love & Peace,
Cary, Colleen and the Book Beat staff
---
Book-news Tidbits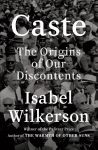 Isabel Wilkerson's Caste (author of The Warmth of Other Suns) has become our new #1 bestseller this week.
"Pulitzer Prize-winning author Isabel Wilkerson says racism is an insufficient term for the systemic oppression of Black people in America. Instead, she prefers to refer to America as having a "caste" system.
Wilkerson describes caste an artificial hierarchy that helps determine standing and respect, assumptions of beauty and competence, and even who gets benefit of the doubt and access to resources.
"Caste focuses in on the infrastructure of our divisions and the rankings, whereas race is the metric that's used to determine one's place in that," she says. — read more or listen to Wilkerson's interview at NPR.org.
---
The Booker Prize long list was announced last week with a number of debut authors and surprises. The entire list can be seen at the Booker Prize website. Most of the nominated titles are in stock at Book Beat and can also be seen at our online Bookshop.org Booker Prize catalog.
---
Bill Gates reads an interesting variety of books and likes sharing his reading lists. Find out his suggestions for summer reading at Gates Notes.
---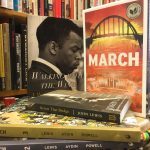 "Do not get lost in a sea of despair. Be hopeful, be optimistic. Our struggle is not the struggle of a day, a week, a month, or a year, it is the struggle of a lifetime. Never, ever be afraid to make some noise and get in good trouble, necessary trouble." — John R. Lewis
"Young people deserve a future in which they can conceive of their own participation, and this requires a past that, however long the shadow of its achievements, begins at their scale. At their best, graphic novels can grant such permission to aspire." —New York Times, review of March
We've just restocked copies of the highly recommended three volume National Book Award winning graphic novel March by John R. Lewis. Volumes can be bought singly or as a boxed set.
Walking with the Wind, the autobiography of John R. Lewis is also available and selling well.
"What remains most impressive in all of this is the consistent force of character that Lewis has demonstrated, from his experience of being responsible for the chickens in his childhood through being the head of S.N.C.C. to his current responsibilities as a Democratic Congressman from Georgia. Early on, he defined commitment as "patience and persistence." Indeed, a major subtheme of this book is Lewis's contrasting of himself — "not a handsome guy . . . not flamboyant . . . short and stocky . . . never been the kind of guy who draws attention" — with "people who are like fireworks, popping off right and left with lots of sound and sizzle. . . . Where will they be at the end? . . . Firecrackers go off in a flash, then leave nothing but ashes. I prefer a pilot light — the flame is nothing flashy, but once it is lit, it doesn't go out. It burns steadily, and it burns forever." —Keeping Faith New York Times review
In the video below, former President Barak Obama delivers an astounding eulogy for John R. Lewis. Every American should watch and listen.

---
QUICK LINKS & WAYS TO SUPPORT BOOK BEAT:
Order Direct: for books or questions, call us at (248) 968-1190 or email BookBeatOrders@gmail.com We offer safe curbside pickup and a flat rate mailing fee of $3 for any sized package mailed anywhere in the USA.
Our store central with News & Events and all things Book Beat
Order books safely at Bookshop.org — a percentage of your sales will help our store.
Order our out-of-print and rare books at Biblio.com.
A new website for unique collector's items, featuring signed, rare and out-of-print books, photos, art and objects. Stay tuned… we will be adding more soon.
For fans of audio books; most titles are $14.99 and your purchases will support Book Beat.
Subscribe to our newsletter at: http://thebookbeat.com/, follow and review us at: Facebook Instagram, Google and Twitter.