A Shop History in Bookmarks


The Book Beat began in 1982 to serve the metro-Detroit area with a shop specialized in quality lit, art, photography and children's books. The store is located at 26010 Greenfield, in Oak Park, MI. 48237, phone: 248-968-1190, fax: 248-968-3102. It began with Cary Loren & Colleen Kammer who wanted to provide a friendly creative bookstore in their community . The Book Beat has been host to many author signings, art and photography shows, and book related events across the metro-Detroit area. We have partnered with libraries, public schools, private schools, colleges, reading groups, and publishers to support and bring authors and live book events to our area.
The bear and reading child bookmark was designed by artist, author and dollmaker Tracy Gallup, illustrator of two upcoming books in the Fall of 2006.

A special bookmark to announce the 20th anniversary reunion of Destroy All Monsters, publication of the band's history, Geisha This, performance at Magic Bag and art exhibition at Book Beat in 1995.

A special bookmark to note the appearance and book signing held at Book Beat with author & illustrator Michael Hague.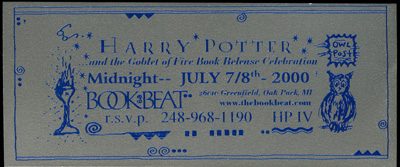 A bookmark to commemorate the midnight release of Harry Potter & the Goblet of Fire in 2000.

(above) A commemorative bookmark for a booksigning event with Anne Rice for her title The Servant of Bones in 1996.

More links to Book Beat history & events at Bookstore History Links More coming soon!