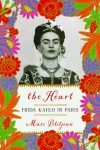 The Heart: Frida Kahlo in Paris by Marc Petitjean (Author), and Adriana Hunter (Translator)
This intimate, biographical history is told by the son of Michel Petitjean, a young gallery assistant who had a brief affair with Frida Kahlo in 1939. The affair happening soon after Kahlo learned of her husband Diego Rivera's infidelity and his plan for a divorce. Kahlo's painting Memory, the Heart [1937], was created during this time of betrayal and devastation, and is itself a dynamic character/object within the book. The Heart recreates Kahlo's brief affair amid the beauty of Paris, among the surrealist group, and an impending exhibition of her art, brought about by a suggestion of Andrè Breton.
Kahlo's will power, ferocity, pro-Mexican activism, sexuality, anti-French humor, and feminist nature are examined, giving her space and complexity. Alongside this dynamic portrait of Kahlo, the author reconstructs a father he barely knew, and who kept the affair secret his entire life.
Frida gifted her painful self-portrait masterwork: Memory,The Heart to Petitjean, her young lover — and the painting becomes the axis of the novel, mixing passions, art, and a reconstructed history.
Seeing this painting, a representation of pain, everyday in the hallway of his childhood home had an unnerving effect on the author. "The image disturbed me for a long time," writes Petitjean, "with its stark depiction of a huge, bleeding heart lying on the sand, and a woman with no hands who is pierced by a metal rod and whose eyes seemed to stare at me. I felt a sort of vertigo if I looked at it too long…"
After their brief affair, Michael Petitjean had written 24 passionate letters to Kahlo back in Mexico City, which she saved but went unanswered. The letters were discovered in Casa Azul after being locked away by Diego Rivera immediately following Kahlo's death. Rivera specified in his will, that the room remain locked until fifty years after his own death in 1957. The book Frida Kahlo: Making Herself Up, describes this archive of personal items, clothing, body casts, diaries, and letters.
Marc Petitjean was made aware of the letters soon after they were found in 2007, sparking his journey on this unusual and touching portrait of Frida and his father.
"[Petitjean] captures the pop and fizz of artistic circles in Paris during the interwar years…The Heart is a distinctively intimate undertaking, which is no small feat considering its well-known cast of characters…an unconventional and deeply personal biography." —Washington Post
---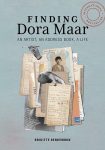 Finding Dora Maar: An Artist, an Address Book, a Life
Brigitte Benkemoun (Author) and Jody Gladding (Translator)
This investigative biography of Parisian photographer, artist and model Dora Maar, uses Maar's own personal address book (found on an ebay auction) to reconstruct her activities and interactions with the artistic luminaries of surrealism in the twenties and thirties.
The ingenious use of her address book becomes a doorway into the bars, cafès, and living quarters of Maar's Paris, mapping out a biography that is part mystery and part study of her intellect, psychology and interconnected relationships. This genre-bending book was a bestseller in France and spotlights the complex nature of Dora Maar the artist.
As Picasso's young mistress and model, her relationship with the great master defined and overshadowed her life. Until recently, Maar's artwork has been difficult to view. Recent publications Dora Maar: Paris in the Time of Man Ray, Jean Cocteau, and Picasso (2017) and the catalog for a Pompidou retrospective Dora Maar (2019), helps to correct these oversights and establish her as an important muse and artist of the avant-garde.
See: Seven Things to Know about Dora Maar. — Tate Modern
"The beautiful exhibition that opened at the Centre Pompidou on June 5 [2019] is the first major retrospective of Dora Maar's work, and includes more than 400 works of art. Curated by Damatrice Amao and Karolina Ziebinska-Lewandowska, it documents Maar's creative process, from her early years as a fashion photographer to her social photography, from her surrealist experimentations to her life-changing encounter with Picasso, through to her paintings, still lifes and landscapes dating from the 1940s and 1950s." —TMR (The Modernist Review)

---