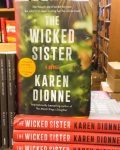 Book Beat is pleased to partner with #1 bestselling mystery and suspense author Karen Dionne and Michigan by the Bottle Tasting Room for a special live Virtual Book & Bottle event at 7:00-8:30 PM on Monday, August 10th.
Karen Dionne will be presenting her latest book Wicked Sister via a live ZOOM EVENT for a $10 fee (redeemable as a gift-certificate at Michigan By The Bottle Tasting Room). The event will also be streamed live on Facebook for free.
Books are available now at Book Beat by calling (248)-968-1190 or emailing: BookBeatOrders@gmail.com Books can be inscribed and personalized if purchased BEFORE Saturday Aug. 7, at 5 PM. In addition, books bought ahead of the event will be discounted 10% for curbside pickup. Books can also be mailed anywhere within the USA for a $3. shipping fee. During the live event we will have staff available to take phone orders. Thank you for supporting Karen Dionne, Michigan By the Bottle & Book Beat. Shop & Read Local!
Two generations of sisters. An unthinkable crime. A secret that could ruin a family.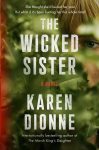 For a decade and a half, Rachel Cunningham has chosen to lock herself away in a psychiatric facility, tortured by gaps in her memory and the certainty that she is responsible for her parents' deaths. But when she learns new details about their murders, Rachel returns to the place where she once felt safest in a quest for answers: her family's sprawling log cabin in the remote forests of Michigan's Upper Peninsula.
As Rachel begins to uncover what really happened on the day her parents were murdered, she learns that home can be a place of unspeakable evil, and that the bond she shares with her sister might be the most poisonous of all.
"A devastating, magic realism–dusted psychological thriller . . . Dionne paints a haunting portrait of a family hurtling toward the tragic destiny they can foresee but are powerless to stop." –Publishers Weekly, starred review
"Dionne knocks out a psychological thriller with a low-grade yet ever-present sense of danger. Fans of Paul Doiron and environmental thrillers may like this book." –Library Journal
"A gut-clenching wilderness thriller." –Minneapolis Star Tribune
"Horror movie meets mystery in Dionne's second psychological thriller…[THE WICKED SISTER] is strong on the psychology of guilt and great at creating the spooky, haunted-house landscape." –Booklist
"The Wicked Sister is massively thrilling and altogether unputdownable. Dionne is proving to be one of the finest suspense writers working today." –Karin Slaughter, author of 20 International Bestselling Books
"In Karen Dionne's wilderness, humans are the most dangerous animals of all. THE WICKED SISTER is enthralling and terrifying, and I couldn't put it down. A terrific novel." —Joseph Finder, New York Times bestselling author of HOUSE ON FIRE
"Karen Dionne is back with a dark, atmospheric and chilling tale set in the deep woods of Michigan's Upper Peninsula. Beautifully written, THE WICKED SISTER moves seamlessly between past and present, unraveling the truth behind a family tragedy. From her insightful depiction of both the grace and bitter cruelty of humanity, to her command of the plot and pacing, Dionne's brilliance shines through on every single page. Prepare to be blown away!" —Wendy Walker, international bestselling author of THE NIGHT BEFORE
"A terrifying thrill-ride of psychological suspense. Karen Dionne is wickedly good at deception, deceit and misdirection and THE WICKED SISTER is seductively compelling. You will not stop reading." — Robert Dugoni, New York Times bestselling author of MY SISTER'S GRAVE
"Chilling and captivating, The Wicked Sister explores the complex layers of family bonds, guilt, and redemption. A beautifully written, haunting psychological thriller."—Megan Miranda, New York Times bestselling author of ALL THE MISSING GIRLS
"Fresh, truly original, and utterly unpredictable, Karen Dionne is at the top of her game with the gorgeously told THE WICKED SISTER. I devoured this book in one sitting! It's hard to balance complex and heartrending familial relationships with pulse-pounding suspense, but somehow this book does exactly that. The icing on the cake is a cat and mouse chase in an eerie and beautiful mountain lodge. Propulsive and terrifying to the very shocking end!" —Kate Moretti, New York Times bestselling author of THE VANISHING YEAR and IN HER BONES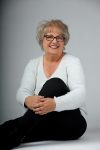 Karen Dionne is the USA Today and #1 international bestselling author of The Marsh King's Daughter, a psychological suspense novel set in Michigan's Upper Peninsula wilderness published by G.P. Putnam's Sons in the U.S. and in 25 other languages. Her next psychological suspense novel, The Wicked Sister, will publish August 4, 2020.
Karen has been active in the writing community for over twenty years. She co-founded the online writers community Backspace, organized the Backspace Writers Conferences in New York and the Salt Cay, Bahamas Writers Retreat, and served on the board of directors of the International Thriller Writers.
Karen enjoys nature photography and lives with her husband in Detroit's northern suburbs.