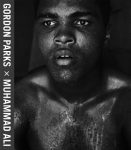 Gordon Parks x Muhammad Ali
Gerald Early, April Watson (Editors), forward by Peter Kunhardt ,iIntroduction by Kareem Abdul-Jabbar
"When Gordon Parks photographed Muhammad Ali for Life magazine in 1966, and then photographed him again in 1970, in some ways he might just as easily have been making self-portraits and writing about himself. Both men were tenacious fighters. Both men bore the scars of lifelong racism. Both men were internationally acclaimed, yet both were more devoted to speaking out for social justice than seeking out personal success. And though both were celebrated for their nonverbal art—Ali's balletic boxing and Gordon's poignant photography—what truly bound them together was their powerful use of words, specifically poetry, to express their optimism for the promise of America—and frustration with the reality. And, more important, to inspire positive change." –Kareem Abdul-Jabbar, excerpt from the introduction "Two Poets of Faith and Hope," Gordon Parks x Muhammad Ali
Visit some of the book's layout spreads and images at the Steidl publisher site.
"Despite their generational and ideological differences, Parks and Ali respected and admired one another. As celebrated figures, both men shared a common struggle as they faced prejudice and bigotry in their fight for social justice and civil rights in the public eye.
Significantly, Parks and Ali well understood the power of the media to shape public opinion. Parks's position at Life gave him a vast and influential platform, which he used to craft a sympathetic image of the controversial young champion." –from the exhibition Gordon Parks x Muhammad Ali: The Image of a Champion, 1966/1970 at the Nelson-Atkins Museum of Art
---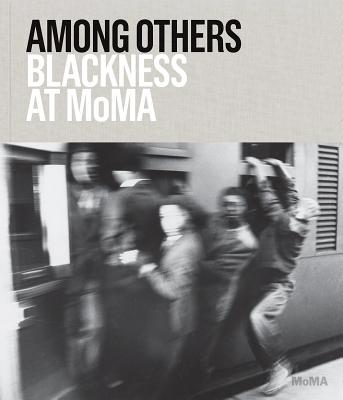 Among Others: Blackness at Moma
Mabel Wilson (Text). Darby English and Charlotte Barat, Editors
Among Others: Blackness at MoMA is the first substantial exploration of a major museum's uneven historical relationship with black artists, black audiences, and the broader subject of racial blackness. More than two hundred works from the collection of The Museum of Modern Art, produced either by black artists or in response to race-related subjects, are reproduced in this volume, each accompanied by newly commissioned writing from a wide array of acclaimed authors. These plates are preceded by two historical essays: the first, by Charlotte Barat and Darby English, traces the history of MoMA's encounters with race since its founding, from an early commitment to African art, and solo exhibitions devoted to artists such as William Edmondson and Jacob Lawrence, in the 1930s and 1940s, through the Museum's activities during the period of the Civil Rights Movement, to the controversial "Primitivism" show of 1984 and beyond; the second, by Mabel O. Wilson, scrutinizes MoMA's record in collecting the work of black architects and designers. Among Others confronts two kinds of truth: one factual, the other moral. Equal parts historical investigation and truth telling, this book is a searching examination of MoMA's history in the cultural politics of race. 480pp; 403 illus.
---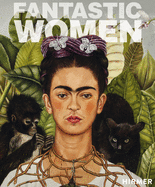 Fantastic Women: Surreal Worlds from Meret Oppenheim to Louise Bourgeois
by Ingrid Pfeiffer (Editor) and L. Kirstin Degel (Editor)
Hirmer Verlag GmbH
"Covid-19's sheltering in place and shuttered cultural institutions have rendered Fantastic Women: Surreal Worlds from Meret Oppenheim to Frida Kahlo at the Schirn Kunsthalle in Frankfurt, Germany, equally dependent on virtual emissaries. Featuring 260 works by 34 female artists from 11 countries, Fantastic Women matches the sheer abundance and international ambition of the 1938 show, from Frida Kahlo to overlooked and forgotten artists who participated in the movement between the 1920s and 1960s. Luckily (and presciently, given Covid-19's abrupt global tsunami), the Schirn also shares Exposition Internationale du Surréalisme's desire to carry the exhibition beyond the gallery walls, providing an online platform containing images from the exhibition; a video tour; instructions for homemade exquisite corpses; a Surrealist films screening accessed on Zoom; and a free, interactive, multimedia Digitorial aimed at educating museum visitors via iPad, phone, or tablet prior to their arrival. With the museum temporarily closed due to Covid-19, this Digitorial has become an important part of the exhibition." — Bomb Magazine
---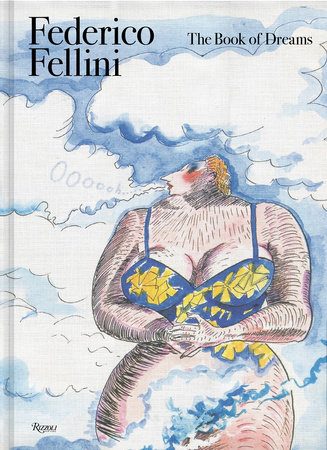 Federico Fellini: The Book of Dreams
Federico Fellini (Author) Gian Luca Farinelli (Editor)
Rizzoli
"In the early nineteen-sixties, under the influence of a Jungian analyst, Fellini started keeping a dream diary. His films, always fantastical, soon took a distinctly oneiric turn, and he eventually filled some five hundred sheets with drawings and descriptions of his dreams, here reproduced in facsimile with English translations." — The New Yorker
"A treasury of the prolific, legendary Italian filmmaker's drawings or, as he himself described them, "scribbles, rushed and ungrammatical notes." Only they are much more. It's a deep dive into the colorful, extravagant, and visionary mind of the genius, and we couldn't be happier that it's back in print in such an appropriately voluptuous edition. This new edition coincides with the centenary of Fellini's birth and a traveling exhibition on the director." —INDULGE MAGAZINE
---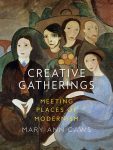 Creative Gatherings: Meeting Places of Modernism
by Mary Ann Caws
Reaktion Books
"There are few scholars alive that combine erudition with first-hand experience like Caws. Caws's writing has the enigmatic, serendipitous and discursive character of the writers, poets, and artists she has spent her life with. The seemingly disparate threads of people, places, and polemics meander, intersect, and tangle in a rich warp and weft; a travelogue in time, spaces, and ideas, taking the reader on a voyage of intellectual and historical discovery. Funny, insightful, and provocative, Creative Gatherings shows that despite the ubiquity of new media, spending time together—at bars, cafés, salons and sitting rooms—remains at the heart of human creativity." — James M. Bradburne, General Director of the Pinacoteca di Brera and Biblioteca Nazionale Braidense
---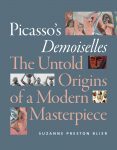 Picasso's Demoiselles: The Untold Origins of a Modern Masterpiece
Suzanne Preston Blier (Author)
Duke University Press
"What is most welcomed about Blier's discussion is that she does not harp on feminist or misogynist theories. She considers them simply as one of many competing attributes. Priority is given instead to Picasso's interest in African roots and existential philosophical debates. Of course, in the end, it is Picasso's unparalleled instinct to innovate that wins us over. Picasso's Demoiselles is a thoughtful, meticulously researched investigation into the artist's extensive creative process." —New York Journal of Books
---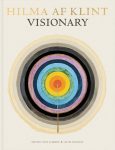 Hilma AF Klint: Visionary
Kurt Almqvist (Editor) Louise Belfrage (Editor) Margaret Ax Son (Editor) Daniel Birnbaum (Introduction by)
Bokforlaget Stolpe AB
"The experts link af Klint's explorations with contemporary scientific discoveries, like radio waves and the X-ray, that pointed toward the unseen dimensions of reality, and also with the mystical movements of her time. She was drawn to the Theosophy of Helena Blavatsky and to the teachings of the Austrian spiritualist Rudolf Steiner, with whom she corresponded. Her visionary interests, far from suggesting eccentricity, place her squarely in the mainstream of modernism, many of whose exponents in various arts (including Kandinsky) found inspiration in the esoteric." —New York Times
---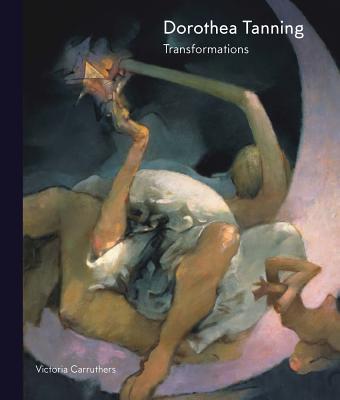 Dorothea Tanning: Transformations
by Victoria Carruthers
Lund Humphries Publishers Ltd
"Carruthers has captured the poetry of Tanning's work, the multiple layers that spark the illusion of metamorphic movement and light within the paintings. As Carruthers notes in her introduction, "Tanning was interested in the fluid and hybrid spaces in between realities: these are the places of infinite possibility as they act as metaphors for the imaginative and creative process itself " — Katharine Conley, Journal of Surrealism and the Americas
---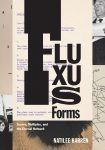 Fluxus Forms: Scores, Multiples, and the Eternal Network
by Natilee Harren
University of Chicago Press
"With this deeply researched and engagingly written book, Harren gracefully erases boundaries between art history and musicology. In the discussion of George Brecht and the event score, she reveals the ambiguous double power of the score: as both action and potential. Over the course of the book she slows down the explosive event of Fluxus just enough to draw the personal and conceptual chain reactions that made the movement into a turning point in twentieth-century art, but she does not lose its FLUX." — Michael Pisaro, California Institute of the Arts
"What a terrific book! Fluxus Forms is beautifully written, lovingly detailed, intelligent, groundbreaking, and will be a field-defining text for many years. Nuanced and muscular in both argument and prosody, the book presents a long overdue formal and critical analysis of Fluxus. It is Harren's insistence on the variabilities, the very fluxiness, of the virtual and its attentive materializations in the actual that is at the heart of this historical account." — Judith Rodenbeck, author of Radical Prototypes: Allan Kaprow and the Invention of Happenings
---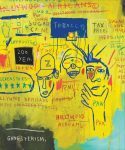 Writing the Future: Basquiat and the Hip-Hop Generation
Greg Tate, editor
MFA, Boston
Writing the Future, published to accompany a major exhibition, contextualizes Basquiat's work in relation to his peers associated with hip-hop culture. It also marks the first time Basquiat's extensive, robust and reflective portraiture of his Black and Latinx friends and fellow artists has been given prominence in scholarship on his oeuvre. With contributions from Carlo McCormick, Liz Munsell, Hua Hsu, J. Faith Almiron and Greg Tate, Writing the Future captures the energy, inventiveness and resistance unleashed when hip-hop hit the city.
"Street artists began reinventing New York in the 1970s, altering a city mired in economic crisis into a dynamic visual empire. Their works, on subway trains and urban walls, were criminal in the eyes of the law—and transformative to contemporary art and pop culture." —Dive into "Writing the Future"
---
Miranda July
by Miranda July
Prestel Publishing
"Titled simply Miranda July, Prestel's excellent new "mid-career retrospective" of the artist highlights July's enduring interest in the very darkest aspects of human existence… Beneath her stylized veneer lies a disturbing world, populated by strange, sad people and their often perverse desires. Presented with 28 years of July's artistic output… we realize that she has consistently focused on hard-hitting themes like crime, loneliness, desperation and sexual transgression." —Hyperallergic
---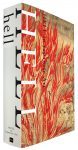 Hell in Japanese Art
by Naoki Nishida
PIE Books
"Hell in Japanese Art is a massive book, totaling 592 pages of illustrations and related texts by researchers Kajitani Ryoji and Nishida Naoki, printed in both English and Japanese. The volume features artworks created between the 12th and 19th centuries, and focuses largely on those designated as Japanese National Treasures or Important Cultural Properties, meaning that they possess exceptional historical or artistic value." –Hyperallergic
---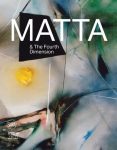 Matta & the Fourth Dimension
Dmitry Ozerkov (Author) Oksana Salamatina (Texts) Roberto Matta (Artist)
Skira
Roberto Antonio Sebastian Matta Echaurren (1911 – 2002) was born in 1911 in Santiago, Chile. He was of mixed Spanish, Basque, and French origin. A cosmopolitan artist, Matta lived and worked in South America, France, Mexico, the US, Italy, Spain, and England. Urged by his parents who did not believe painting could be a serious enough occupation, Matta received a degree in Architecture at Catholic University in Santiago de Chile. While in the employ of Le Corbusier in Paris in the 1930s, he met the Surrealists and worked on his drawing. Andre Breton, who supported the young artist in his quest, wrote that "Matta had a unique way of showing the necessity to visually depict the four-dimensional universe. In his works, nothing is intentional anymore, everything comes from the desire to submerge into the area of the divine." — The State Hermitage Museum
---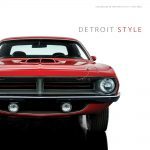 Detroit Style: Car Design in the Motor City, 1950-2020
Benjamin Colman (Author)
Detroit Institute of Arts
"Detroit designers have always led the way in car design. The futuristic concept cars, roaring muscle cars, and sleek racers designed in and around the city shape our ideas of what a car can be. Working on paper, in clay, and in metal, their ideas drive American car culture and inform the way we get around every day.
This exhibit organized by the Detroit Institute of Arts will highlight the artistry and influence of Detroit car designers working between 1950 and the present day. It will bring together 12 coupes and sedans designed across that 70-year period to highlight significant achievements in style and technology. The 12 cars include unique examples of experimental show cars created for display and iconic production models sold to the mass market. Design drawings and photographs will allow you to imagine the creative and innovative processes that bring a vehicle from the drawing board to the street.
A selection of paintings and sculptures will highlight the conversation between the American art world and the car culture from the 1950s to the present day." –Detroit Institute of Art, exhibition opening Sun, Nov 15, 2020 — Sun, Jun 27, 2021
---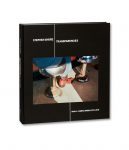 Transparencies: Small Camera Works 1971-1979
Stephen Shore
Mack Books
[signed copies available for in-store purchase]
"Transparencies: Small Camera Works 1971-1979" is extraordinary […] it is hard to state how significant this is […] the release of "Transparencies" provides us with a fascinating insight into the making of one of American photography's most iconic works by one of photography's most important practitioners." – The Washington Post
"Stephen Shore's 1970s experiments with a small-format camera […] will seem both familiar and fresh to fans of his work" – The Wall Street Journal Magazine
"[Transparencies"] is intriguing, not least because the America that emerges from it seems quintessentially Stephen Shore and yet somehow different: the style less formal, the tone more intimate and spontaneous. […] There is, too, a distinct aura that emanates from these pictures, a sense of another America, recognizable but distant, that seems at times luminous in its very everydayness" – The Observer
---