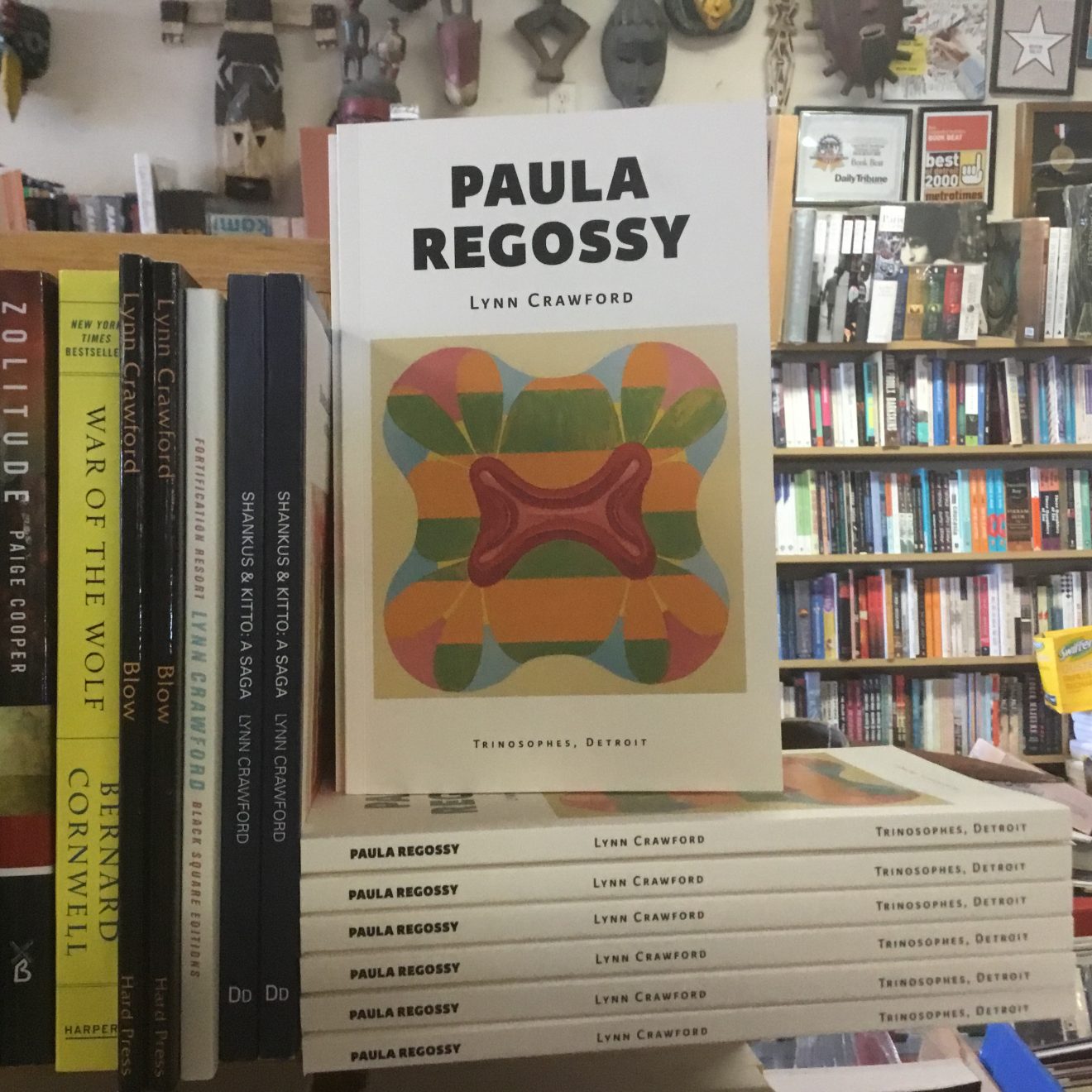 Trinosophes is a public performance and art exhibition space in Detroit on Gratiot Ave. They've just taken a leap into publishing with their first book: Paula Regossy, a detective novel by local author Lynn Crawford.
Paula Regossy began with a painting, Pussy Galore by artist Peter Williams, which Crawford first saw on view at the gallery Paul Kotula Projects in Ferndale, Michigan, nearly a decade ago.
"A friend at the opening snapped his fingers and said, "Lynn, give me one word, describe this show," and I blurted out: "Chill." It is a word I rarely use but it fits: Williams as Chill; Captain Chill, ready to take off on a space ship or in an amphicar." — Lynn Crawford from a review of a Peter Williams exhibition in 2014, which would inspire her novel Paula Regossy, read more at: Infinite Mile
Because the painting's title referenced a female character from a James Bond film, Crawford was inspired to write a novel with a heroine named Paula Regossy, which is an anagram of Pussy Galore. She did not stop there. Each chapter in this book is Crawford's personal (but faithful) response to artwork by various Detroit-based artists and creative spaces.
She conversed with, ruminated on and scrutinized the art and/or the venue before she constructed the narratives. Paula Regossy would not exist without those people, works and places. In addition to Peter Williams other chapters were inspired by artworks created by Okayama Dabls, Nancy Mitchnik, Chido Johnson, Carol Harris, and Jim Chatelain among others. A page in the back of the book lists the Detroit artists and writers — and their artworks which found their way into the book.
---
Signed copies of Paula Regossy are available at Book Beat. To order, call us at (248) 968-1190, email: BookBeatOrders@gmail.com or visit our backroom gallery to order Paula Regossy Online.
---
"Lynn Crawford has created a shrewd and accomplished novel in Paula Regossy. Crawford, like her characters, is not fearful, but bold and courageous in molding a novel that is unafraid to push the envelope of both our own expectations of genre and narrative, and how it should be deployed to expand a writer's creative range."
–Eric Maroney, from The Colorado Review
"Lynn Crawford understands better than any writer I know how profound, poignant, elegant meanings surface through our routines, our everyday lives. She is a true detective."
—Evelyn Hampton, author of Famous Children and Famished Adults: Stories
Paula Regossy doesn't feel at all like fantasy or academic speculation. Although in it one might feel echoes of writers from J.G.Ballard to Samuel Beckett, Paula Regossy is very much Lynn Crawford's own marvelous creation. And just as I am in awe of the world at large, I am in awe of Paula Regossy.
—Jose Padua, author of A Short History of Monsters
About the author:
Fiction and arts writer Lynn Crawford is a founding board member of Museum of Contemporary Art Detroit (MOCAD), a 2010 Kresge Literary Arts Fellow and a 2016 Rauschenberg Writing Fellow. Her work appears in various anthologies (Oulipo Compendium, Fetish, Brooklyn Rail, Fence) and journals (Art in America, Infinite Mile, Detroit Research, Hyperallergic, Tema, Celeste, McSweeney's, Lilies and Cannonballs, Parkett, Bookforum, Detroit Metro Times). Her books include Solow (House of Outside Press/Hard Press Editions, 1995), Blow (Hard Press Editions, 1998), Fortification Resort (Black Square Editions, 2005) a series of art-related sestinas, Simply Separate People (Black Square Editions/Hammer Books, 2002), Simply Separate People, Two (Black Square Editions and the Brooklyn Rail, 2011) and Shankus & Kitto: A Saga (DittoDitto, 2016). She has worked in various psychiatric, community, hospital, museum and school settings. She lives with her family in a suburb north of Detroit.