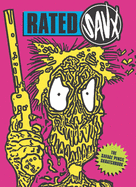 Rated SavX: The Savage Pencil Scratchbook
by Savage Pencil
A recent art monograph on underground cartoonist and archivist Savage Pencil (aka SAVX/ UK music journalist Edwin Pouncey) collects an eye-poppin' selection from a legendary multi-decade career. As one of the most visible, ratty, and raw founders of the graphX arm of the Punk, Metal and Noise-rock movements, SAVX poured his soul into a unique, hallucinatory, and crusty visual language — infused with own scratchy brand of acidic-genius.
Rightly dedicated to S. Clay Wilson, the kingpin of wild, gross, taboo crossing comix art, Rated Savx opens with a "Secret Conversation," an inner-sanctum interview which covers his early exposure to comics, Mad Magazine, and other weirdness lifted from his father's corner newsstand.
Young SavX soon discovered the radical music of Frank Zappa and the Mothers of Invention, Captain Beefheart, and the pleasures of collecting antiquarian books by occult historian Montague Summers. SavX and his friends dubbed their book collecting obsession "the new rock 'n roll."
Rated SavX is jam packed with rarities — much of it inaccessible online, or produced in limited editions near impossible to find. Early zines such as Oryx Komic, Corpsemeat, Dead Duck, Disposable Bag, and The Reichstag Bleep Hour poetry collection, are given space alongside comic-strips of the 1970s punk-fueled 'Rock 'N' Roll Zoo' found inside Sounds Magazine ('The Most Explosive Music Weekly on the Streets'), to the fright-fest series of NME's 'Karrgarock, Eater of Souls', to his beloved music/comic satire editorials of 'Trip or Squeek' for The Wire Magazine — a touchstone of exquisite pop-culture weirdness comparable to Basil Wolverton's Culture Corner. The SavX strips with their subversive jokes and explosive psychotic drawings were a major asset for the music rags.
Savage Pencil's imagery has come to occupy a unique space of punk graphics strewn with horror and a wild yet deadpan comedic wit –"a style both frightening and instantly recognizable." And an extraordinary ability to remain both shocking, under board, and timeless.
His sporadic line drawings are wicked, intricately detailed, and performative; elaborate doodles that have lost direction and have gone AWOL but kept the sardonic edginess of a George Grosz or Otto Dix. His artwork stands beside contemporaries Raymond Pettibon and Gary Panter as some of the most iconic and original on the subject of music in the post-sixties era.
In spite of his academic training, the Savage Pencil has one of the most brutal and raw line styles in contemporary art. On his own technique, SavX commented, "It's automatic drawing really, using this trippy, improvisational technique that I'm slowly perfecting."
Much musical themed and oddball ephemera is included in Rated X, including T-shirt designs, posters and other merchandise for bands; Sonic Youth, Big Black, The Fall, Sunn O))), Coil, and Earth, and a host of other obscure punk rockers, metal gurus, and noise addicts.
About 90 Savage Pencil designs can be seen gracing albums on discogs, including the design for his own band The Art Attacks (1978).
Rated SavX contains copious 'phutnotes', a bibliography and a record cover checklist. Rated X is a strange delight and joy for fans of ratty art, underground comix, punk rock, dark metal, biker soundtracks and noise. Discovering Savage Pencil through this new collection is like dissecting the mind of a monster.
Note full disclosure: As Edwin Pouncey, he's one of the few journalists to review my past musical projects. In 2017, I curated Punk House, an exhibition of Detroit musician art and artifacts held Sept. 8, 2017 through January 7, 2018, at Mike Kelley's Mobile Homestead in Detroit. The exhibit was centered around artist Savage Pencil's spontaneous mural designs and installations executed a week before the opening. SavX also designed the front and back covers for Punk House: an artist compilation zine, music video DVD, and LP.