Doors Drummer and Rock Hall of Fame member John Densmore reads and signs his new book wsg/ Rubén Funkahuatl Guevara of Ruben & the Jets in a virtual Live Zoom event on Sunday, April 11 at 4 PM. Free tickets are required for entry and are available now at EVENTBRITE. This event is sponsored by the Detroit Writers Guild and Book Beat. For more info call 248-968-1190 or write: BookBeatOrders@gmail.com
The Seekers: Meetings with Remarkable Musicians (and Other Artists)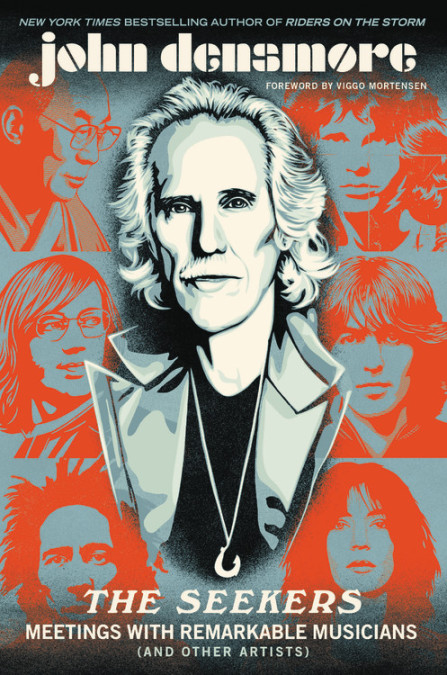 John Densmore the iconic drummer of The Doors investigates his own relationship with creativity and explores the meaning of artistry with other artists and performers in this new compelling and spellbinding memoir.
Weaving together anecdotes from the author's personal notebooks and experiences over the past fifty years, this book takes readers on a rich, thought-provoking journey into the soul of the artist. By understanding creativity's roots, Densmore ultimately introduces us to the realm of everyday inspirations that imbue our lives with meaning. Inspired by the classic spiritual memoir Meetings with Remarkable Men, this book is fueled by Densmore's abundant collection of transformative experiences-both personal and professional-with everyone from Ravi Shankar to Patti Smith, Jim Morrison to Janis Joplin, Bob Marley to Gustavo Dudamel, Lou Reed to Van Morrison, Jerry Lee Lewis to his own dear, late Doors bandmate Ray Manzarek.
I would like to take readers along on a quest to illuminate the creative process, using storytelling and unique access to show how it happens. The Seekers will allow you to join me in exploring timeless ideas and addressing universal questions as I go backstage and into the lives and minds of these great artists. –John Densmore
"John Densmore has the heart of a seeker. Always aiming, not for the sparrow, but for the eye of the sparrow in his search for meaning. His compass took him straight to the core of the moment and of the people he was drawn to by his uncanny ability to divine wisdom throughout his fairly frenzied life. It is reaffirming and gratifying to those of us who shared some of the same friends to revisit those unique and original souls."–Olivia Harrison, author of George Harrison: Living in the Material World
"A joyful history lesson for music geeks." —SPIN
"Fascinating to read this veteran musician's thoughts… these reflections should strike a resonant chord in any aficionado of the arts." —All About That Jazz
Thank you for Your Support of this Event with a book purchase!
Signed copies are available from Book Beat at THE SEEKERS.
Densmore's bestselling memoir of the Doors RIDERS ON THE STORM is also available for curbside pickup or mail order.
"The first Doors biography that feels like it was written for the right reasons, and it is easily the most informed account of the Doors' brief but brilliant life as a group." — The New York Times Book Review
Confessions of a Radical Chicano Doo-Wop Singer by Rubén Funkahuatl Guevara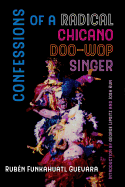 A pioneer of Chicano rock, Rubén Funkahuatl Guevara performed with Frank Zappa, Johnny Otis, Bo Diddley, Tina Turner, and Celia Cruz, though he is best known as the front man of the 1970s experimental rock band Ruben And The Jets. In his recent memoir Confessions of a Radical Chicano Doo-Wop Singer (copies at Book Beat) he recounts how his youthful experiences in the barrio La Veinte of Santa Monica in the 1940s prepared him for early success in music and how his triumphs and seductive brushes with stardom were met with tragedy and crushing disappointments. Brutally honest and open, Confessions of a Radical Chicano Doo-Wop Singer is an often hilarious and self-critical look inside the struggle of becoming an artist and a man. Recognizing racial identity as composite, contested, and complex, Guevara—an American artist of Mexican descent—embraces a Chicano identity of his own design, calling himself a Chicano "culture sculptor" who has worked to transform the aspirations, alienations, and indignities of the Mexican American people into an aesthetic experience that could point the way to liberation.
Our musical sensibilities merged with those of African Americans who were also struggling for acceptance. Los Angeles Mexican American musicians Lalo Guerrero and Don Tosti created pachuco boogie-woogie in the 1940s, a hybrid musical genre influenced by many Black L.A. swing/jump blues musicians. This prophetic, pulsating mix laid the foundation for Chicano rock and an emerging cultural and political Mexican American identity.
–Rubén Guevara, from The Present-Day Pachuco Refuses to Die!
Thank you for Your Support of this Event with a book purchase!
Ruben's recent book: CONFESSIONS OF A RADICAL CHICANO DOO-WOP SINGER is available at Book Beat for curbside pickup or mail order.