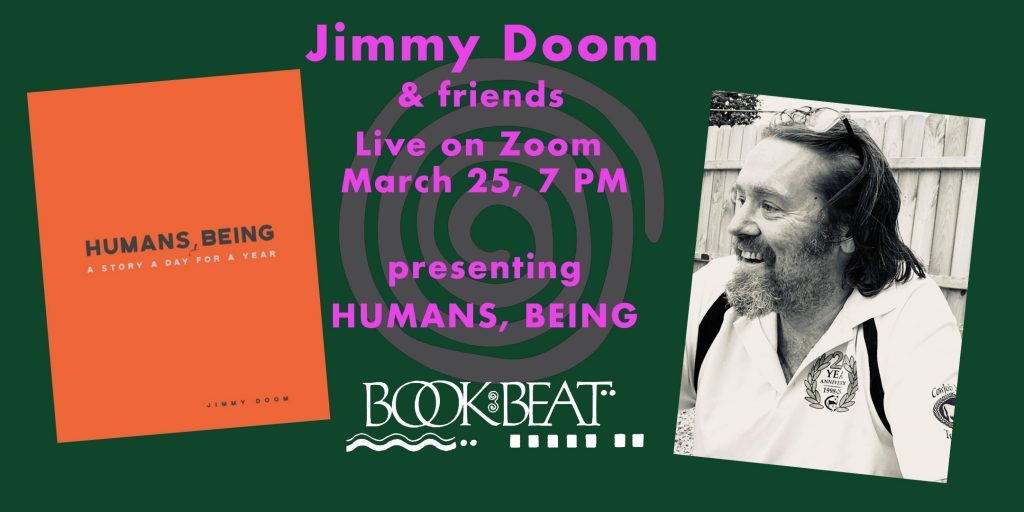 Musician, actor and author Jimmy Doom presents a special "Doom on Zoom" LIVE webinar performance reading HUMANS, BEING with friends at 7 PM on March 23, 2021. This event is FREE and open to the public. Registration is required through Eventbrite registration. Joining Doom for this reading will be his friends: Voice actor Patrick Kirchner, Comics and More proprietor and film maker Chris Brown, Artist Aimee Chorkey, and Animal Lover/ Supermodel Katie Coon.This event will be linked to Book Beat's FB live and archived later to YouTube. Doom's first book Humans, Being is a collection of 365 –one-per-page 100 word stories, most of them set in Detroit.
Signed copies of HUMANS, BEING are available now at the Book Beat gallery.
"People are telling me that they love the book and devoured big chunks of the stories, but I really kind of envisioned it sitting on the toilet tank for the reader to read one or two a day and think about them. It really could be a desk calendar, where you read a story each day. If you read it in order, you'll note that some of the more traditional "horror" style tales take place on the days that correspond to October on the Julian calendar.
But forget all that. Humans, Being is about people who write their own rules, bend and ignore existing ones, or try to find peace—or at least acceptance—in current societal structures. So read Humans, Being in any order, any way you want.
And yes, I know Humans, Being is the title of a Van Halen song. It's a coincidence, not an homage. I'm a Clash fan. And this cheap hood struck a bargain with the world…and ended up writing a book about it." — The Wordicle Dec 5, 2020
"Jimmy Doom has lived and worked the dark streets of Detroit, and he condenses what he's seen, heard and felt in 365 thought-provoking pieces of micro fiction: 100 words a day for an entire year. As impressive as it is imposing, it's hard not to find something to move you here." -Karen McFarland

About the Author:
"Jimmy Doom's first performances were for people his mom brought home from Detroit's renowned jazz clubs Baker's Keyboard Lounge and Dummy George's. Not possessing the talent to be a jazz musician, he went on to be the vocalist of legendary Detroit punk band The Almighty Lumberjacks of Death while occasionally appearing in independent,underground, straight to VHS "cinema". After the band's breakup and a brief tenure on an axle assembly line, Jimmy took advantage of an indefinite layoff to return to acting. The first "name" actor he had the privilege of working with was David Carradine, whom he met virtually seconds before they began their first scene in a film now known as "Dark Fields". Doom also appears on the cult horror "skit-com" The Dead Dave Show, does live spoken word and improvisational performances and writes for the comic strip Broomhead."
– IMDb Mini Biography By: Kevin "Chopper" Peshkepia
Jimmy Doom was raised on Detroit's west side, graduated from University of Detroit Jesuit High School and spent the next few decades bartending, acting, working on concert production crews, teaching pool, fronting a punk band and writing for local newspapers and magazines, including The Detroit Free Press, The Detroit Metro Times, and the legendary Orbit, where he appeared in the magazine's final issue as the nude centerfold. ( That's true, and you can look it up, though it's not recommended). He has appeared in over 40 feature films, shorts, and music videos, working with everyone from David Carradine to Travis Scott. Jimmy publishes original short fiction daily at jimmydoom.substack.com His first published book, Humans, Being, a collection of 100 Word Fiction, was released in 2020.