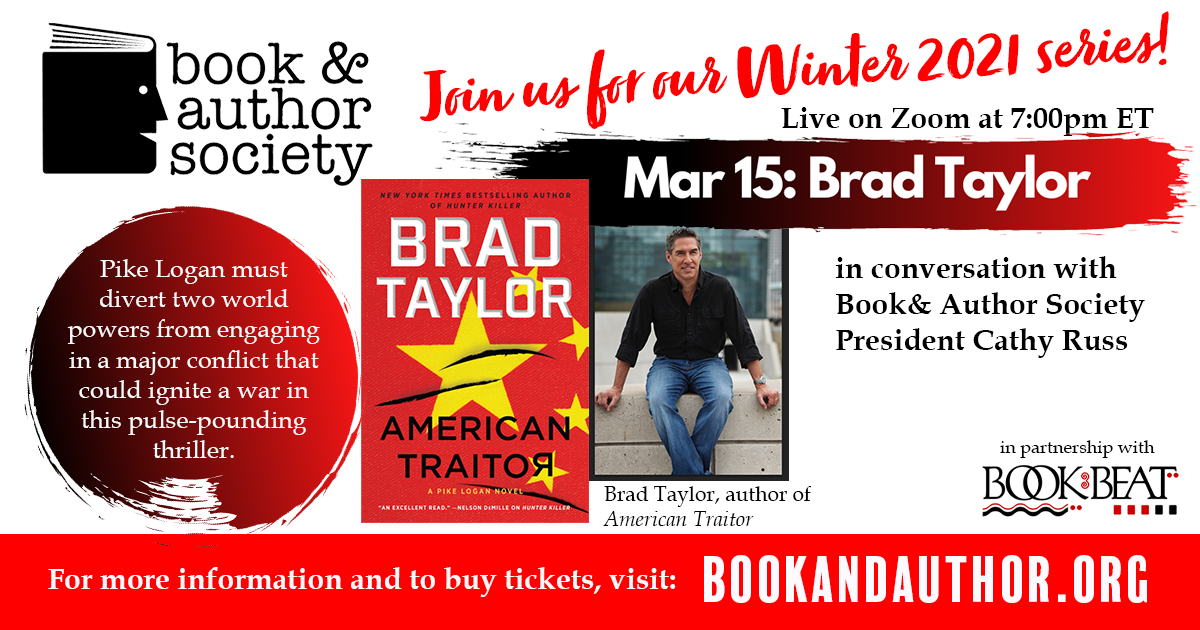 The Metro-Detroit Book and Author Society presents bestselling author Brad Taylor in a LIVE ZOOM event on March 15, at 7:00 PM. This is a ticketed event that will include Taylor's latest book American Traitor, with a signed bookplate. For ticket information please visit: BRAD TAYLOR BOOK & AUTHOR SOCIETY. The Book Beat is a co-sponsor, helping to support Book & Author Society events. American Traitor will ship from Book Beat immediately following the book talk. American Traitor is also available for curbside pickup.
New York Times bestselling author Brad Taylor has written 14 installments of the wildly popular Pike Logan series, which has sold over 3 million copies worldwide.
"American Traitor is frighteningly realistic and will cause a lot of sleepless nights in Washington. Brad Taylor is the best action writer in the business today, and Pike Logan is the right hero for our time."
— William H. McRaven, Adm, U.S. Navy (Ret.) and author of Make Your Bed
"A memorable cast, powerful action scenes, and authentic tradecraft… Taylor reinforces his place as a major player in the military action genre."
— Publishers Weekly
"It is [Taylor's] remarkable character work with a robust and memorable cast that is the true strength of the novel. The camaraderie of the battle-hardened operators…, their staunch loyalty… and their stalwart sense of shared duty ultimately make for a big-hearted novel, even amid its many pulse-pounding moments."
— Charleston Post & Courier
"Taylor continues to tell flawless stories with his stellar cast of characters… It's amazing that after so many novels Taylor can still maintain the high-level quality and breathless action readers expect, while also getting better with each tale." –Booklist (starred review)
"Few authors write about espionage, terrorism, and clandestine hit squads as well as Taylor does." —Houston Press
American Traitor
Pike Logan must divert two world powers from engaging in a major conflict that could ignite a war in this pulse-pounding thriller from New York Times bestselling author and former Special Forces officer Brad Taylor.
Pike Logan and Jennifer Cahill are enjoying a sunny vacation down under when they get disturbing news: their friend and colleague, Clifford Delmonty, is in serious trouble. While working as a contractor at an Australian F 35 facility, the former Taskforce member—callsign Dunkin—saw something he shouldn't have, and now he's on the run from Chinese agents.
Pike and Jennifer soon discover that Dunkin's attackers are a dangerous part of a much larger scheme that could launch a full-on war between China and Taiwan. In their quest for dominance, China is determined to reclaim Taiwan—an ally the United States has sworn to protect. Pike learns that the Chinese have a devious plan to bait the small island nation into all-out war by destabilizing the government while manipulating an artificial intelligence defense system.
As the threat of conflict reaches a boiling point, Pike alone realizes that what is being seen is not what is happening. A soldier who has always been trained to fight and win, Pike is now against an invisible enemy—one he can't actually attack. With the help of a Taiwanese intelligence agent, he races to prevent a catastrophic conflict from consuming a whole region of the world—and the lives of his teammates.
---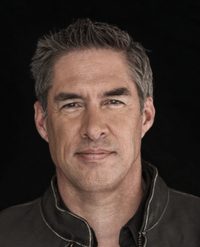 Brad Taylor was born on Okinawa, Japan, but grew up on 40-acres in rural Texas. Graduating from the University of Texas, he was commissioned as a second lieutenant in the U.S. Army Infantry. Brad served for more than 21 years, retiring as a Special Forces Lieutenant Colonel. During that time he held numerous Infantry and Special Forces positions, including eight years in 1st Special Forces Operational Detachment – Delta where he commanded multiple troops and a squadron. He has conducted operations in support of US national interests in Iraq, Afghanistan, and other classified locations.
His final assignment was as the Assistant Professor of Military Science at The Citadel in Charleston, SC. He holds a Master's of Science in Defense Analysis from the Naval Postgraduate School, with a concentration in Irregular Warfare. In 2011, Brad published his debut novel, One Rough Man, which was an immediate success and launched the Pike Logan series. Now with more than 14 installments and nearly 3 million copies sold, the series has consistently hit the New York Times bestseller list. When not writing, he serves as a security consultant on asymmetric threats for various agencies. He lives in Charleston, SC with his wife and two daughters.