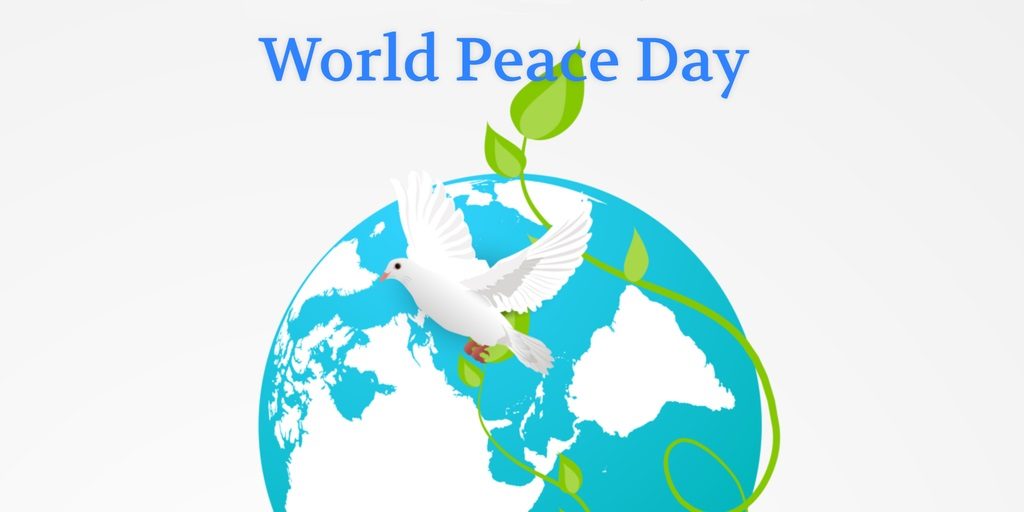 Dear Reader,
Happy Peace Day!
The International Day of Peace is celebrated on September 21 each year to recognize the efforts of those who have worked hard to end conflict and promote peace. The International Day of Peace is also a day of ceasefire – personal or political.
The 2021 theme for peace is 'Recovering better for an equitable and sustainable world'
"In 2021, as we heal from the COVID-19 pandemic, we are inspired to think creatively and collectively about how to help everyone recover better, how to build resilience, and how to transform our world into one that is more equal, more just, equitable, inclusive, sustainable, and healthier." –United Nations General Assembly, communique
Two picture books about peace:
Three Lines in Circle is a picture book story of the peace symbol by Michael G. Long and illustrated by Carlos Vélez. Near the end of 1958 Gerald Holtom a graphic design artist came up with the symbol of a dream–a world without bombs.
And in All Are Welcome, by Alexandra Penfold and Suzanne Kaufman, you'll discover a school and planet of diversity, and where all young children have a place, have a space, and are loved and appreciated.
"A great read-aloud selection to start the year and revisit time and again."
–School Library Journal
Our newsletter this month contains more small press reviews by Tom Bowden, who interviewed artist Samplerman and translater Doug Skinner. Author and editor of the Fifth Estate: Peter Werbe will be presenting his book Summer on Fire, with a live signing and Zoom appearance sponsored by Book Beat and the Oak Park Library, on Wednesday, Sept. 29 at 7 PM. Our reading group discussion is Anna Kavan's Machine in the Head, a Zoom meeting is rescheduled for Wednesday, October 6 at 7 PM.
A great novel debut this year is Oprah's Book Club pick for August 2021: The Love Songs of W.E.B Du Bois a novel by Honoree Fanonne Jeffers, "an immersive journey through American history. Dramatic, beautifully written, and compulsively readable, the novel brims from page to page with grand storytelling and heart.–npr book review
Epic…. I was just enraptured by the lineage and the story of this modern African-American family…. A combination of historical and modern story–I've never read anything quite like it. It just consumed me. –Oprah Winfrey
Next month we'll be hosting a "Ray Johnson Unbirthday Party" ~an online celebration for the Detroit born artist with author and editor Julie Thompson. Some old friends of Ray Johnson will be joining us. Stay tuned!
Autumn is fast approaching, and in years past we normally would be having author signings across the community; at schools, libraries, and in-store. This fall feels different again, but there are still opportunities. Great books are coming out every week… and this fall we are especially looking forward to the release of Olga Tokarczuk's masterpiece The Books of Jacob,
We appreciate your continued support during these odd times, and hope to continue connecting and to make available the most interesting, thought-provoking books being published for all ages.
We've been warned again this year by almost all large publishers to expect delays in printing and shipping. There is a worldwide paper shortage in progress and we've noticed that media mail sent outside of Michigan and especially international shipments have slowed slowed down a lot. Please think about doing your holiday shopping early, and mailing ahead. Thank you!
Peace, Love, & good readings,
~Cary, Colleen, and the Book Beat staff


peace.

It does not mean to be in a place
where there is no noise, trouble or hard work.
It means to be in the midst of those things
and still be calm in your heart."

~Thich Nhat Hanh