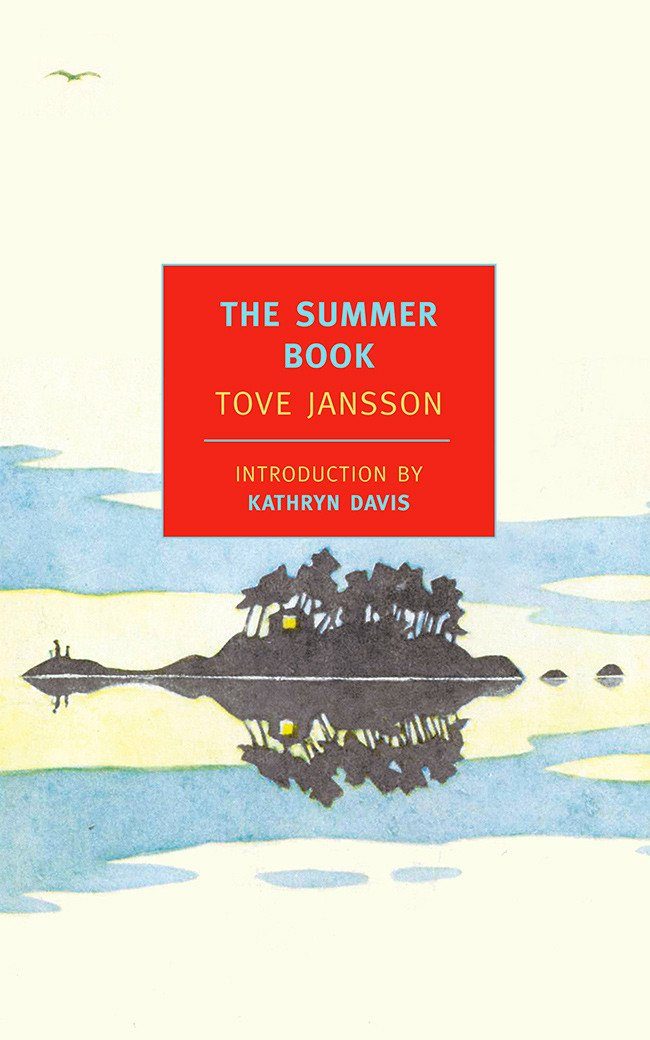 The Book Beat reading group selection for June is The Summer Book by Tove Jansson. This will be a virtual Zoom meeting held on Wednesday, June 30 at 7 PM. Books are available in the store now and are discounted 15%. If you would like to attend, and are not on our reading group list, please RSVP with your name, phone number and email and we will add you to our list. Meeting reminders are sent on the morning of the meeting day. Please try and log on 5-10 minutes before the meeting so we can begin on time.
"In The Summer Book Tove Jansson distills the essence of the summer—its sunlight and storms—into twenty-two crystalline vignettes. This brief novel tells the story of Sophia, a six-year-old girl awakening to existence, and Sophia's grandmother, nearing the end of hers, as they spend the summer on a tiny unspoiled island in the Gulf of Finland. The grandmother is unsentimental and wise, if a little cranky; Sophia is impetuous and volatile, but she tends to her grandmother with the care of a new parent. Together they amble over coastline and forest in easy companionship, build boats from bark, create a miniature Venice, write a fanciful study of local bugs. They discuss things that matter to young and old alike: life, death, the nature of God and of love. "On an island," thinks the grandmother, "everything is complete." In The Summer Book, Jansson creates her own complete world, full of the varied joys and sorrows of life.
Tove Jansson, whose Moomintroll comic strip and books brought her international acclaim, lived for much of her life on an island like the one described in The Summer Book, and the work can be enjoyed as her closely observed journal of the sounds, sights, and feel of a summer spent in intimate contact with the natural world." –NYRB website
---
Grandmother walked up over the bare granite and thought about birds in general. It seemed to her no other creature had the same dramatic capacity to underline and perfect events — the shifts in the seasons and the weather, the changes that run through people themselves.
–Tove Jansson, The Summer Book
"Tove Jansson was a genius. This is a marvelous, beautiful, wise novel, which is also very funny." – Philip Pullman
"On her islands, Jansson's many contrary aspects—the self that valued solitude and the self that valued friendship; the self that loved adventure and the self that loved routine—were easily made one… Love, for her, is premised on a delicate balance between the reliable presence of another person and the freedom to inhabit one's private universe." – Sheila Heti, The New Yorker
"Her fiction for adults is even more deft and knowing when it comes to things said and unsaid, and it's hard to describe the astonishing achievement of Jansson's artistry in The Summer Book, the writing so lightly kept, so simple-seeming, so closely concerned with the weighing of moments that any extra weight of exegesis is too much. – Ali Smith in The Guardian
---
Tove Jansson (1914–2001) was born in Helsinki into Finland's Swedish-speaking minority. Her father was a sculptor and her mother a graphic designer and illustrator. Winters were spent in the family's art-filled studio and summers in a fisherman's cottage in the Pellinge archipelago, a setting that would later figure in Jansson's writing for adults and children. Jansson loved books as a child and set out from an early age to be an artist. Her first illustration was published when she was fifteen years old; four years later a picture book appeared under a pseudonym. After attending art schools in both Stockholm and Paris, she returned to Helsinki, where in the 1940s and '50s she won acclaim for her paintings and murals. From 1929 until 1953 Jansson drew humorous illustrations and political cartoons for the left-leaning anti-Fascist Finnish-Swedish magazine Garm, and it was there that what was to become Jansson's most famous creation, Moomintroll, a hippopotamus-like character with a dreamy disposition, made his first appearance. Jansson went on to write about the adventures of Moomintroll, the Moomin family, and their curious friends in a long-running comic strip and in a series of books for children that have been translated throughout the world, inspiring films, several television series, an opera, and theme parks in Finland and Japan. Jansson also wrote eleven novels and short-story collections for adults, including The Summer Book, The True Deceiver, Fair Play, and The Woman Who Borrowed Memories. In 1994 she was awarded the Prize of the Swedish Academy. Jansson and her companion, the artist Tuulikki Pietilä, continued to live part time in a cottage on the remote outer edge of Pellinge until 1991.
---
Visit Tove Jansson's world of the Moomin: Escape to Moominland
"I want to be a wild thing, not an artist." –Tove Jansson
"The unrealistic nature of these tales (which narrow-minded rationalists object to) is an important device, because it makes obvious that the fairy tales' concern is not useful information about the external world, but the inner process taking place in an individual.
–Bruno Bettelheim, The Uses of Enchantment: The Meaning and Importance of Fairy Tales
Moominland is an episodic picture-book, comic-strip, and middle-grade reader novels about fairyland adventures. Set in a magical universe, the series was created by Finnish artist-author Tove Jansson, a winner of the 1966 Hans Christian Anderson Award, an international award called: "The Nobel Prize in children's literature."