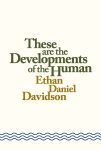 Ethan Daniel Davidson is a father, husband, Detroit area musician, singer-songwriter, and helps run The William Davidson Foundation, a philanthropic family run foundation "dedicated to advancing the economic, cultural, and civic vitality of Southeast Michigan, the State of Israel, and the Jewish community."
Davidson recently published These are the Developments of the Human a collection of unconventional writing that he describes as "sketches, mostly in a broken sort of poetry", that ties together personal memoir and artistic journey, along with his passion and devotion to Judaic studies.
The book serves as a reflective foil for Davidson whose foundation quietly supports the cultural landscape of Detroit. Sections of the book present song lyrics and troubadour road stories and even lessons on leadership from the Detroit Piston's winning seasons–a team once owned by Ethan's father. It's soon clearly apparent that the author's sanctuary and relief from the world's pressure is found in both music and in studying the midrash and Jewish holy books.
The book is also an elegy to William Davidson, a love letter his son created in his father's memory for his own sons; "as the inheritance that I pass onto my children and their children after them–that they may know something of this great man, my father" whom the author compares to King Solomon in his first statement: "Because My Father Died and Now This is All I Have"–and with another essay on Solomon later in "Qayin and Havel: The Drive to Acquire Chokes Off Our Fleeting Breath."
The fragmented essays and journeys of Developments of the Human can also be read as unresolved dialogues on money, power, spirituality, and transience. They express the wanderings and questions of a young bard looking back and in the present, or as Janis Joplin once immortalized in Bobby McGee, her only hit single and ode to hitchhiking across the USA, in the words of Kris Kristofferson: Freedom's just another word for nothin' left lose…Nothin' ain't worth nothin' but it's free.
Ethan Daniel Davidson encapsulates his father's truth, a best learned lesson, and final inheritance in the opening pages as he writes, "justice and lovingkindness… it is the only durable good." It's not the most fluidly written book, but it touches on core philosophy, major issues people need to confront and is reflective reading especially in a time of turmoil.
Copies of These are the Developments of the Human are available FREE and on request with any book purchase from Book Beat. Books are also available at Temple Israel.
---
"Because of the depth of subject matter, the book cannot be labeled a fast read. Passages are not declarations or answers; rather, they are starting points for contemplation. Readers can decide whether they want to read from cover to cover or pick out topics that have personal impact." —Ethan Davidson's New Book Prompts Religious Thought, from a review in The Detroit Jewish News
---
"Ethan weaves together sketches of personal anecdotes and Jewish philosophy with stories of his adventures as a lumberjack in a remote Alaskan village, his journeys sailing the world on cargo ships, and his six years on the road as a musician." —EthanDanielDavidson.com
I don't want to say too much.
What I can say is that I learned that community is where you make it.
With a handful of guiding laws, such as a minimum number of people to constitute the community, you can make community.
It's good and noble and a mitzvah to make community.
Even for a few hours.
Even if you wouldn't otherwise know the people in your fleeting community.
Even if they seem to be nothing like you.
They are like you enough.
They are like you perhaps more than you realize.
When you find them, you have a community with them.
And you can say Kaddish
For those who are no longer with us —Ethan Daniel Davidson, an excerpt from "KADDISH: ON THE ROAD, (FINDING COMMUNITY WHERE YOU MAKE IT)"