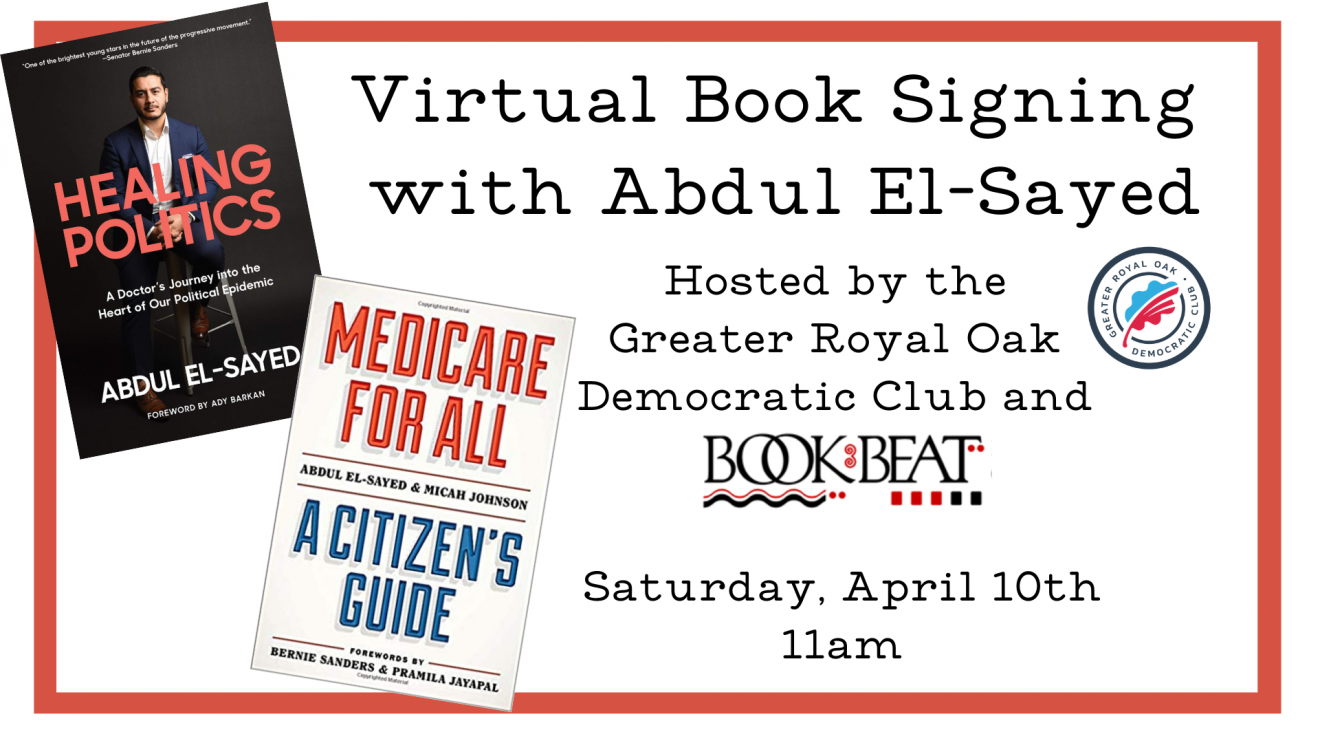 The Greater Royal Oak Democratic Club and Book Beat present Dr. Abdul El-Sayed in a Live on Zoom event Saturday, April 10th at 11 AM. This event is FREE and open to the public. Dr. El-Sayed will present his two books and take questions from the audience. Please register ahead on ZOOM at ADVANCED ZOOM REGISTRATION.
Book Beat will be offering signed and inscribed books for orders placed in advance on or before the April 10th virtual Live meeting. Signed copies can be ordered for: Medicare for All: A Citizen's Guide (new in hardcover from Oxford University Press) and Healing Politics: A Doctor's Journey into the Heart of Our Political Epidemic (Abrams, New in Paperback!) –preorders for signed books are available now in the Book Beat gallery.
"As a doctor who helped lead Detroit's health department Abdul knows full well the problems with America's healthcare system and is working to solve them by advocating for a Medicare for All system. Abdul is one of the brightest young stars in the future of the progressive movement." — Sen. Bernie Sanders
"Abdul is one of our most gifted communicators and fiercest advocates for the ideal of health care as a fundamental human right. In Healing Politics, he draws on his invaluable blend of experience as a doctor, public health commissioner, and political leader to bring a sorely needed sense of empathy and humanity to the debate over how to mend our fractured society." — Jon Favreau, Pod Save America
"This book is a majestic act of hope grounded in a life of great empathy and courage! From first-rate medical doctor to loving husband, father and politician, Abdul El-Sayed takes us in a breathtaking journey that uplifts our spirits in these grim days!" — Professor Cornel West, Harvard University
"This is a very important book. Abdul El-Sayed diagnoses the true epidemic of our moment: the scourge of insecurity, as we face a heartless economy and a faltering climate system. And he provides the prescription: a dose of empathy measured out in legislation and political action. It's a manual for real, deep, and utterly necessary change." — Bill McKibben, 350.org
"In Healing Politics, Abdul El-Sayed doesn't just diagnose the causes of our broken politics; he gives us a prescription and treatment plan. Abdul's passion, empathy, and, most important, personal insight—drawn from his experience as an epidemiologist, advocate, and movement leader—will educate and inspire every reader." — Representative Pramila Jayapal
"Abdul El-Sayed is an inspired leader with a failsafe moral compass. Achingly felt and carefully reasoned, this book explains the forces that are shattering our communities—and the politics of empathy that can repair our relationships and transform society."
— Naomi Klein – author of On Fire: The (Burning) Case for a Green New Deal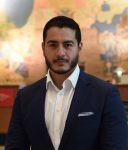 Dr. Abdul El-Sayed is a physician, epidemiologist, educator, author, speaker, and podcast host. He is a commentator at CNN and his newsletter, The Incision, cuts into the trends shaping our moment. His three books include Healing Politics: A Doctor's Journey into the Heart of Our Political Epidemic (Abrams Press, 2020), which diagnoses our country's epidemic of insecurity and the empathy politics we will need to treat it; and Medicare for All: A Citizen's Guide (Oxford University Press, 2021), co-authored with Dr. Micah Johnson, which offers a no nonsense guide to the policy. He is the host of "America Dissected," a podcast by Crooked Media, which goes beyond the headlines to explore what really matters for our health. He is a Senior Fellow at the FXB Center for Health & Human Rights at the Harvard TH Chan School of Public Health and a Scholar-in-Residence at Wayne State University and American University, where he teaches at the intersection between public health, public policy, and politics.
In 2018, Abdul ran for Governor of Michigan on an unapologetically progressive platform, advocating for universal healthcare, clean water for all, debt-free and tuition-free higher education, a pathway to 100% renewable energy, and to rebuild the barrier between corporations and government. His bid was endorsed by Senator Bernie Sanders, Congresswoman Alexandria Ocasio-Cortez, The Nation, and Current Affairs. And though he earned over 340,000 votes, he finished second of three in the Democratic Primary. In 2020, he served as a national surrogate for both Sen Bernie Sanders in the Democratic Primary, and Vice President Joe Biden and Sen Kamala Harris in the general election. He also served as a Sanders appointee and one of eight members of Vice President Biden's 2020 Unity Task Force for Healthcare.