The Obsessive Reader Sissy Test is an "ultimate holiday gift book" catalog for obsessive readers without a budget, compiled with suggestions made by reviewer Tom Bowden. Books are available in store, by special order, or through links supplied in the reviews to our Bookshop.org site. Please call Book Beat for any questions, orders or suggestions: (248) 968-1190 Thank you for shopping local and supporting local bookstores this holiday!
---
For the Political History Fan
(who hasn't yet read the best biography of a U.S. President)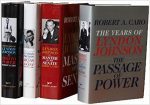 Robert A. Caro's The Years of Lyndon Johnson Set : The Path to Power; Means of Ascent; Master of the Senate; The Passage of Power
Hardcover set, by special order, $184.95
The political biography of our time, now available in a four-volume hardcover set.
Robert A. Caro's life of Lyndon Johnson is one of the richest, most intensive and most revealing examinations ever undertaken of an American president. It is the magnum opus of a writer perfectly suited to his task: the Pulitzer Prize-winning biographer-historian, chronicler also of Robert Moses in The Power Broker, whose inspired research and profound understanding of the nature of ambition and the dynamics of power have made him a peerless explicator of political lives.
"Taken together the installments of Mr. Caro's monumental life of Johnson . . . form a revealing prism by which to view the better part of a century in American life and politics during which the country experienced tumultuous and divisive social change. . .Gripping." –Michiko Kakutani, The New York Times
"By writing the best presidential biography the country has ever seen, Caro has forever changed the way we think, and read, American history . . . It's his immense talent as a writer that has made his biography of Johnson one of America's most amazing literary achievements . . . As absorbing as a political thriller . . .A masterpiece, unlike any other work of American history published in the past. It's true that there will never be another Lyndon B. Johnson, but there will never be another Robert A. Caro, either." –NPR
"One of the truly great political biographies of the modern age. A masterpiece" –The Times (London)
---
Hobbit You Haven't Read This 5,300-page Beast!
This very special collector's edition brings together all twelve books into three hardback volumes–over 5,000 pages of fascinating Tolkien material–and places them in one matching box.
J.R.R. Tolkien is famous the world over for his unique literary creation, exemplified in The Hobbit, The Lord of the Rings, and The Silmarillion. What is less well known, however, is that he also produced a vast amount of further material that greatly expands upon the mythology and numerous stories of Middle-earth, and which gives added life to the thousand-year war between the Elves and the evil spirit Morgoth, and his terrifying lieutenant, Sauron.
It was to this enormous task of literary construction that Tolkien's youngest son and literary heir, Christopher, applied himself to produce the monumental and endlessly fascinating series of twelve volumes, The History of Middle-earth.
---
Five Decades of Photography: a Legendary Career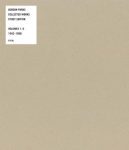 Gordon Parks: Collected Works: Study Edition
A self-taught polymath, Parks chronicled the African-American experience and retold his own personal history
This five-volume collection surveys five decades of Gordon Parks' (1912–2006) photography. It is the most extensive publication to document his legendary career. Widely recognized as the most important and influential African-American photographer of the 20th century, Parks combined a unique documentary and artistic style with a profound commitment to social justice.
Working first for the Farm Security Administration and later for Life magazine, he specialized in extended-narrative picture stories on difficult subject matter. Covering crime, poverty, segregation, the politics of race and class, and controversial personalities, Parks became legendary for his ability to meld penetrating insight with a lyrical aesthetic. He was thus able to introduce a broad and diverse public to people, issues and ideas they might otherwise have ignored. Parks was remarkably versatile, traveling the world to photograph news events and fashion, as well as the worlds of art, literature, music, theater and film. Later in life, he reconceived his vision in fundamentally personal and poetic terms, producing color photographs that were allusive rather than descriptive, symbolic rather than literal.
---
The Ultimate Notebooks of the Unconscious Mind
Until now, the single most important unpublished work by C.G. Jung—The Black Books.
In 1913, C.G. Jung started a unique self- experiment that he called his "confrontation with the unconscious": an engagement with his fantasies in a waking state, which he charted in a series of notebooks referred to as The Black Books. These intimate writings shed light on the further elaboration of Jung's personal cosmology and his attempts to embody insights from his self- investigation into his life and personal relationships. The Red Book drew on material recorded from 1913 to 1916, but Jung actively kept the notebooks for many more decades.
Presented in a magnificent, seven-volume boxed collection featuring a revelatory essay by noted Jung scholar Sonu Shamdasani—illuminated by a selection of Jung's vibrant visual works—and both translated and facsimile versions of each notebook, The Black Books offer a unique portal into Jung's mind and the origins of analytical psychology.

---
This is a more-than-complete collection of the quintessential underground comic book.
There scarcely was an underground comics world before Robert Crumb's classic solo first issue ofZap. By Zap #2, he had begun assembling a Seven Samurai of the best, the fiercest, and the most stylistically diversified cartoonists to come out of the countercultural kiln. All of them were extremists of one sort or another, from biker-gang member Rodriguez to Christian surfer Griffin, but somehow they produced a decades-long collaboration: a mind-blowing anthology of abstract hallucination, throat-slashing social satire, and shocking sexual excess, that made possible the ongoing wave of alternative cartoonists like Daniel Clowes, Chris Ware, and Charles Burns. The Complete Zap Comix collects every issue of Zap — every cover and every story, and even the Zam mini comic jam among the Zap artists — in a five-volume, slipcased hardcover set. Plus, an introduction by founder R. Crumb and an oral history of Zap by Patrick Rosenkranz.Zap is the most historically and aesthetically important comics series ever published. A signed edition may be available, please inquire.
Also included exclusively in this boxed set is a portfolio of Zap covers by the eight artists, replicated from high resolution scans and proofs, and specially printed for this edition on acid-free, 100% cotton fine-art paper utilizing archival pigment inks.
"Without a doubt one of the most influential titles in comics and comix history… A fantastic collection, and equally fantastic packaging. … Zap definitely is an important staple in the history of comics, and this ultimate collection from Fantagraphics is an ultimate treasure trove to be enjoyed by new generations to come." – Cameron Hatheway, Bleeding Cool
"Is it possible for something to be too good? If so, this deluxe set of complete Zap Comix might just be it. This is the most important comics collection to be released in years… This set is worth every penny of its price tag." – Benn Ray, Largehearted Boy

---
"All of her subjects, no matter how down and out, looked straight back at Ms. Mark, and her camera never flinched. With one fearless project after another, she became one of the preeminent documentary photographers of our time." –Washington Post
Conceived and edited by film director Martin Bell, Mary Ellen Mark's husband and collaborator for over 30 years, The Book of Everything celebrates in over 600 images and diverse texts Mark's extraordinary life, work and vision. From 1963 to her death in 2015, Mark told brilliant, intimate, provocative stories of remarkable characters whom she would meet and then engage with—often in perpetuity. There was nothing casual or unprepared about Mark's approach; she unfailingly empathized with the people and places she photographed.
For this comprehensive book Bell has selected images from Mark's thousands of contact sheets and chromes—from over two million frames in total. These include her own now-iconic choices, those published once and since lost in time, as well as some of her as-yet-unpublished preferences. Bell complements these with a few selections of his own. Along with Mark's photos made in compelling, often tragic circumstances, The Book of Everything includes recollections from friends, colleagues and many of those she photographed. Mark's own thoughts reveal doubts and insecurities, her ideas about the individuals and topics she photographed, as well as the challenges of the business of photography.
The images of Mary Ellen Mark (1940–2015) are icons of documentary photography. Her 20 books include Ward 81 (1979), Falkland Road (1981) and Indian Circus (1993). Her last book Tiny: Streetwise Revisited (2015) is a culmination of 32 years documenting Erin Blackwell (Tiny), who was featured in Martin Bell's 1985 film Streetwise and Mark's 1988 book of the same name. Mark's humanistic work has been exhibited and published in magazines worldwide.
---
"Everything important that I have done can be put into a little suitcase," Duchamp said in 1952: finally that suitcase is available to all
One of the most important and enigmatic pieces of modernist art, "Boîte-en-valise" (Box in a Valise) was assembled by Marcel Duchamp between 1935 and 1941. The portable suitcase contains "the sum of his artistic work" up to that point. Perhaps in premonition of the coming war, and over years without a fixed address, Duchamp reproduced his work in a format that enabled him to easily transport his "complete works" at any time. Though the artist eventually made 300 copies of his box, many are behind glass in museums and private collections.
This is the first ever reinterpretation of the legendary book-object, conceptualized by French artist Mathieu Mercier and now available to a broader audience. At once a work in and of itself, and a reproduction in the Duchampian spirit, this miniature museum contains 69 reproductions of Duchamp's most celebrated creations, including the famous "Fountain," Nude Descending a Staircase" and the "Large Glass." Mercier has reproduced the bulk of the contents of Duchamp's original box in paper form, designing everything to scale. Playful and accessible, the "Boîte" reflects Duchamp's desire to display his works outside the museum and gallery system.
Marcel Duchamp (1887–1968) studied painting in Paris. In 1912 he exhibited his controversial "Nude Descending a Staircase," and by 1913 he had abandoned traditional painting and drawing for more experimental forms, including mechanical drawings, studies and notations. In 1914 he introduced his readymades. Duchamp became associated with the Dada movement in Paris and in New York, where he settled permanently in 1942.
---
Supernatural Creations from the 1400s to the Present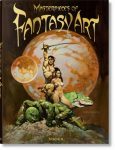 Masterpieces of Fantasy Art
Featuring Julie Bell, Philippe Druillet, Frank Frazetta, H.R. Giger, The Brothers Hildebrandt, Jeffrey Catherine Jones, Rodney Matthews, Moebius, Rowena Morrill, Sanjulian, Boris Vallejo, Michael Whelan, plus 99 more. This monster-sized tome features original paintings, contextualized by preparatory sketches, sculptures, calendars, magazines…
Fantasy art, that colorful blend of myth, muscle and sexy maidens, took off in 1923 with the launch of Weird Tales magazine, was reinvigorated in the 1960s with The Lord of the Rings, Conan the Barbarian paperbacks with Frank Frazetta covers, and the late '60s emergence of fantasy psychedelia. It went big in the '70s with the role-playing game Dungeons & Dragons, the brilliant French magazine Métal Hurlant, and the first Star Wars film. The number of active artists peaked in that decade, but a new generation of fans discovered the genre through fantasy trading card games in the '90s, leading to a massive interest in the art form today. Frank Frazetta's oil paintings—when they infrequently come to market—have sold for more than $ 5 million in recent years. Fans line up at Comic-Cons to meet Boris Vallejo, Rodney Matthews, Greg Hildebrandt, Michael Whelan, and Philippe Druillet, and memorialize dead icons HR Giger, Jeffrey Catherine Jones, and Frazetta. Imagine how eagerly they'll welcome TASCHEN's History of Fantasy Art, including all the artists listed above and more.
This monster-sized tome features original paintings, contextualized by preparatory sketches, sculptures, calendars, magazines, and paperback books for an immersive dive into this dynamic, fanciful genre. Insightful bios go beyond Wikipedia to give a more accurate and eye-opening look into the life of each artist. Complete with tipped-in chapter openers, this collection will reign as the most exquisite and informative guide to this popular subject for years to come.