"My Loves were Adrienne Monnier and James Joyce and Shakespeare and Company" –Sylvia Beach
Books on or about bookshops are a small niche of titles produced, collected and read. Some have gone on to become classics. At the start of the twentieth century, Paris was fertile ground for two important bookstores that became community centers, places of spirit, and the birthplace of modernist literature.
Two women booksellers were responsible for igniting their passion for books and passing it on to others. Both recognized neighborhood genius writers in their formative state, and elevated books and reading to an art form during a dangerous time of war and propaganda. These two petite women dispelled fear and the great menace before them, and by embracing books 'like animals inside the ark' helped preserve a small corner of humanity, perhaps even changing the course of history. They were Adrienne Monnier and Sylvia Beach, patron saints of the contemporary bookstore.
Adrienne Monnier was a writer, editor, publisher of small literary revues, and one of the first French women to open her own bookstore; "La Maison des Amis des Livres" (The House of Friends and Books), which opened in 1915. The bookstore was her dream; financed with 10,000 francs, given to her by her father after an insurance settlement from a train crash at work that left him with a permanent limp. Located at 7 rue de l'Odeon, La Maison des Amis des Livres specialized in art and contemporary French writing and became a legendary literary salon.
"Around me, everywhere are books. The light of my lamp runs his silver fingers over the mat crystal of the paper that covers all the tight little backs. Behind these backs, there is a simple and mysterious body, which is the very body of the human spirit, most of which is invisible. A savage who has never seen books and who does not know the secret of writing, opening one of these volumes, might think of an anthill, or blades of grass, or the sky riddled with stars. Doesn't this infinite come out of us stand up to the infinity from which we come out and which crushes us with its empty gazes? Book, inner firmament. Country of memory, where the Mothers rock us and always smile at us. Small books to the measure of human hands, often tight to the heart. Books on which the forehead leans, which give the forehead its weight and clarity. He who loves you and who lives in your presence knows serenity; he already has commerce with the immortals. He knows that all along his earthly path, you will never fail. Before the books are gone, the man will be gone. "
–Adrienne Monnier, The Number One (The Gazette of Friends of Books)
Readings at Monnier's bookshop were a weekly affair and included many of the French luminaries of the day including Paul Valèry, Andre Gide, Paul Claudel, Pierre Reverdy, Lèon-Paul Fargue among others. The bookshop also became a meeting place for poets Louis Aragon, Apollinaire, and Andrè Breton during the first World War –a site for the early stirrings of Dada and Surrealism. Monnier published her own literary journal Naivre d Argent, out of her bookshop, which introduced many American writers including Ernest Hemingway to a French audience for the first time.
If every conscious person can be exalted upon his calling and grasp the wonderful rapports that bind him to Society, what shall our own feelings be for us, booksellers, who before every thought of gain and work that is based upon books, have loved them with rapture and have believed in the infinite power of the most beautiful! –The Very Rich Hours of Adrienne Monnier
Selections from Monnier's published journals, essays and diaries were first translated into English in 1976 by Richard McDougal, and published as The Very Rich Hours of Adrienne Monnier. In a New Your Times review that year, author James Atlas wrote; "Monnier was a brilliant essayist. Whatever her subject—a memoir of the poet Leon-Paul Fargue or the recollection of a luncheon with Colette, a discourse on the circus or a comical description of George Antheil's "Ballet Mécanique," which caused a riot when it was performed—Monnier wrote in a vivacious, intimate voice, at once orotund (in other words, typically French) and conversational: "One does not read you so much as one hears you speaking," Gide observed. On the subject of literature, she was almost mystical, verging on the grandiose and sentimental in her commentaries on French authors; and her country, France, inspired an even more fervent rhetoric. In the 15th century illuminated miniatures from which Richard McDougall has taken his title, the "Tres Riches Heures du Duc de Berry," Monnier discerned. "the very nature of France; our land and its people dressed in bold colors; gestures of work, as pure as those of the Mass; women in flowerlike dresses; fanfares of leisure; living water, branches; desires and loves; beautiful castles in the distance; a comforting sky; our animals near us; or days colored with hope and finely woven."
I salute you, my Sister born beyond the seas!
Behold my star has found your own…
–Adrienne Monnier, from a poem to Sylvia Beach
Sometime in 1917, Monnier met the American born Sylvia Beach. Monnier encouraged Beach to open a bookstore specializing in English language books across the street, and in 1919, Shakespeare and Company opened. Like Monnier, Beach was attracted to great writers and both shops had entire walls covered in photographs of authors — many inscribed personally to them. Beach really specialized in only one author: James Joyce.
"I knew nothing of business," said Beach in a 1962 filmed interview, "And a little about books. I only loved books very much and I couldn't foresee the success of this place and how its life would be eventually… All these young Americans poured into the shop from America. They were disgusted with America because they couldn't get a drink there because of prohibition and they couldn't get Ulysses. I thought those were the two causes of their discontent. They were thoroughly frustrated."
Sylvia Beach published her memoir Shakespeare and Company with Harcourt in 1959. The shop attracted the great expat writers of the time—Hemingway, Fitzgerald, T. S. Eliot, and Ezra Pound — including some of the century's most compelling female voices: Djuna Barnes, Gertrude Stein, Janet Flanner, Kay Boyle, and Mina Loy. Paris was the de facto center of civilization between the wars and its light was magnified inside the bookstores of Beach and Monnier. In Moveable Feast, Hemingway's book about Paris in the 1920s he draws an amazing portrait of Sylvia Beach.
Sylvia had a lively, very sharply cut face, brown eyes that were as alive as a small animal's and as gay as a young girl's, and wavy brown hair that was brushed back from her fine forehead and cut thick below her ears and at the line of the collar of the brown velvet jacket she wore. She had pretty legs and she was kind, cheerful and interested, and loved to make jokes and gossip. No one that I ever knew was nicer to me.

I was very shy when I first went into the bookshop and I did not have enough money on me to join the rental library. She told me I could pay the deposit any time I had the money and made me out a card and said I could take as many books as I wished. There was no reason for her to trust me. She did not know me and the address I had given her, 74 rue Cardinal Lemoine, could not have been a poorer one. But she was delightful and charming and welcoming and behind her, as high as the wall and stretching out into the back room which gave onto the inner court of the building, were the shelves and shelves of the richness of the library. –Ernest Hemingway, A Moveable Feast
In 1920, Beach first met James Joyce in a chance encounter at a dinner party. Two years later, Shakespeare and Company became the publisher and backer for James Joyce's Ulysses, a cornerstone of modernist writing, considered the most dangerous book ever published, and contender for most influential book of the twentieth century. Ulysses went through ten printings under the Shakespeare and Company imprint and brought the shop fame if not wealth. Beach devoted twelve years of her life promoting and serving the needs of Joyce, selling around 28,000 copies of his book until it found a publisher in America. Beach gave her publishing rights away for free (as a gift to Joyce) in 1935 to Knopf in New York.
Good writers are so rare that if I were a critic, I would only try and point out what makes them reliable and enjoyable. For how can anyone explain the power of creation? –Sylvia Beach, Shakespeare & Company
Monnier and Beach became friends and lovers, living together from 1921 until Gisèle Freund, a young German-Jewish refuge and photographer landed in Paris in 1936. Freund was a member of an anti-fascist group, who were being round up by the Nazis and murdered. While Beach was visiting her father in Pasadena that year, Freund moved in with Monnier. When Beach returned, she took it all in stride, and moved into a small apartment above her shop. She never held a grudge and maintained a close friendship with Monnier, sharing their daily meals together. Freund was forced to leave France in 1941, as her life was endangered because of the German invasion and she spent the war years in Mexico and South America.
Beach was interred by the Germans for six months in 1940, just at the start of WW II. By some miracle she was released due to an illness and went into hiding with friends in Paris.In 1941, a German officer insisted Beach sell him a first edition copy of Finnegan's Wake he saw in the front window of Shakespeare and Company. After Beach refused to sell, he said he would return the next day to confiscate her entire shop. That was the last day Shakespeare and Company was open. Incredibly, overnight, Beach removed every book in the shop, painted over the bookstore sign and went into hiding — the bookstore was closed for good. The street of L'Odeon was liberated at war's end by her old patron and friend Ernest Hemingway. Beach lived out her life in the apartment above her old bookshop, dying of a heart attack in 1962 at the age of 75.
Monnier developed a serious case of Ménière's disease in 1954. It effected her inner ear, and she suffered from vertigo and audial hallucinations of load noises brought on by the disease. Her illness was unbearable and led to her death by suicide in 1955.
It is ordinarily believed that life extinguishes enthusiasms, disappoints dreams, distorts first conceptions… Nevertheless, we can declare that at the beginning of our undertaking, our faith and enthusiasm were much less great than they are today… Here then, built in a time of destruction, is La Maison des Amis des Livres. –The Very Rich Hours of Adrienne Monnier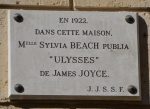 Above the door of 12, Rue de L'Odeon, a memorial plaque simply states:
In 1922
In this Apartment
Mlle Sylvia Beach published
"ULYSSES"
By James JOYCE.
Shakespeare and Co. redux
"For Americans fleeing censorship and repression in their own country, Sylvia was refreshingly committed to artistic freedom; her bookstore and her philosophy were quietly radical. She nurtured her friends and customers with cups of tea on cold days, she held mail and conveyed messages for patrons, lent money, she even had an extra bed for artists who needed a place to stay – a tradition that would carry on into the next incarnation of Shakespeare and Company continuing today." –Hemingway Project
George Whitman in 1951, opened Le Mistral, an English language bookshop in Paris. Whitman carried on the tradition and spirit of Sylvia Beach and renamed his shop Shakespeare and Company in 1964 (to honor Sylvia Beach and the 400 year anniversary of Shakespeares birth). The bookstore is a Paris fixture run today by Whitman's daughter and is a haven for English speaking writers. A history of this legendary bookstore was recently published as Shakespeare and Company, Paris: A History of the Rag & Bone Shop of the Heart
---
Note: In-print books are linked to Bookshop.org where we are an affiliate bookstore. Most books mentioned in the article can also be purchased direct from Book Beat; (248) 968-1190 or by writing to: BookBeatOrders@gmail.com