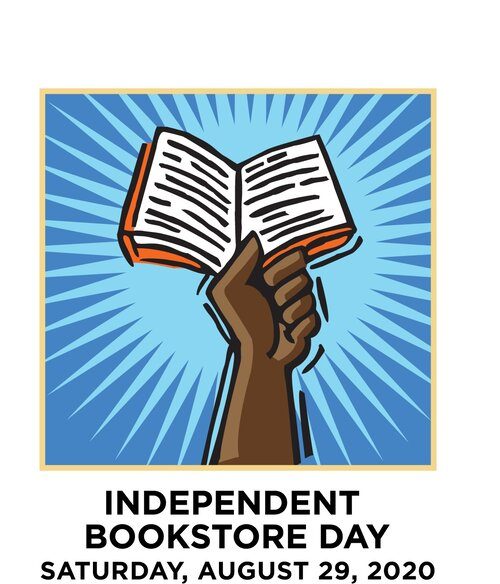 Why celebrate Independent Bookstore Day?
Now more than ever, independent bookstores are community centers and local anchors run by passionate readers. They are entire universes of ideas that contain the possibility of real serendipity. They are lively performance spaces and quiet places where aimless perusal is a day well spent. Indie bookstores, whether dusty and labyrinthine or clean and well-lighted, are not just stores, they are solutions. They hold the key to your love life, your career, and your passions. Walking the aisles of a good bookstore means stumbling upon a novel from India that expands your heart. It's encountering an art book that changes the direction of your life. It's the joy of having a perfect stranger steer you toward the perfect book. In a world of tweets and algorithms and pageless digital downloads, bookstores are not a dying anachronism. They are living, breathing organisms that continue to grow and expand. In fact, there are more of them this year than there were last year. And they are at your service."
---
A schedule of virtual events, with links, can be found here.
---
Book Beat will be open for appointment browsing from Noon-7 PM: call us at (248) 968-1190. We are also open for contactless curbside pickup, and online orders: BookBeatOrders@gmail.com
Book Sale at a Distance:
From 2 PM – 7 PM we plan to have an outdoor table with special sale books!
Here's a look at some of the special, 2020 Independent Bookstore Day exclusives.
For kids:
Give Me Back My Book Baby Bodysuit: This adaptation of the art from the runaway bestseller I WANT MY HAT BACK was created by Jon Klassen, especially for this project. 100% cotton, sized for 12 months.
Dav Pilkey's Reversible Supa Cape: Dav Pilkey fans will flip for this two-sided superhero cape featuring Dog Man's #DoGood art on a blue background and Captain Underpants' "Reading Gives You Superpowers" in red. Perfectly sized for SupaReaders.
Ways To Make Sunshine by Renee Watson: Newbery Honor and Coretta Scott King Author Award winner Renée Watson writes her own version of Ramona Quimby, one starring a Black girl and her family, in this start to a charming new middle grade series about spirit, kindness, and sunshine.
Shuri: A Black Panther Print: A print from the original, upper-middle-grade series (debuting May, 2020) starring the break-out character from the Black Panther comics and films: T'Challa's younger sister, Shuri. Crafted by New York Times bestselling author Nic Stone. Shuri is a skilled martial artist, a genius, and a master of science and technology. But, she's also a teenager. And a princess. This story follows Shuri as she sets out on a quest to save her homeland of Wakanda.
Not Quite Narwhal Kids Tote: Just for Independent Bookstore Day, a special kid-sized NOT QUITE NARWHAL tote bag featuring Kelp, everyone's favorite "land narwhal" from the National Indie Bestseller and Indie Next Top Ten picture book! Features exclusive original artwork from author/illustrator, Jessie Sima!
Dragon Hoops Print: Signed art from Dragon Hoops by Gene Luen Yang! Gene understands stories. Comic book stories, in particular. Big action. Bigger thrills. And the hero always wins. But Gene doesn't get sports. As a kid, his friends called him "Stick" and every basketball game he played ended in pain. He lost interest in basketball long ago, but at the high school where he now teaches, it's all anyone can talk about. The men's varsity team, the Dragons, is having a phenomenal season that's been decades in the making. Each victory brings them closer to their ultimate goal: the California State Championships.
Diary of an Awesome Friendly Kid Tote: Celebrate Independent Bookstore Day with an awesome and friendly exclusive tote bag inspired by Diary of an Awesome Friendly Kid, the instant #1 bestseller by Jeff Kinney! Every tote bag comes with Diary of a Wimpy Kid swag for giveaway.
For adults:
Face It: A Memoir by Debbie Harry, Double Vinyl Album: A vinyl edition of Face It, the much anticipated autobiography from rock icon and lead singer of Blondie, Debbie Harry. Face It Vinyl is performed by Debbie Harry with vocal guest appearances from Chris Stein, Clem Burke, Alannah Currie, and Gary Valentine with original music by Chris Stein. Face It Vinyl features two colored records filled with highlights from the audiobook, beautifully packaged with never-beforeseen photos and art. Each purchase also includes a full-length digital download of the audiobook.
Open A Book, Open Your Mind Socks: Trying times call for meaningful socks. Show off your bookish values with these stylish, comfy sock.
Poems of Resistance, Poems of Hope: Without hope, resistance has no objective. The media is saturated with uncareful language. In poetry, we find precision, peculiarity, and potential. Poems strive less for answers than enliven our questions. The poets in Poems of Resistance, Poems of Hope, take up these questions with an eye for what's possible. Featuring poems by Joy Harjo, Jericho Brown, Yusef Komunyakaa, Louise Gluck, Richard Blanco, Arthur Sze, Ada Limón, Eve. L Ewing, Camonghne Felix, José Olivarez, Morgan Parker, Ariana Reines, Hanif Abdurraqib, Jake Skeets, and many more.
Your Have Arrived At Your Destination by Amor Towles: A near-future science fiction story from AMOR TOWELS! When Sam's wife first tells him about Vitek, a twenty-first-century fertility lab, he sees it as the natural next step in trying to help their future child get a "leg up" in a competitive world. But the more Sam considers the lives that his child could lead, the more he begins to question his own relationships and the choices he has made in his life.
The Joy of Protest Postcards by Jo Rippon: In collaboration with Amnesty International, Jo Rippon presents a stunning range of more than a hundred protest posters, from the iconic to the obscure. The civil rights movement, the fall of the Berlin Wall, and the global outcry against the Iraq war all make their cameos in this comprehensive collection.
Death In Her Hands by Ottessa Moshfegh: From one of our most provocative literary talents, a novel of haunting metaphysical suspense about an elderly widow whose life is upturned when she finds a cryptic note on a walk in the woods that ultimately makes her question everything about her new home.
Space Bandits Issues 1-5 by Mark Millar and Matteo Scalera: Thena Khole and Cody Blue are among the universe's most-wanted felons. Each the leader of their own criminal ops, they run heists across the galaxies—hopping from ship to ship to fleece everyone inside. But when both women are betrayed by their crews, the bandits only have one thing on their minds: REVENGE.
Independent Bookstore Day Totes and Shirts.
…and plenty more exclusives! We can hardly wait!