Peter Williams: Black Universe
July 2nd, 2020 through January 10th, 2021
Peter Williams: Black Universe is a joint exhibition at Trinosophes and the Museum of Contemporary Art Detroit that presents two distinct bodies of work, figurative and abstract paintings, by artist Peter Williams. These visually compelling works intertwine art historical references, allegories, current events, and personal life experiences. In this two-part exhibition, which presents more than two dozen paintings, the artist explores multiple facets of Black consciousness, including beauty, sexuality and spirituality, as well as difficult social issues, such as racial discrimination and climate change, through symbolic imagery, grotesque figures and vibrant compositions.
"Where do Black people go during times fraught with pain and sorrow?" Peter Williams asks. "What of our future consciousness?" Now a professor of painting at the University of Delaware, Williams taught for 17 years at Wayne State University in Detroit and was a well-established member of the arts community.
Organized by the Museum of Contemporary Art and curated by guest curators Larry Ossei-Mensah and Rebecca Mazzei, the exhibition highlights new works from Williams' Black Exodus series (on view at the museum) and Narration and Transition, a survey of abstract paintings (on view at Trinosophes) that are an essential aspect of his dynamic oeuvre. His art presents an uncensored picture of dominant contemporary culture, one in which our desires, our humor, our complicity and brutality are unsuppressed.
Narration and Transition at Trinosophes
The abstract works from 2012-2019 highlight the unconscious, free-flowing process during which Williams develops his coded visual language. Throughout his career, he has painted abstraction to explore ideas that may not yet be fully formed. These pieces may look iconographic but are really a pre-vocabulary that merely hints at subject matter. They evoke imagery of both a physiological and psychological nature—totemic forms suggestive of sexuality, spirituality, creation, ancient cultural significance, or even his own experience living in his body. Williams underwent great trauma as a young man, when he was involved in a car accident that left him disabled. Flesh, muscle, blood vessels and cellular activity may come to mind in the visceral yet playful forms he calls "the naughty bits" in paintings like Pussy Galore and Squeeze I, II and III from 2013. He pushes the boundaries of perceptual experience to see what he can get away with image-wise, without being explicit.
Williams expresses his own right to release into the world undetermined ideas and set them free rather than resolving the picture on the canvas. Experiments with shapes and forms often become solutions for figuration in his narrative paintings, where they take on new meaning as props or characters while retaining the impulse of their origin. They are like his mandala paintings, wherein repetition, symmetry, color, and curvilinear shapes provide a meditative pause that is therapeutic for the artist and, hopefully, also the viewer.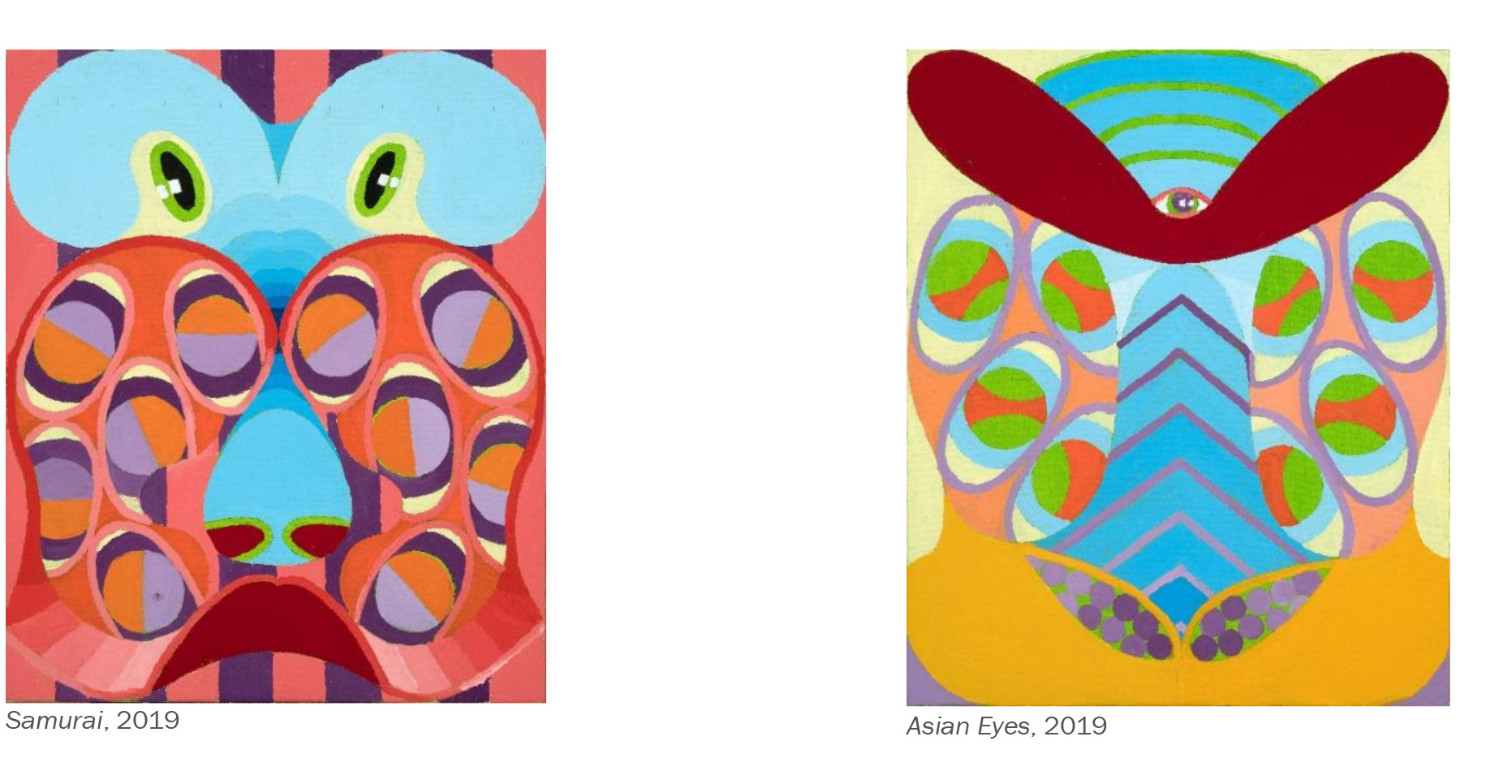 One large-scale self-portrait entitled Bird Man serves as a prologue to the Black Exodus series [2019-20] at the Museum, while sharing certain visual cues with the abstract paintings, such as the color palette he spends years inventing and evolving with specificity and intention. Bird Man was produced after Williams was released from the hospital following major surgery. The isolated figure appears melancholy and resigned. A dragon that looks like the façade from a house of terror envelops the horizon and begins devouring him. As a child, Williams says he had a reoccurring dream where he took flight, perhaps to escape the rules of homelife. The birds are also messengers of the apocalypse, foretelling of their own annihilation.
While it may seem as though the subject in this portrait is defeated, the Black Exodus series he painted thereafter is about the pursuit of a better life. Williams lightens the mood of Bird Man by adding a kooky character in the right corner. (The artist often uses irreverent or humorous tropes, such as the "parachute" in Pussy Galore). In literature, when a fairy appears, it acts as a spiritual guide. A cherub signifies changing times in Renaissance paintings. In Shakespeare's The Tempest, the spirit Ariel is a silent spy supporting the main character. Here, the wizard waving his wand energizes the painting. Maybe he also hints that we should pay attention, as a major event is unfolding.
The Black Exodus series (on display at MOCAD) presents a highly evolved Afrofuturist storyline that uses allegory, dark humor, and satire to explore a new ecologically focused life for Black people. With the earth on the verge of social and environmental disaster, a community bands together as they embark on an interdimensional voyage in pursuit of a better life. Individuals travel in retrofitted 1950s flying cars, referencing the ingenuity of Cuban society during Socialism and Williams' time spent living in the Motor City.
"This series is an evolving dialogue between myself and the viewer about the future of 'Negritude,' the 'quality or fact of being of black African origin,'" Williams explains. "So much of my recent work tells the story of the transportation of the Black body and mind—the strength of an undefeated people. It is about an escape from slavery, from Jim Crow, from Civil Rights, and even from a post-racial planet.
"As I go further into the backstory of my work, I feel that it is all about the strength to cross a middle passage, to endure centuries of slavery, and find some place to exist that is not just on the physical plane. I'm trying to find that world inside my painting."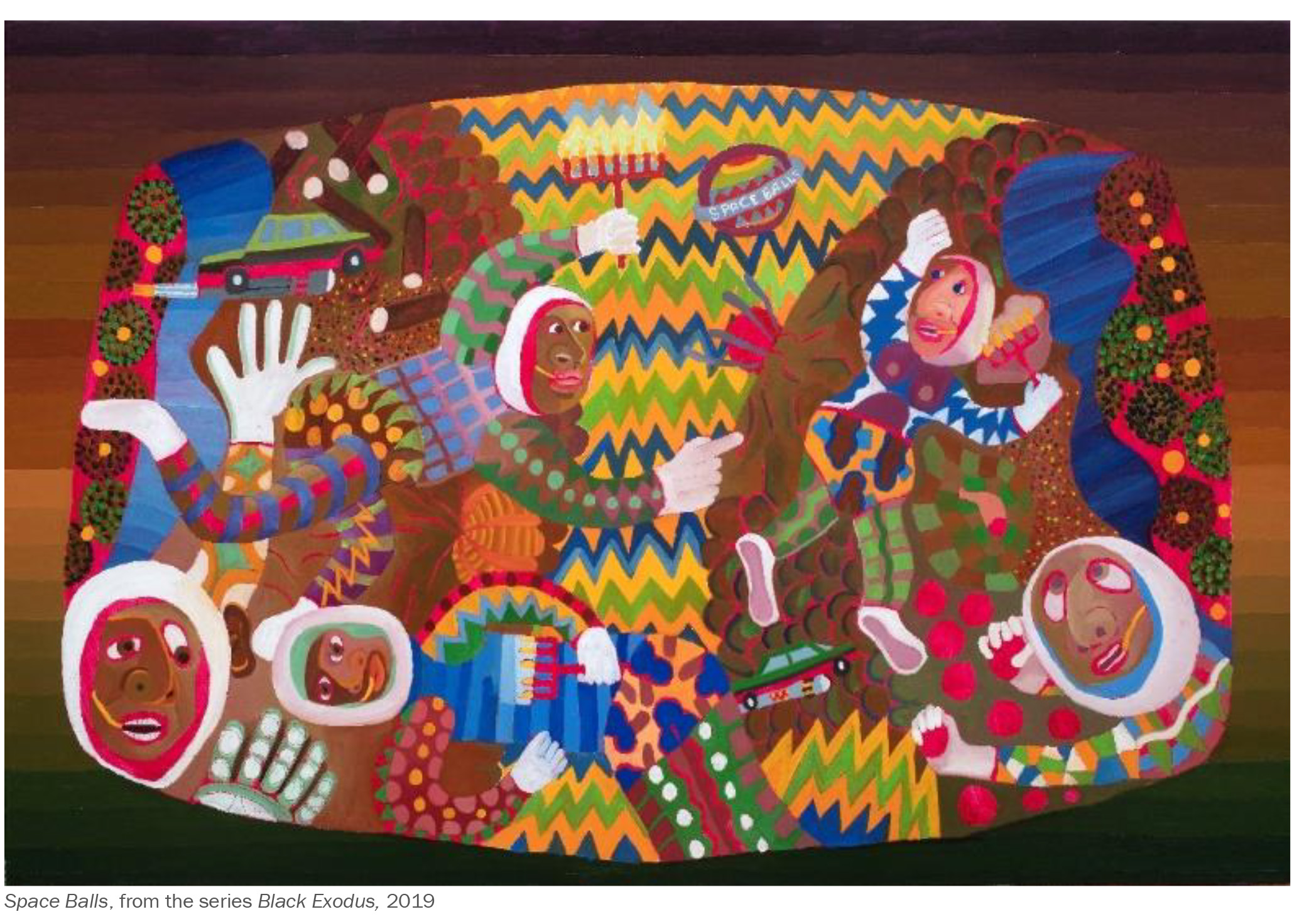 The Black Exodus series examines the idea of "space" literally and metaphorically, referring to the surface of the canvas, the physical realm, and perhaps most importantly, the realm of inner and outer consciousness. The formal qualities of painting function purposefully in the artist's work as he slips between abstraction and figuration. Williams' stimulating color palette lures viewers in to explore themes regarding racial animosity that they may otherwise find challenging to confront.
He also uses pattern and distortion as devices to "scramble things up," emphasizing the disruptive and disorienting conditions that affect Black lives in American society. His characters may grab the viewer's attention at first, but nothing can be taken at face value. A network of activity resides in the layers beneath the surface.
This charged body of work showcases the artist's incredible knack for storytelling, as well as an in-depth knowledge of art history and the history of civilization that seem to be at his fingertips. He invites viewers to use their imagination when exploring the narrative he has constructed.
MORE ABOUT THE ARTIST
For more than 40 years Williams has chronicled current and historical events, interspersing pictorial narratives with personal anecdotes and fictional characters to create paintings about the diverse experiences of Black Americans. With boldness and humor, he tackles the darkest of subjects including, but not limited to, police brutality, lynching, slavery, mass incarceration, and other realms of racial oppression. Williams uses cultural criticism to form new creation myths, retelling the history of America from fresh and cosmic perspectives.

Peter Williams lives in Wilmington, Delaware and is Senior Professor in the Fine Arts Department at the University of Delaware. He earned his MFA from the Maryland Institute College of Art and his BFA from the Minneapolis College of Art and Design. His paintings are held in the permanent collections of the Smithsonian's American Art Museum; Whitney Museum of American Art, New York; Walker Art Center, Minneapolis; Detroit Institute of Arts, MI; Delaware Art Museum, Wilmington; Howard University, Washington DC; Davis Museum at Wellesley College, MA; Pizzuti Collection, Columbus, OH; the Mott-Warsh Collection in Flint, MI; and The Bunker/Beth Rudin DeWoody Collection, Palm Beach; Jorge Perez Collection, Miami; and the McEvoy Foundation, San Francisco, among others. (Artist biography courtesy Luis De Jesus Los Angeles)
Funding for Peter Williams: Black Universe is provided Modern Ancient Brown and Luis De Jesus Los Angeles.
Note: The above handout from Trinosophes was written and prepared by Rebecca Mazzei, co-curator of the Black Universe exhibition.