Detroit Public Television presents: Detroit Country Music at The Crofoot in Pontiac, Michigan on Wednesday, September 11, 2019 8 pm show time, doors open at 7pm. Individual tickets to attend this event are available for $20 in advance, or $25 at the door. Please contact dptv.org/detroitcountry for ticket info. Book Beat will be there to help with sales of Detroit Country Music: Mountaineers, Cowboys and Rockabillies by Craig Maki with Keith Cody.
In Detroit Country Music, Craig Maki rescues scores of performers from Country Music limbo while simultaneously portraying Detroit City at its industrial peak. Regional studies of music don't get better than this."
—Thomas L. Wilmeth, Author of The Music of The Louvin Brothers: Heaven's Own Harmony
"I believe this book is the first of its kind for the genre and locale that it covers. The information furnished in the book—especially the details in the interviews—is groundbreaking. Much of this material has never been put together before. The interviews not only supply fascinating information but they can never be conducted again because so many of the artists have now passed on. I know of no other book that can directly compete with this manuscript in its focus, detail, and scope."
—S. R. Boland, author of The Birth of the Detroit Sound: 1940–1964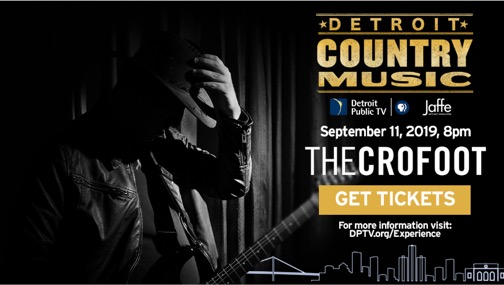 Enjoy performances by:
Blanche
Frontier Ruckus
The Volebeats
Saline Fiddlers Philharmonic
Candy Miller
Aaron Jonah Lewis
Libby Decamp
Ethan Daniel Davidson
Behind the Times
The Clawsonaires (square dancing)
The CommonWealth Cloggers
Watch exclusive highlights from Ken Burns' Country Music documentary premiering on PBS September 15 at 8pm ET.
Learn about Detroit's history in country music from local legends including authors of "Detroit Country Music: Mountaineers, Cowboys and Rockabillies," Craig Maki and Keith Cady who will also be signing copies of their book.
Emcees: Dan John (Goober) Miller and Tom 'Junior' Hendrickson, Jr., with Keith Cady
Get your package to attend 3 DPTV Experience events for $60, or a $5/month membership.
Learn more and get your tickets at dptv.org/detroitcountry.