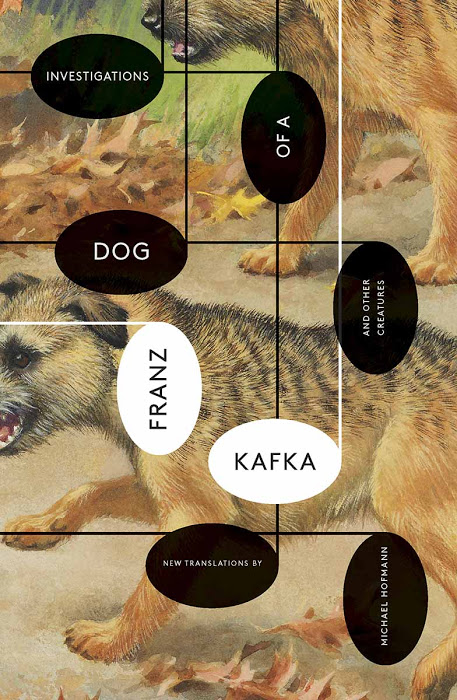 This month's reading group selection is Investigations of a Dog by Franz Kafka, translated from the German by Michael Hofmann.
The Book Beat reading group will meet Wednesday, September 28th at 7:00 pm at Goldfish Tea Cafe, located at 117 W. Fourth Street in Downtown Royal Oak. All are welcome.
Get 15% off on the Current Reading Group Selection.
Animals, strange beasts, bureaucrats, businessmen, and nightmares populate this collection of stories by Franz Kafka. These matchless short works, all unpublished during Kafka's lifetime, range from the gleeful dialogue between a cat and a mouse in "Little Fable" to the absurd humor of "Investigations of a Dog," from the elaborate waking nightmare of "Building the Great Wall of China" to the creeping unease of "The Burrow," where a nameless creature's labyrinthine hiding place turns into a trap of fear and paranoia."
"Displaying Hofmann's extraordinary attention to voice, syntax, punctuation, and even paragraphing, the new renderings alone will be attractive to anyone who has already read some of these 42 stories elsewhere. But the book does more than give us familiar narratives in renewed language… the selection turns us toward peripheral but complementary tales of alienation and uncertainty." – Jared Woodland, Entropy Magazine
"The way in which he experienced estrangement was literature, with an intensity greater than that of any other writer of this century… the effort to illuminate this condition by grasping through literature that play is the reward for the courage of accepting death." – Stanley Corngold
"Hofmann, with his taste for mischief, makes Kafka, often translated in a buttoned-up key, a writer capable of blending old-fashioned literary parlance and contemporary media-speak. The modern touches also emphasize the timelessness of Kafka's themes, horror of institutions being just one of them." – Anna Aslanyan, Financial Times
---
Franz Kafka was born into a middle-class, German-speaking Jewish family on July 3, 1883 in Prague, Bohemia, now the Czech Republic. After studying law at the University of Prague, he worked as a clerk at an insurance company and wrote in the evenings. In 1923, he moved to Berlin to focus solely on writing, but died of tuberculosis shortly after.
He named his friend Max Brod as executor of his will, which stated that all of his unpublished was to be burned on his death. Brod ignored this—publishing now-classic works including The Trial, The Castle, and Amerika.
Kafka's stories and novels have provoked a wealth of interpretations. As Susan Sontag wrote, "The work of Kafka… has been subjected to a mass ravishment by no less than three armies of interpreters. Those who read Kafka as a social allegory see case studies of the frustrations and insanity of modern bureaucracy and its ultimate issuance in the totalitarian state. Those who read Kafka as a psychoanalytic allegory see desperate revelations of Kafka's fear of his father, his castration anxieties, his sense of his own impotence, his thralldom to his dreams. Those who read Kafka as a religious allegory explain that K. in The Castle is trying to gain access to heaven, that Joseph K. in The Trial is being judged by the inexorable and mysterious justice of God."
There is evidence in both the works and Kafka's diaries for each of these interpretations, but his work as a whole transcends them all.
---
Poet, translator, and essayist Michael Hofmann was born in Freiburg, Germany, and moved to the UK at age four. He is the recipient of numerous honors and awards for his poetry and translations, including an IMPAC Dublin Literary Award, a PEN/Book-of-the-Month Club Translation Prize, an Oxford-Weidenfeld Translation Prize, a Helen and Kurt Wolff Translator's Prize, and the Schlegel-Tieck prize (four times). His essays appear regularly in The New York Review of Books. A member of the American Academy of Arts and Sciences and the Deutsche Akademie der Künste, Hofmann teaches full time at the University of Florida.