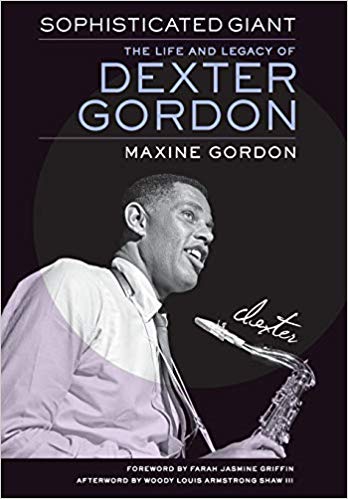 Join jazz historian and archivist Maxine Gordon at Book Beat on Sunday, September 1st, from 3:00 pm to 4:30 pm, where she'll discuss her new book, Sophisticated Giant: The Life and Legacy of Dexter Gordon.
"With "Sophisticated Giant,"Maxine Gordon has produced a homecoming even more dramatic, and perhaps more important, then the one she helped arrange for him [Dexter Gordon] in 1976." —David Hajdu, New York Times
"What began as a solemn promise to Dexter Gordon to finish writing the story of his life is now an extraordinary gift to those of us who are the fortunate readers of Sophisticated Giant. Maxine Gordon's rigorously researched, jazz-inflected, genre-bending account of the many dimensions of this prodigious life—from small intimacies, musical and personal, to major social issues, such as racism, drugs, and mass incarceration—is an occasion to appreciate Dexter's resounding musical genius as well as his wish for major social transformation." — Angela Y. Davis, political activist, author, and speaker
"Dexter Gordon's deep tone, relaxed delivery—even the frequent witty musical quotations—seemed like extensions of his gravely playful speaking voice. That voice carries over on the page too. You can hear it when you read his written testimony and extracts from letters included in Maxine Gordon's illuminating biography." — Kevin Whitehead,
NPR's Fresh Air
Dexter Gordon in his Oscar nominated performance in "Round MIdnight" (1986):
---
Maxine Gordon was born in New York City. Her long history with jazz began when she was a teenager. She and her friends frequented Birdland and the Village Vanguard to hear Miles Davis, Sonny Rollins, John Coltrane, Art Blakey and many others. She worked as a road manager for musicians and helped them write grant applications to the NEA.
On a tour of Europe, Maxine was sent to assist Dexter Gordon and his group to travel to Scandinavia. They began a relationship and were married in the early 80s. She became an independent scholar studying jazz musicians.
As an oral historian and archivist in the fields of jazz and African American cultural history, Sophisticated Giant fulfills the promise she made to her late husband to complete his biography.