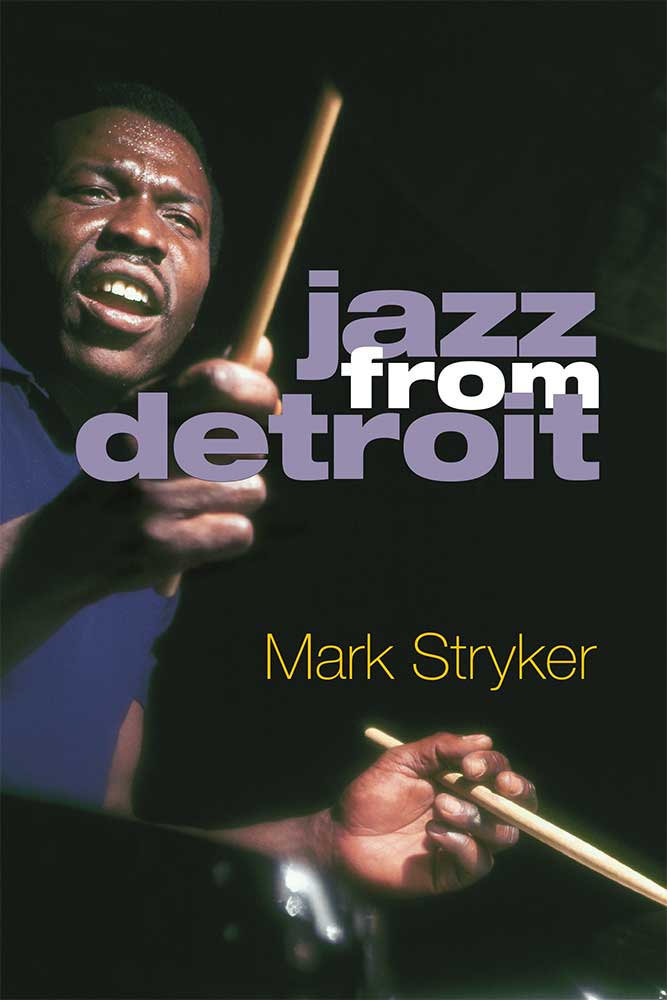 Join arts reporter and critic Mark Stryker at Book Beat (26010 Greenfield Rd.) on Sunday, August 11th from 2:00 to 3:00PM, where he'll discuss his latest book, Jazz from Detroit.
Jazz from Detroit explores the city's pivotal role in shaping the course of modern and contemporary jazz. With more than two dozen in-depth profiles of remarkable Detroit-bred musicians, complemented by a generous selection of photographs, Mark Stryker makes Detroit jazz come alive as he draws out significant connections between the players, eras, styles, and Detroit's distinctive history.
Stryker's story starts in the 1940s and '50s, when the auto industry created a thriving black working and middle class in Detroit that supported a vibrant nightlife, and exceptional public school music programs and mentors in the community like pianist Barry Harris transformed the city into a jazz juggernaut. This golden age nurtured many legendary musicians—Hank, Thad, and Elvin Jones, Gerald Wilson, Milt Jackson, Yusef Lateef, Donald Byrd, Tommy Flanagan, Kenny Burrell, Ron Carter, Joe Henderson, and others. As the city's fortunes change, Stryker turns his spotlight toward often overlooked but prescient musician-run cooperatives and self-determination groups of the 1960s and '70s, such as the Strata Corporation and Tribe. In more recent decades, the city's culture of mentorship, embodied by trumpeter and teacher Marcus Belgrave, ensured that Detroit continued to incubate world-class talent; Belgrave protégés like Geri Allen, Kenny Garrett, Robert Hurst, Regina Carter, Gerald Cleaver, and Karriem Riggins helped define contemporary jazz. The resilience of Detroit's jazz tradition provides a powerful symbol of the city's lasting cultural influence.
Stryker's 21 years as an arts reporter and critic at the Detroit Free Press are evident in his vivid storytelling and insightful criticism. Jazz from Detroit will appeal to jazz aficionados, casual fans, and anyone interested in the vibrant and complex history of cultural life in Detroit.
"As ever, Stryker squeezes in concise appraisals of key recordings, and he notes changes to an artist's sound over time. He's got big ears and can turn a phrase." – Kevin Whitehead, NPR
"There is no other city like Detroit: the musicians, the vibe, the people. Thank you, Mark Stryker, for Jazz from Detroit." – Sonny Rollins
"Jazz from Detroit is a masterpiece—one of the most insightful books about this music ever written. Mark Stryker's perceptive commentary will resonate with both aficionados and newcomers to jazz." – Ethan Iverson, Do The Math
---
Mark Stryker has been an arts reporter and critic at the Detroit Free Press since 1995 covering classical music, jazz and visual arts. His many awards for reporting and music criticism include two ASCAP Deems Taylor Awards. Born in Bloomington, Indiana, he holds a Bachelor's degree in history from the University of Illinois and a Master's degree in journalism from Indiana University. He previously worked at the Dayton Daily News and South Bend Tribune. He also previously worked as a jazz saxophonist. His new book, Jazz from Detroit, is published by the University of Michigan Press.