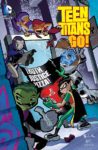 The Detroit Public Library (Redford branch – 21200 Grand River Ave. Detroit, MI 48219) is hosting J. Torres, author of Teen Titans Go!, for a special event on Saturday, April 14th from 2-3 P.M. Torres will be teaching a comic book workshop and signing his work! Book Beat will be providing books for purchase. This event is free, open to the public, and appropriate for all ages! For more information, click here.
They're too young to drive, but not too young to save the world! The world's hottest heroes—Robin, Beast Boy, Raven, Cyborg and Starfire—are here to show you how it's done, Titan-style, in these six fantastic fables.
Villainous video games. Dodo-hunting aliens. Heroic self-esteem issues. Super-dating. Monstrous zits. Super-sibling squabbles. The teen superheroes from Jump City tackle it all in this exciting all-ages graphic novel, collecting issues #1-6 of their first comic book appearances.
Other recent and upcoming work by Torres includes:
RICK AND MORTY PRESENTS: THE VINDICATORS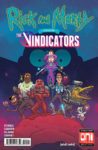 A side-splitting, satirical look at superheroes that's as crude and clever as the cartoon. For mature readers! Artwork by CJ Cannon, Nick Filardi, and Crank. Published by Oni Press.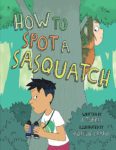 HOW TO SPOT A SASQUATCH
The story of a boy, a monster, and how you can find a friend just about anywhere… as long as you're willing to look! Middle grades. Artwork by Aurélie Grand. Published by Owlkids. In stores: May 15.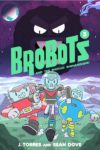 BROBOTS AND THE SHOUJO SHENANIGANS
The Bros. are back in Brotown… but not for long because in this robotic romp, they're going to the moon! Early readers. Artwork by Sean Dove. Published by Oni Press. In stores: August 14.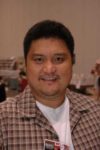 J. Torres is a Filipino-born Canadian comic book writer. He is perhaps best known for his run on DC Comics' Teen Titans Go, the Eisner-nominated Alison Dare, and the Junior Library Guild/TD Summer Reading Club title Bigfoot Boy. Winner of the Shuster Award for "Outstanding Writer," Torres has worked with characters from A (Archies) to Z (The Mighty Zodiac) and many more in between (Avatar, Batman, Ninja Scroll, Simpsons, WALL-E, Wonder Woman, Yo Gabba Gabba, and X-Men to name a few).

He has also written for animation and television (including a Degrassi webisode in which "Drake" ignored the script and adlibbed his lines).
Torres was born in Manila and raised in Montreal where he was educated at McGill University (and pretty sure he took a lit class with Justin Trudeau). He is married with two sons and currently resides in a suburb of Toronto.
The comics Torres has worked on have earned nominations for the prestigious Eisner Award (Alison Dare), "Best Title for Younger Readers" (2003), Harvey Award (Sidekicks, 2001), and Shuster Award for which he has been nominated six times. He won the Shuster for "Outstanding Canadian Writer" in 2006 for his work on Batman: Legends of the Dark Knight, Love as a Foreign Language, and Teen Titans Go.[4] His graphic novels Days Like This and Lola: A Ghost Story were also listed by YALSA in 2004 and 2010 respectively. Most recently "Bigfoot Boy" was a 2012 Junior Library Guild selection and also named one of Kirkus Reviews' Best Children's Books 2012.