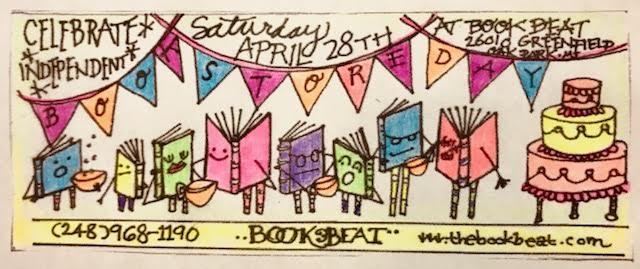 Save the date! The 3rd National Independent Bookstore Day is Saturday, April 28th, and it's happening at Book Beat! We will have local authors signing their latest books, an author recommended shelf, and special book-related goodies available only on that day—including a limited edition free-with-purchase "Read, Think, & Create Tik-Tok of Oz" book bag to haul away your reading stash!
Indie Day Author Schedule
11:00 AM -12:00 PM
Kathryn Madeline Allen is the author of children's picture books, A Kiss Means I Love You, This Book and others.
Jean Alicia Elster author of the Young Adult classics Who is Jim Hines? and The Colored Car.
12:00 PM – 2:00 PM
Michael Zadoorian is the author of Second Hand and The Leisure Seeker, and will be signing his newly released book, Beautiful Music.
3:00 – 4:00 PM
Detroit Free Press columnist and author Rochelle Riley will sign copies of her new book The Burden: African Americans and the Enduring Impact of Slavery
3:00 PM – 5:00 PM
Karen Dybis author of Better Made in Michigan, and The Witch of Delray, will be signing her latest just-released book, Secret Detroit.
Artist and filmmaker Nancy J. Rodwan will be signing her recently published debut art-book Purged: The Art of Metamorphosis.
4:00 – 5:00 PM
Cass Corridor artist Nancy Mitchnick will be signing her first retrospective monograph Uncalibrated.
Author and arts reviewer of the Detroit News, Michael Hodges will be signing Michigan's Historic Railroad Stations, and his newly released book Building the Modern World: Albert Kahn in Detroit.
This year we've asked guest authors & artists to share some of their favorite books. Come check these titles out on our recommended book shelf.
What is Independent Bookstore Day?
Independent Bookstore Day is a one-day national party that takes place at indie bookstores across the country on the last Saturday in April. Every store is unique and independent, and every party is different. At Book Beat we will be celebrating with some of our favorite local writers and artists who all have newly published books. They will be autographing their new titles and sharing some of their favorite books with the public, just ask!
Why are we celebrating independent bookstores?
Independent bookstores are not just stores, they're community centers and local anchors run by passionate readers. They are entire universes of ideas that contain the possibility of real serendipity. They are lively performance spaces and quiet places where aimless perusal is a day well spent. We are happy to join in. Here is a map of all the national stores participating in Indie Bookstore Day.
About Our Guest Authors and Artists:
Praise for Michael Zadoorian's The Leisure Seeker:
"The Leisure Seeker is pretty much like life itself: joyous, painful, moving, tragic, mysterious, and not to be missed." –Booklist, (starred review)
And his new book, Beautiful Music:
"[Zadoorian's] new novel speaks of death, race, music and youth in a voice that has been compared to Nick Hornby and Tobias Wolff. It is set in 1970's Detroit at the cusp of punk, and centers around high school loner and music fanatic Danny Yzemski. One to look forward to for fans of rock music and sad, funny writing."
–Cleveland Plain Dealer
Set in early 1970s Detroit, a divided city still reeling from its violent race riot of 1967, Beautiful Music is the story of one young man's transformation through music. Danny Yzemski is a husky, pop radio–loving loner balancing a dysfunctional home life with the sudden harsh realities of freshman year at a high school marked by racial turbulence.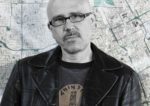 Michael Zadoorian is an American novelist and short story writer. Zadoorian's work explores themes of love, death, memory, things forgotten and found again, the eidetic power of photographic images, and Detroit. He is the author of Second Hand, the short story collection, Lost Tiki Palaces of Detroit and the novel Leisure Seeker, recently released as a feature film starring Donald Sutherland and Hellen Mirren.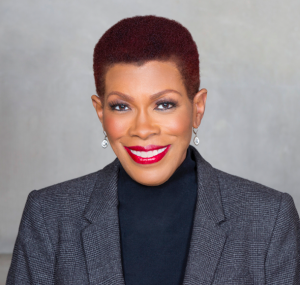 Rochelle Riley is a columnist for the Detroit Free Press, where she has been a leading voice for children, education, competent government and race since 2000. She has won numerous national, state and local honors, including the 2013 National Headliner Award for local column writing. Her columns on the text message scandal that led to the imprisonment of former Detroit Mayor Kwame Kilpatrick were part of the Free Press' 2009 Pulitzer Prize-winning entry for local news. She received the 2017 Eugene C. Pulliam Editorial Fellowship from the Society of Professional Journalists and the 2017 Ida B. Wells Award from the National Association of Black Journalists for her outstanding efforts to make newsrooms and news coverage more accurately reflect the diversity of the communities they serve. A strong advocate for press freedom, Rochelle is co-chair of the National Association of Black Journalists Global Journalism Task Force, which works to increase the number of minority journalists covering the world. She is a global traveler who has been to 25 countries and counting. She was a 2007-2008 Knight-Wallace Fellow at the University of Michigan, where she studied online communities and film. And she was a 2016 inductee into the Michigan Journalism Hall of Fame.
"This collection of essays edited by Riley, a columnist at the Free Press, includes her own heartbreaking journey of searching for her family's history, experiencing racial hatred and seeing it impact her own daughter. But she has created a chorus of voices on the subject with essays from more than 20 prominent commentators, scholars, actors and activists. The resulting book speaks to the fact that slavery and its defining effects on our nation are something to confront and comprehend, not to get over with or stop discussing." –review of The Burden, Detroit Free Press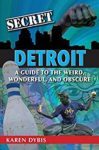 Karen Dybis is Detroit's own oddball historian of the weird. She's covered Detroit made potato chips in Better Made in Michigan: The Salty Story of Detroit's Best Chip, murder and mayhem in The Witch of Delray: Rose Veres & Detroit's Infamous 1930s Murder Mystery, and a drive-In theater in The Ford-Wyoming Drive-In: Cars, Candy & Canoodling in the Motor City, and now her latest book;Secret Detroit: A Guide to the Weird, Wonderful, and Obscure a guidebook that blows the lid off all the oddest, overlooked and strangely unique 'top secret' sites of Detroit.
"Secret Detroit explores this great American city to investigate everything that is odd, unexpected, and extraordinary. Detroit is the kind of city you need to see and experience to understand why locals brag about being from the Motor City. Full of stories and tall tales, this book is a must-have for urban explorers, history buffs, and travelers of all experience levels."
"Not only is it an unusual true crime tale, it casts dozens of sideways glances at the injustices of Detroit's "golden age," and has lessons for us today." —The Witch of Delray reviewed in the Metro Times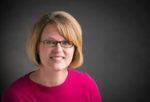 Karen Dybis is a metro Detroit writer who has blogged for Time magazine and worked the business desk at the Detroit News. She was born in Bad Axe (where she saw her first drive-in movie in the back of a Suburban), raised in Romeo and is proud to say her two children had their first drive-in movie experience at the Ford-Wyoming.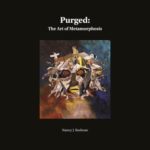 Nancy J. Rodwan's Purged: The Art of Metamorphosis:
Purged: The Art of Metamorphosis chronicles artist Nancy J. Rodwan's multi-year project of taking unwanted items cast off by friends, loved ones, and acquaintances, and transforming them into art. Rodwan reworked everyday goods like clothing, kitchen utensils, obsolete electronics, books, toys, and car parts into paintings, sculptures, fiber art, assemblages, and collages — as well as into provocative meditations on Americans' relationships with their stuff. In addition to before-and-after photos of each donated thing and the artwork it became, this volume — a companion to the Purged exhibition mounted in a Detroit-area gallery in spring 2018 also contains Rodwan's thoughts on the back stories of the objects given to her and/or descriptions of her process of recreating them. It also features original contributions by writers Maia Asshaq, Terry Blackhawk, Andrea Daniel, and Bill Harris.
Nancy J. Rodwan is an award-winning filmmaker, visual artist, and writer. Her art has been exhibited in museums, festivals, and galleries, including the Scarab Club, Detroit Artists Market, Lawrence Street Gallery, Riverside Arts Center, Tangent Gallery, and the Annex Gallery at 333 Midland, among others. She has directed, shot, animated, and edited several short films and a feature-length documentary. Her films have been screened in numerous national and international film festivals. Her publishing credits include Work Literary Magazine, Upstreet Magazine, Greenprints, San Pedro River Review, and I Just Wanna Testify: Poems about Detroit Music published by Michigan State University Press. She lives in Detroit.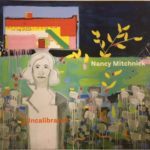 Uncalibrated is an 88 page full color catalogue published by MOCAD that documents Nancy Mitchnick's work organized by the museum in 2016. The catalogue includes essays by founding MOCAD board members Lynn Crawford and Marsha Miro and is the first extensive publication about Mitchnick's work. The book was designed by Lorraine Wild.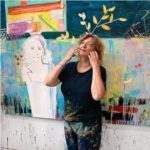 In discussing how she became a painter, Mitchnick said, "Michael Luchs gave me the best advice I've ever gotten. He said, 'You draw like a painter. You should paint and learn to draw as you go along.' I thought he was nuts." Initially Mitchnick's plan was to be a performative artist involving modern dance and writing her own music, only using paint to create her backdrops. She jokes, "But I never finished learning to paint, so I'm still painting."
A group show in 1980 at the Detroit Institute of Arts called "Kick Out the Jams" gave Mitchnick national attention with a write-up in Artforum. Critic and curator Ruth Rattner wrote of the emerging "Detroit style" coming from this group show: "an energetic handling of materials that emphasizes their physical qualities. We recognize it in the thick stripes of pigment in Nancy Mitchnick's portraits…"
"Figuring out surprising ways to connect subjects to action is endlessly compelling. Making work that has to do with a state of mind helps create an abstract lexicon. And students respond to the innovative. People still want to paint Chianti bottles with dripping wax. This is not good news. The power of emotional content should be allowed even in the beginning of the study of painting and drawing." –Nancy Mitchnick on teaching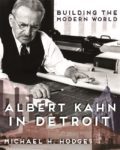 Building the Modern World: Albert Kahn in Detroit by Michael H. Hodges tells the story of the German-Jewish immigrant who rose from poverty to become one of the most influential architects of the twentieth century. Kahn's buildings not only define downtown Detroit, but his early car factories for Packard Motor and Ford revolutionized the course of industry and architecture alike.
Kahn's ascent from poverty, his outsized influence on both industry and architecture, and his proximity to epochal world events make his life story a tableau of America's rise to power. Historic photographs as well as striking contemporary shots of Kahn buildings enliven and inform the text. Anyone interested in architecture, architectural history, or the history of Detroit will relish this stunning work.
Michael Hodges grew up in the Detroit suburb of Rochester, traveled the world, and now is a veteran reporter and fine arts writer for the Detroit News. His long interest in architecture led to his first book, Michigan's Historic Railroad Stations. His new book is a biography of genius architect Albert Kahn, whose buildings and automobile factories revolutionized the course of industry and architecture alike.
Jean Alicia Elster, B.A., J.D., is the author of the novel The Colored Car — for ages 8 and older. Elster is also the author of the novel Who's Jim Hines? — for ages 8 and older. Who's Jim Hines? was selected as one of the Library of Michigan's 2009 Michigan Notable Books. In addition, the Michigan Reading Association placed Who's Jim Hines? on the Great Lakes Great Books Award 2009-2010 ballot for grades 4-5. Who's Jim Hines? was also a ForeWord Magazine 2008 Book of the Year Award Finalist in the category of Juvenile Fiction.
In addition, Elster is the author of the children's book series Joe Joe in the City, which includes the books Just Call Me Joe Joe (2001), I Have A Dream, Too! (2002), I'll Fly My Own Plane (2002), and I'll Do the Right Thing (2003). She was awarded the 2002 Governors' Emerging Artist Award by ArtServe Michigan in recognition of the series, and in 2004, I'll Do the Right Thing received the Atlanta Daily World Choice Award in the category of children's books.
Kathryn Madeline Allen is a children's author who writes picture books that promote parent-child interaction and that help teach babies and young children about nonverbal communication, diversity, manners, and love. With Eric Futran's beautiful photographs of real children, Show Me Happy and A Kiss Means I Love You work well in any preschool or early elementary setting. Young children enjoy imitating the actions depicted in the colorful photos, learning at the same time.
–
Here's a look at some of the special, 2018 Independent Bookstore Day exclusives.
For kids:
Dragons Love Books Onesies: A super-soft onesie for bookish babies based on Adam Rubin's bestselling Dragons Love Tacos books illustrated by the wonderful Daniel Salmieri.
"Read with me" Maisy plush doll: Everybody's favorite preschool mouse Maisy, star of dozens of beloved books, wears her exclusive READ WITH ME t-shirt with pride! Back of t-shirt sports the IBD logo.
Horton Hears a Who plush doll: "I meant what I said, and I said what I meant. An elephant's faithful, one hundred percent!" A 1940 Dr. Seuss classic is now an IBD exclusive with a pro-reading, indie message on his t-shirt. Faithful Horton, of Horton Hatches the Egg and Horton Hears a Who fame, is a true collectible and very cuddly. Back of t-shirt reads: READ WITH ME. Front of t-shirt sports the IBD logo.
A FREE Harry Potter 20th anniversary item. You'll have to come in to find out what it is!
For adults:
"Fight the power" Utility Pouch: This handy 100% cotton canvas zippered pouch (perfect for pencils, make up, cash, and other sundries) features a quote from Colson Whitehead's inspirational National Book Award speech and design elements from the cover of Underground Railroad. "BE KIND TO EVERYBODY. MAKE ART. FIGHT THE POWER."
Redlands, Vol. 1 SIGNED Special Edition: A feminist comic by female creators! A mysterious and bloodthirsty matriarchal force runs the town of Redlands, Florida, and in order to stay on top, sacrifices must be made. Inspired by the strange complexities of real-world politics and crime, the characters of Redlands play victim and villain, attempting to understand themselves and others through murder, magic, and mayhem.
Book Club Journal: Finally, a way for book clubs (or solo readers) to keep track of their reading lives! This beautifully designed journal has pages and prompts for writing your thoughts and opinions about the books you've read, keeping track of book club meetings, and more than 45 original, themed recommended reading lists from authors and booksellers around the country. Martin Cruz Smith gives us the "Real Russia" reading list. The booksellers at Parnassus in Nashville give us "Books narrated by non-humans."
"A Book on the Table," a special flash-fiction collection: This year's $6 Story is a collection of flash fiction from great short story writers including A.M. Homes, Etgar Keret, Celeste Ng, Amy Bloom, and many others. Each story is only 200-1,000 words and must contain some mention of a book, bookstore, or library. The results range from hilarious to poignant to downright strange. It's a wonderful mini anthology of the form.
…and plenty more exclusives!
We can hardly wait!