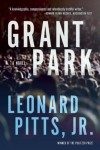 Leonard Pitts, Jr. will be making an appearance at the Southfield Public Library on Wednesday, November 3rd at 6:30 PM.
Pitts will be reading from and signing his new book, Grant Park. The book explores the last four decades of U.S. race relations through the interconnected stories of two Chicago journalists: Malcolm Toussaint, a celebrated black columnist, and Bob Carson, his unassuming white editor. The novel ricochets between two eras: 2008, when a senator from Illinois stands on the very edge of history, and 1968, the year Martin Luther King engaged in his troubled, fateful campaign on behalf
of the African-American garbage men in Memphis.
Children's Author Sherri Winston is coming to the Southfield Library on Wednesday, November 4th at 7:00 PM.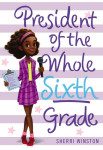 Sherri Winston will be reading from and signing her new book, President of the Whole Sixth Grade, a novel set in a fictionalized Michigan town and tells the story of Brianna Justice. A proven entrepreneur, Brianna is looking forward to conquering middle school with her usual zeal. However, the reality of growing up might prove to be too much for the intrepid tween. Can she withstand the personality shifts of her best friends as well as the challenges of new rivals and bigger battles? Only one way to find out!
The book is a follow up to Winston's book President of the Whole Fifth Grade, named to the 2012-2013 Sunshine State Young Readers Award list, as well as being chosen for the recommended summer reading list for the New York Public Library System in 2015.
Sherri Winston is a Michigan Native. Her books are meant for readers aged 8-12.
Join us at Book Beat on Sunday, November 8 at 3:00pm to welcome John Sinclair for a reading and signing of his latest collection of essays, It's All Good: A John Sinclair Reader. This event is free and open to the public. For more information or to reserve a copy of the book, cal Book Beat (248) 968-1190.
John Sinclair has been many things to many people- founder of the Detroit Artists Workshop and the White Panther Party, manager of the storied MC5, producer of the legendary Ann Arbor Blues & Jazz Festivals and of records from Deacon John to Sun Ra, political prisoner and implacable opponent of the marijuana laws since 1965, popular radio broadcaster at WWOZ and originator of the live coverage of the New Orleans Jazz & Heritage Festival, pioneer of podcasting and proprietor of his own radio station at www.RadioFreeAmsterdam.com for the past ten years.
But first and always John Sinclair is a poet and journalist with 50 years of the written and spoken word behind him. His work in adapting the blues and jazz idioms to verse forms with musical accompaniment is without parallel, and he's produced more than 20 albums of his music and verse creations.
The Friends of Grosse Pointe Library present Authors to the Pointe at the Edsel & Eleanor Ford House (1100 Lake Shore Road, Grosse Pointe Shores) on Saturday, November 14th from 1:00 to 5:00 p.m. Authors to the Pointe features three bestselling historical fiction authors, all of who will speak and sign their books. This years authors include; Melanie Benjamin author of  The Aviator's Wife, The Autobiography of Tom Thumb, and Alice I have Been. Jenna Blum is the author of Those Who Save Us and The Storm Chasers. Pam Jenoff is the author of The Kommandant's Girl, The Winter Guest, The Diplomat's Wife, among many others. A poster for the event can be downloaded here.
Authors on the Pointe tickets are $30 and are available at the Grosse Pointe Central Library (10 Kercheval Avenue, Grosse Pointe Farms, MI 48236) and can be purchased by either cash or check. Admission includes a traditional tea . Please be advised that space is limited.
Books Beats will be providing and selling books at the event. If you would like to order ahead, please call the store at (248) 968-1190.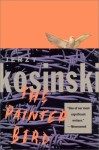 The Book Beat reading group selection for November, 2015 is The Painted Bird by Jerzy Kosinski. The group will meet at Goldfish Tea (117 W 4th St, Royal Oak, MI 48067) on Wednesday, December 2nd at 7 PM. Books are discounted 15% at Book Beat. All are welcome!
"Of all the remarkable fiction that emerged from World War II, nothing stands higher than Jerzy Kosinski's The Painted Bird. A magnificent work of art, and a celebration of the individual will. No one who reads it will be unmoved by it. The Painted Bird enriches our literature and our lives."—Jonathan Yardley, The Miami Herald
A harrowing story that follows the wanderings of a boy abandoned by his parents during World War II, The Painted Bird is a dark masterpiece that examines the proximity of terror and savagery to innocence and love.