Please join us at Book Beat on Sunday, December 6th from Noon – 5 PM for a holiday fundraising for the non-profit Rx for Reading, a program out of University of Detroit Mercy that works to support children's literacy in Detroit.
20% of you purchases will go to Rx for Reading.
Books from Book Beat can be bought during the fundraiser and donated directly to Rx for Reading.
Gently-used children's books can be brought from home and donated to Rx for Reading.
100% of donations are used to purchase books for kids in our community.  All donations to RX for Reading are tax deductible to the full extent of the law. A poster for the event can be downloaded and shared here: RX for Reading

Local authors will be at the event to inscribe their books for customers. So far, the following have confirmed: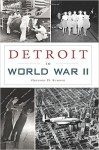 Gregory Sumner is the author of Unstuck in Time: A Journey Through Kurt Vonnegut's Life and Novels and the forthcoming Detroit in World War II.
Gregory D. Sumner, JD, PhD, is chair of history at the University of Detroit Mercy, where he has taught since 1993. He holds a doctorate in American history from Indiana University and has been awarded summer fellowships by the National Endowment for the Humanities, and has twice been William J. Fulbright Senior Lecturer at the Université di Roma Tre.
Mr. Sumner will be at the fundraiser all day, from 12 to 5 PM.
"Gregory D. Sumner's Unstuck in Time is a wonderful primer to Kurt Vonnegut's work. Every page brims with analytic insight, biographical revelation, and old-fashioned storytelling. Reading Sumner reminds us about how astoundingly right Vonnegut was about the planetary condition. Highly recommended!"
—Douglas Brinkley, professor of history at Rice University
"Sumner does well to contextualize contemporary events both in the world and the writer's personal life during each novel's conception, ultimately connecting many dots in the Vonnegut oeuvre."
—Publisher's Weekly
---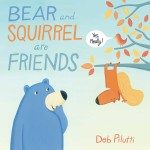 Deb Pilutti is the author and illustrator of several books for children and has worked as a design partner at Oliebollen.com, where she designs toys and products for kids.
Her design and illustration work has earned her many awards and has been published in several magazines including Step Inside Design, HOW Magazine's Best Digital Designs issue, and Print magazine. She enjoys spending time in the woods near her home in Michigan.
Deb Pilutti will be here from 1:00 to 3:00 PM.
Her books include The Twelve Days of Christmas in Michigan, Ten Rules of Being a Superhero, and her newest book, Bear and Squirrel Are Friends…Yes, Really!
"Graphic designer Pilutti presents an unconventional friendship tale in a mix of full-bleed and spot illustrations with a smattering of dialogue bubbles that fit seamlessly into the story. The muted palette and flat, cartoon style work well with the silly, affirmative tale. A nifty, expectation-defying read-aloud. [Bear and Squirrel Are Friends…Yes, Really!]"—Kirkus Reviews
"Instead of opting for braggadocio and mock high drama, Pilutti's duo's self-awareness and low-stakes theatrics have an offhanded, almost improvisational vibe. [Ten Rules of Being a Superhero]"
—Publishers Weekly
---
Wong Herbert Yee is the author of dozens of beloved children's books. He offers a biography in his own words: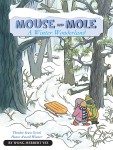 I was born in Detroit, Michigan, one of seven. My first grade teacher tacked a drawing of mine, Horse with Feedbag up on the bulletin board. From there I went on to study art at Wayne State University, graduating in 1975 with a BFA in printmaking. I had my fair share of rejections at the start, but through perseverance my first picture book, EEK! There's a Mouse in the House was published by Houghton Mifflin in 1992. My latest early reader, Mouse and Mole Fine Feathered Friends received a 2010 Theodor Seuss Geisel Honor Award.

Wong Herbert Yee has also written and illustrated Fireman Small, the Mouse and Mole series, and, most recently, My Autumn Book.
Mr. Yee will be here from 12:30 to 1:30 PM.
"Frequent, small frames resembling comic-book cells are sprinkled among the full-page illustrations, pulling the reader forward. Warm nighttime charcoal-and-gouache hues make the magic of Mouse's natural world warm and inviting to new readers. Perhaps they, too, will look for the magic that is around them everyday, beneath the moon and stars. [Abracadbra! Magic with Mouse and Mole]"
—Kirkus Reviews
---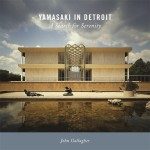 John Gallagher is the author of Reimagining Detroit: Opportunities for Redefining an American City, named by The Huffington Post as one of the best social and political books of 2010. His newest book Yamasaki in Detroit: A Search for Serenity is landmark book about the architect Minoru Yamasaki's works in Detroit.
Gallagher is a veteran journalist. He was born in New York City and joined the Detroit Free Press in 1987 to cover urban and economic redevelopment efforts in Detroit and Michigan, a post he still holds.
His other books include Great Architecture of Michigan, Revolution Detroit: Strategies for Urban Reinvention, and, as co-author, AIA Detroit: The American Institute of Architects Guide to Detroit Architecture. John and his wife, Sheu-Jane, live along Detroit's east riverfront.
John Gallagher will be here from 1:00 to 3:00 PM.
John Gallagher's insights provide the reader with a rich understanding of Yamasaki's creativity, all-consuming work style, and compassion for people that resulted in buildings of delight and serenity. The recent designation of the McGregor Memorial Conference Center as a National Historic Landmark is a fitting tribute to an architect who brought us beauty and balanced simplicity.
– Freda P. Giblin, director of inter-institutional initiatives, Office of the Vice President for Research at Wayne State University
---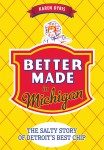 Karen Dybis is a metro Detroit writer who has blogged for Time magazine, worked the business desk at the Detroit News and jumped on breaking stories for publications including Corp! magazine, Detroit Unspun and Agence France-Presse newswire. She is the author of The Ford-Wyoming Drive-In: Cars, Candy & Canoodling in the Motor City and Better Made in Michigan: The Salty Story of Detroit's Best Chip. Karen's favorite Better Made flavor is the Garlic Dill Pickle Krinkle Cut potato chips.
Karen Dybis will be at the fundraiser all day, from 12:00 to 3:00 PM.
---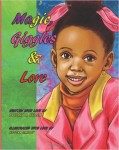 Barbara A. Kellom is the author Magic, Giggles and Love, a beautifully-illustrated book of poems for inspiring, teaching and demonstrating the power of expression through the written word. For children of all ages and the young at heart.
She will be appearing beginning at 2:00 -4:00pm.
---
Here are some words from Rx for Reading about their charity and cause:
Reading is one of the most powerful tools we have for promoting healthy childhood development and long-lasting educational benefits. In fact, the American Academy of Pediatrics recommends daily reading as a key part of a healthy childhood.
Research has proven that having access to books improves reading performance and children's attitudes towards reading. In fact, the number of books in a child's home is one of the most important predictors of her educational attainment. Access to books is particularly critical for children living in poverty and low-income families.
Low-income children hear 30 million fewer words by the age of five than their more affluent peers.
Research has shown that over 60% of low-income families have no children's books in the home.
In 2012, over 1,000,000 Michigan children lived in low-income and poor families.
Early reading gaps can have life-long consequences. Only 19% of low-income and poor children in Michigan are reading proficiently by the third grade, which is the single highest predictor of high-school graduation and a successful career. All our children deserve the opportunity to read and succeed.