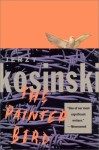 The Book Beat reading group selection for November, 2015 is The Painted Bird by Jerzy Kosinski. The group will meet at Goldfish Tea (117 W 4th St, Royal Oak, MI 48067) on Wednesday, December 2nd at 7 PM. Books are discounted 15% at Book Beat. All are welcome!
"Of all the remarkable fiction that emerged from World War II, nothing stands higher than Jerzy Kosinski's The Painted Bird. A magnificent work of art, and a celebration of the individual will. No one who reads it will be unmoved by it. The Painted Bird enriches our literature and our lives."—Jonathan Yardley, The Miami Herald
A harrowing story that follows the wanderings of a boy abandoned by his parents during World War II, The Painted Bird is a dark masterpiece that examines the proximity of terror and savagery to innocence and love.
The book will often enter hallucinatory flights, merging the horror of World War II with the grotesqueness of Hieronymus Bosch.
"One of the best. . . . Written with deep sincerity and sensitivity."—Elie Wiesel, The New York Times Book Review
"A powerful blow on the mind because it is so carefully kept within the margins of probability and fact."—Arthur Miller
"Extraordinary . . . literally staggering . . . one of the most powerful books I have ever read."—Richard Kluger, Harper's Magazine
The novel proper, without tidying-up, is purely and simply a panoply of horror, expertly wrought and disgusting. There is no more parable or symbolism here than there was at Buchenwald. Jerzy is a brilliant writer, but let the reader beware. It's very hard to take. — Kirkus review, 1965
Jerzy Kosinski (  June 14, 1933 – May 3, 1991), born Józef Lewinkopf, was an award-winning Polish-American novelist and two-time President of the American Chapter of P.E.N., who wrote primarily in English. Born in Poland, he survived World War II and, as a young man, emigrated to the U.S., where he became a citizen. He was known for various novels, among them The Painted Bird (1965) and Being There (1971), which was adapted as an Academy Award-winning film (1979)