Join us at Book Beat (26010 Greenfield Rd. Oak Park, MI 48237) on Saturday, February 28 for an all-day fundraiser from 10am-7pm to benefit the Southeastern Michigan Chapter of the Sierra Club.  20% of customer purchases will go directly to benefit our local chapter. Here is a Sierra Club Poster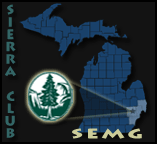 that you can download, print out and share.
From 1:00-4:00pm, Book Beat will also be hosting the official book launch for Sweep Up the Sun, the lates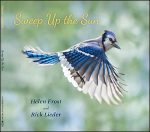 t collaboration between poet Helen Frost and photographer Rick Lieder. This is the follow-up to their first book together, Step Gently Out, which featured incredible close-up photography of insects. Sweep Up The Sun pairs Rick's exquisite photographs of eleven species of birds with Helen's elegant poem inspiring readers to open their wings and soar. They will autograph books as well as speak with friends and fans.
"Frost and Lieder follow Step Gently Out with another winning combination of sensitive verse and striking photography, this time taking an inspirational approach that makes the book equally well-suited for graduation gift-giving and moments of everyday encouragement." — Publisher's Weekly, starred review.
"All-around gorgeous; Frost and Lieder again showcase the splendor of nature through the happy marriage of literal and figurative images." Kirkus, starred review.
Helen Frost is an award-winning poet- winner of the Women Poets Series Competition in 1993. She is also the recipient of the Robert H. Winner Memorial Award and the Mary Carolyn Davies Memorial Award, from the Poetry Society of America, as well as winner of the Michael L. Printz Honor in 2004. She is the author of Crossing Stones, Diamond Willow, Hidden, and Keesha's House, amongst many others.
Painter and photographer Rick Lieder's art has appeared on award-winning novels ranging from mysteries and science fiction, to books based on the X-Files TV series and Newbery Award-winning books for children. His work with Helen Frost has been cited by the American Library Association as a 2013 Notable Book and Kirkus Reviews as a Best Children's Books of 2012. His fine art has been exhibited in galleries in the Midwest and Canada, and include painting, photography, and digital art.
We think this pairing of events will not only illustrate the beauty of our natural environment but also allow readers to help those directly involved in preserving it. These events are free and open to the public. We hope you can join us for this very special day! For more information, please contact Book Beat (248) 968-1190.