"There are cities that get by on their good looks, offer climate and scenery, views of mountains or oceans, rockbound or with palm trees; and there are cities like Detroit that have to work for a living…" –Elmore Leonard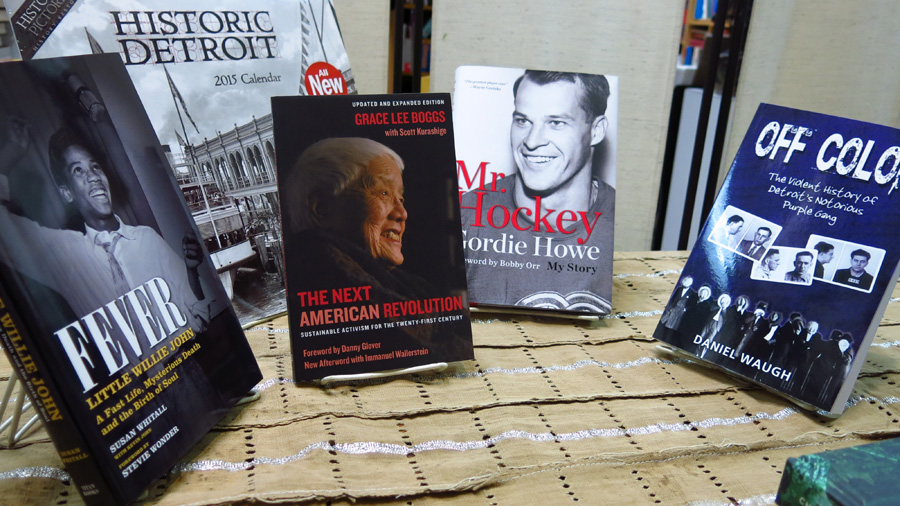 FEVER: LITTLE WILLIE JOHN, A Fast Life, Mysterious Death and the Birth of Soul by Susan Whitall. (signed copies available). Little Willie John lived for a fleeting 30 years, but his dynamic and daring sound left an indelible mark on the history of music. His deep blues, rollicking rock 'n' roll and swinging ballads inspired a generation of musicians, forming the basis for what we now know as soul music."Finally justice is served and Little Willie John gets his story told. Arguably one of the genre's greatest voices, this no frills account of his fast and fantastic life will enlighten those who are not familiar and thrill those who are." — Bernie Taupin, "American Roots Radio," Sirius XM
HISTORIC DETROIT CALENDAR, 2015. Our bestselling calendar is back for another year, with all new photos. High quality reproductions will thrill the history buff.
THE NEXT AMERICAN REVOLUTION by Grace Lee Boggs. "Grace Boggs has long been a major voice of hope and action for transformation of the United States and the world. Here is her testimony of hope and program for action. It must be taken seriously." —Immanuel Wallerstein, author of Utopistics: or, Historical Choices of the Twenty-first Century
Mr. Hockey: Gordie Howe by Gordie Howe and Bobby Orr. The definitive autobiography from hockey's greatest living legend—"Mr. Hockey" himself, Gordie Howe. Big, skilled, tough on the ice, and nearly indestructible, Howe dominated both the sport and the record books like no one has before or since. Over an incredible six decades, the Hall of Famer had so many accomplishments that he set the record for the most records by any athlete ever in any sport. He also achieved the remarkable feat of playing for six years with his own two sons, Mark and Marty.

OFF COLOR: THE VIOLENT HISTORY OF DETROIT"S NOTORIOUS PURPLE GANG by Daniel Waugh. Off Color is the complete story of how a group of juvenile delinquents rose from robbing street peddlers to become one of the most notorious bootlegging mobs in history. Due to Detroit's close proximity to Canada, the Purple Gang was in a prime position to strike it rich in the illegal alcohol trade, whether by smuggling whiskey across the Detroit River, hijacking it from those who did, or making their own.
"Go ahead and laugh at Detroit. Because you are laughing at yourself."
— Charlie LeDuff, Detroit: An American Autopsy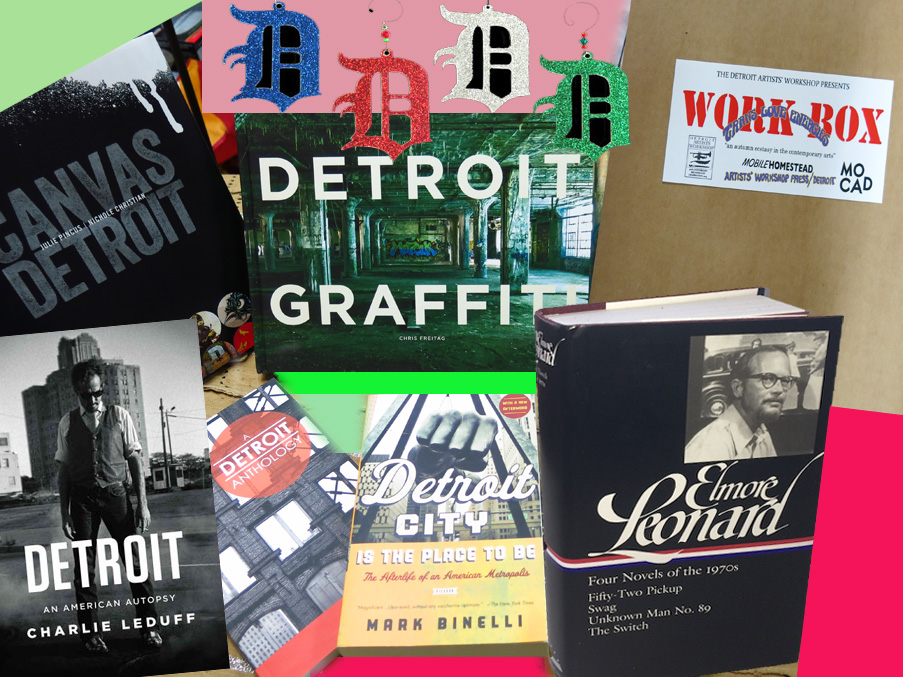 CANVAS DETROIT by Julie Pincus and Nicole Christian. "With 450 full-color photographs, this handsome volume will leave you dazzled at the magnitude of Detroit's recent creative flowering. Pincus' tour ranges from the madcap wall posters from the Hygienic Dress League to the somber ziggurat Detroit artist Scott Hocking built with 6,000 wooden bricks in an old automobile factory. With profiles of each artist written by native Detroiter Nichole Christian, this is the book for the art-lovers and Detroit-lovers on your holiday gift list." –Michael Hodges, The Detroit News
Old English "D" Glitter Ornaments Trim up the tree with Christmas stuff –like these snazzy "D" ornaments. Ye Olde English "D" comes in gold, silver, red and blue glitter.
DETROIT GRAFFITI by Chris Freitag. Visit all the jagged glories of Spray-paint City in this massive photographic dossier; the first book to exclusively feature graffiti from Detroit, where one in every five structures is vacant, abandoned, or dilapidated. As industry disappears, the number of vacant walls increases, drawing the attention of the most talented graffiti artists and writers on the planet.
WORK-BOX: A Commemorative Collection from the Detroit Artists' Workshop. (limited edition of 125 copies) "This amazing box, a must-have for anyone interested in the intersection of 1960s Detroit art and music, consists of book reprints, interviews, postcards and other artifacts from the Detroit Artists' Workshop, the pioneering avant-garde collective that was founded here in 1964. Some of the writers included who came out of the DAW are John Sinclair, George Tysh, James Semark, Diane Di Prima and Charles Moore, and includes "The Fugs Songbook," first published by Ed Sanders in 1965. There are also Gary Grimshaw postcards, Alternative Press bumper stickers, and recordings, of the Lyman Woodard Ensemble, Charles Moore, the Workshop Ensemble and more." –Susan Whitall, The Detroit News
DETROIT: AN AMERICAN AUTOPSY by Charlie LeDUFF Now in paperback! "Full of both literary grace and hard-won world-weariness. . . . Iggy Pop meets Jim Carroll and Charles Bukowski." —Kirkus
A DETROIT ANTHOLOGY edited by Anna Clark. Featuring essays, photographs, poetry, and art by Terry Blackhawk, Grace Lee Boggs, John Carlisle, Desiree Cooper, dream hampton, francine j. harris, Steve Hughes, Jamaal May, Tracie McMillan, Ken Mikolowski, Marsha Music, Shaka Senghor, Thomas J. Sugrue, and many others. "…one of the surprise hits of the year. While many books have been written on and about Detroit by writers who have visited, this anthology of prose, poetry, and essays is written by the metro area's residents themselves … it's the wide ethnic array of voices that truly shows the facets of Detroit life." Ebony Magazine
DETROIT CITY IS THE PLACE TO BE by Mark Binelli Now in paperback! "Mark Binelli's excellent Detroit City Is The Place To Be is ostensibly about everyone who didn't leave Detroit behind. It's a stylish, clear-eyed, subtly absurdist panorama of the contemporary city and the people who hold it together … But even as the author focuses on the city's present and future, he also takes stock of its fraught past—a past that stubbornly resists abandonment. —Will Boisvert, Bookforum
ELMORE LEONARD: FOUR NOVELS OF THE 1970s "How quintessentially Detroit a present this would be, collecting in one volume the four gritty Detroit novels that were responsible for Leonard's reputation as the premier crime novelist of modern times. "Fifty-Two Pickup" (1974) is like time traveling back to Detroit's seedy early '70s, with an adulterous, suburban auto supplier lured into an underworld of topless bars and snuff films. "Swag" (1976) follows two amiable crooks as they pull off various heists; "Unknown Man" (1977) has process server Jack Ryan maneuvering his way through various cons, while "The Switch" (1978) has Bloomfield Hills housewife Mickey Dawson outfoxing her kidnappers and getting even with her husband." –Susan Whitall, The Detroit News
[not pictured] ODDBALL MICHIGAN. Michigan has some crazy things to see! This book is the perfect glovebox companion to liven up your drives through Michigan.
Without love and without hope, there can be no future for anyone.
— Detroit Mayor Coleman Young