Book Beat hours are Mon-Fri. 10 am-8 pm, Sat. 10 am-7pm, Sun. 12-5pm, closed Christmas Eve at 5 pm, closed Christmas and New Years Day. Support your local bookstores, schools, libraries and museums. *It matters. Book Beat is located here. Join the discussion on Facebook. Have a healthy and wonderful Holiday season!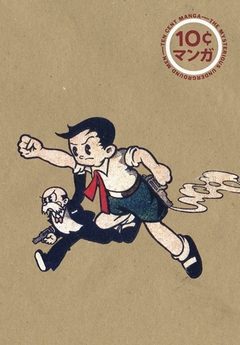 The influence of Osamu Tezuka (1928-1989) on Japanese cartoons and animation is comparable only to a Walt Disney or an Art Spiegelman. Now, manga fans can finally enjoy the first full-color Tezuka work to be published in English. While Tezuka's New Treasure Island (1946-47) was the first major hit for the "god of manga," the artist himself regarded this later publication as the first of his signature "story manga."
Originally published in Osaka in 1948, The Mysterious Underground Men tells the story of Mimio the talking rabbit, as he struggles to prove his humanity while helping his friends save Earth from an invasion of angry humanoid ants.
I have no idea how to describe this book. Maybe this is what it feels like to be mad—or maybe just human. Shrigley is an immensely talented graphic artist. These are the beautiful, grotesque insides of his head." (Alexander Nazaryan – The Atlantic)
A shocking, ethically dubious, disastrously funny, illustrated self-help book about why human beings behave in such peculiar, delightful, and unpleasant ways.
How Are You Feeling? takes readers on a journey between the ears, explaining how the brain decides what is right and wrong and why some people are very charming and others behave like monkeys. Dave Eggers has called Shrigley "probably the funniest gallery-type artist who ever lived." His side-splitting illustrated handbook questions the stability of self, the meaning of help, and whether that self was ever worth helping. Color throughout.
One of Publishers Weekly's Best Comic Books and Best Children's Books of 2013
Boxers & Saints is an innovative new graphic novel in two volumes – the parallel stories of two young people caught up on opposite sides of a violent rift. American Born Chinese author Gene Luen Yang brings his clear-eyed storytelling and trademark magical realism to the complexities of the Boxer Rebellion and lays bare the foundations of extremism, rebellion, and faith. It offers a penetrating insight into not only one of the most controversial episodes of modern Chinese history, but into the very core of our human nature. Gene Luen Yang is rightly called a master of the comics form, and this book will cement that reputation.
"Exhaustively researched and artfully assembled, this book is a historical exploration, a labor of love, and a living illustration of how the weirdest corners of the counterculture can sometimes become the culture-at-large." — Chuck Klosterman
In the early 1960s, Marvel Comics introduced a series of bright-costumed superhero characters—including Iron Man, the Hulk, Thor, the X-Men, the Fantastic Four, Daredevil, and the Amazing Spider-Man—that would evolve into a modern American mythology for millions of readers. Over the last half-century, these characters have been passed along among generations of brilliant editors, artists, and writers who struggled with commercial mandates, a fickle audience, and, over matters of credit and control, one another. Written by Sean Howe, former comic book reviewer and editor at Entertainment Weekly, Marvel Comics: The Untold Story is a gripping narrative of one of the most extraordinary, beloved, and beleaguered pop cultural entities in America's history.
An international survey of contemporary illustration, showcasing vibrant individual talents on their own and in collaboration with one another
This outstanding and original survey brings together the talents of fifty leading illustrators from more than twenty countries. The book is divided into two interleaved strands. First, work by artists such as Julia Rothman, Whitney Sherman, and Mike Perry is presented along with an interview that explores their inspirations and motivations. The second strand is a collaborative project with illustrators working in pairs to create original work on twenty-five themes suggested by the author ranging from "beauty" to "beast," from "speed" to "excess." Each of the collaborations is accompanied by a joint interview with the two illustrators reviewing the work created. As a result, half the work has been created exclusively for the book and never before seen. 350+ color illustrations.
Touching, absurd, and darkly comic, Allie Brosh's highly anticipated book Hyperbole and a Half showcases her unique voice, leaping wit, and her ability to capture complex emotions with deceptively simple illustrations.
This full-color, beautifully illustrated edition features more than fifty percent new content, with ten never-before-seen essays and one wholly revised and expanded piece as well as classics from the website like, "The God of Cake," "Dogs Don't Understand Basic Concepts Like Moving," and her astonishing, "Adventures in Depression," and "Depression Part Two," which have been hailed as some of the most insightful meditations on the disease ever written.
The first of two volumes collecting minicomics from the 1960s till the present, created by pioneers and champions of the form.
The Treasury of Mini Comics charts the evolution of the art of mini comics over four decades of deliberate cartoon rebellion. This volume will reproduce some of the best mini comics ever produced by some of the most creative DIY creators in the world.
"Congressman John Lewis has been a resounding moral voice in the quest for equality for more than 50 years, and I'm so pleased that he is sharing his memories of the Civil Rights Movement with America's young leaders. In March, he brings a whole new generation with him across the Edmund Pettus Bridge, from a past of clenched fists into a future of outstretched hands." – President Bill Clinton
"Superbly told history." – Publishers Weekly (starred review)
"Dazzling… a grand work." – Booklist (starred review)
Min Green and Ed Slaterton are breaking up, so Min is writing Ed a letter and giving him a box. Inside the box is why they broke up. Two bottle caps, a movie ticket, a folded note, a box of matches, a protractor, books, a toy truck, a pair of ugly earrings, a comb from a motel room, and every other item collected over the course of a giddy, intimate, heartbreaking relationship. Item after item is illustrated and accounted for, and then the box, like a girlfriend, will be dumped.
With new comics and art by: Max Clotfelter / Richard Cowdry / Hugleikur Dagson / J.T. Dockery / Brecht Evens / Quentin Faucompre / Julia Gfrörer / Sam Gross / Danny Hellman / Ian Huebert / David Hughes / David Lynch / Benjamin Marra / Paul Nudd / Onsmith / David Paleo / Helge Reumann / Martin Rowson / Stephen William Schudlich / David Shrigley / Ed Subitzky / Brecht Vandenbroucke With texts by: Paul Krassner, groundbreaking editor and founder of The Realist (1958-2001), who provides a previously unpublished essay / Bob Levin offers up an excerpt from his unpublished satirical novel The Schiz / Jesse Nathan, poetry editor of the McSweeney's Poetry Series, contributes new poetry and prose pieces / the late Michael O'Donoghue, a major creative force behind the early years of The National Lampoon and the first head-writer for Saturday Night Live (on which he appeared as "Mr. Mike") is present with a long out-of-print essay that once appeared in Spin magazine.
Limited to 1000 copies.