The death of Elmore Leonard this past summer was a shock that took us all by surprise. He was a mighty Oak on the world lit scene, perhaps the greatest crime novelist of all time and a treasured citizen of Detroit. His roots in the city ran deep and we watched and applauded each new accomplishment. As anyone that's met him will tell you, he was an epitome of cool; laid back, unpretentious, and an intense observer of life. He used the minimum language for maximum effect. One of his favorite phrases was Take it easy. He was a natural.
Late in his life, the television production of Justified, based on the short story "Fire in the Hole", seemed to renew his excitement for writing. A recent program by his publishers has been reprinting most of his older out-of-print books, including many of the Westerns he wrote the 1950s.  Before he died, he was working on a second novel about his character Raylan, the US Marshall featured in Justified.
"Good guys and bad guys both, the players in Mr. Leonard's books are always energized by the big, bad cities where they operate. There's a wicked backbeat in his urban novels that pulses through cities like Miami, Detroit, New Orleans and San Juan… "The bad guys are the fun guys," Mr. Leonard said in a 1983 interview. "The only people I have trouble with are the so-called normal types. Their language isn't very colorful, and they don't talk with any certain sound." – New York Times 
U.S. Senator Carl Levin made a statement on the house floor on September 17, 2013 in memory of Elmore Leonard. He said: "Mr. President, when Michigan novelist Elmore Leonard passed away on August 20, the world lost an irreplaceable voice, a witty creator of unlikely and unforgettable characters who, like their creator, knew the value of brevity.
Leonard's novels took place in the American West, in the Everglades, in the Horn of Africa or the streets of Havana, but they always carried a little of his hometown, Detroit. His protagonists, like his hometown, were tough and gruff, but loveable and good-hearted, people of few words but bold actions. And like his hometown, Leonard's writing was without pretense or formality. "If it sounds like writing," he said, "I rewrote it."
The New York Times accurately described Leonard as "A Man of Few, Yet Perfect, Words." In 2001, he wrote for The Times a short essay on his tips for writers, titled, "Easy on the Adverbs, Exclamation Points and Especially Hooptedoodle." Their aim, he said, was to "remain invisible when I'm writing a book, to help me show rather than tell what's taking place in the story." His rules for writing are useful for all of us who write and want to be read, and I ask unanimous consent that they be placed in the record. The world has lost a great writer. I have lost a friend."
Elmore Leonard: "These are rules I've picked up along the way to help me remain invisible when I'm writing a book, to help me show rather than tell what's taking place in the story. If you have a facility for language and imagery and the sound of your voice pleases you, invisibility is not what you are after, and you can skip the rules. Still, you might look them over." — Elmore Leonard's 10 Rules of Writing.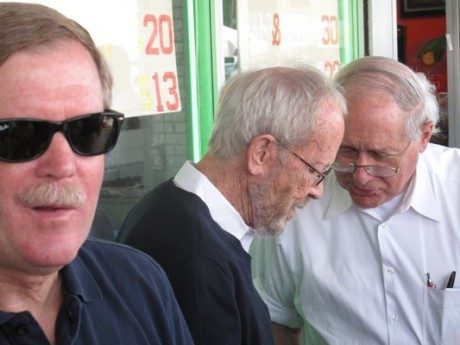 For our 30th Anniversary party in 2012, we invited Elmore and Peter Leonard to sign books along with about 30 other authors. We hadn't heard back and didn't expect them, but It was a pleasant surprise when they stopped by. This was also the first time Senator Carl Levin was able to meet the author. Elmore was always a sincere, darkly humorous and humble man, there for his friends and the public that loved him. Photo above of Peter Leonard, Elmore and Senator Levin at Book Beat's 30th Anniversary party.
I read City Primeval when it first came out in the 70s and wasn't an immediate fan. It took a few more books to win me over and am still reading him, enjoying his sturdy minimalist voice, one like no other. His work often feels similar, and the plots are sometimes weak, but it all begins to happen and come alive in the voices of his amazing characters. As you wander through these badass, often hilarious and fast paced books, the realism of the characters holds you spellbound, glued to the page. Martin Amis once called him "a literary genius who writes re-readable thrillers."
I was introduced to the "Dickens of Detroit"  by Chairperson/ co-founder of MoCAD and arts patron Julia Reyes Taubman. They both became good friends while she was working on her book of photographs, Detroit: 138 Square Miles. He was a neighbor and she needed an introduction for the book. According to The New Yorker, she "spent years chasing Elmore Leonard, to persuade him to write a forward to her book."
I enjoyed hearing Elmore speak in his soft gravelly voice, telling tales about his books and Hollywood connections. The memories and thoughts in his head were fascinating –and when he really got going, it was like a runaway train. npr radio did a wonderful 5 minute life story, combined with interview material, where he said, "People ask me about my dialogue, I say, 'Don't you hear people talking?' That's all I do." Elmore wrote a total of 46 novels, an amazing gift left behind. In those pages his voice is always present. Pick one up soon, you'll dig it. Take it easy.