Destroy All Monsters Magazine Detroit area book launch
Facsimile Edition Released by Primary Information
A Detroit launch for the Destroy All Monsters Magazine (book) is scheduled for Saturday June 11th  8-10 PM  at Public Pool, 3309 Caniff in Hamtramck. A talk between local art critic Vincent Carducci and DAM member Cary Loren will begin at 8:30 PM, a Q & A will follow.
Primary Information:
http://primaryinformation.org/index.php?/upcoming/destroy-all-monsters/
New York book launch at MoMA/PS1:  http://www.artbook.com/blog-at-first-sight-d-a-m.html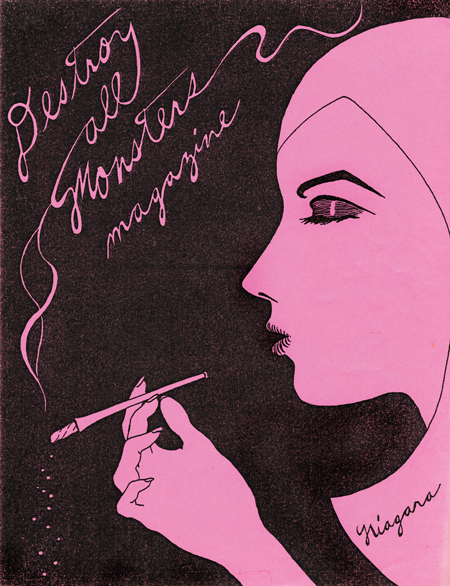 Primary Information is pleased to announce the release of Destroy All Monsters Magazine — making all issues of the Magazine available to a wide audience for the first time. This publication is a compilation of the seven issues of Destroy All Monsters Magazine that were originally published between 1976-1979. The book is 278 pages and retails for $30.
Destroy All Monsters was an Detroit-area band and collective that was formed in 1973. Its initial members were Mike Kelley, Cary Loren, Niagara and Jim Shaw. Destroy All Monsters were art students and musicians who used performance art tactics to create noise music that evolved out of influences like Sun Ra, Nico, horror movie soundtracks and local bands like MC5 and The Stooges. The band later took on new members and briefly reunited in the 90s.
Destroy All Monsters Magazine was edited by Cary Loren and contained artwork, photographs, and flyers from Mike Kelley, Cary Loren, Niagara and Jim Shaw. Printed using any papers and techniques available to the band, the issues combine the cut and paste tactics of punk zines with a psychedelic affinity for color.  Destroy All Monsters Magazine functions as a kind of manifesto, providing insight into the band through densely layered pages with movie imagery, kitsch, cartoons, delicate drawings, and counter-culture collages. While Destroy All Monsters has been the subject of recent exhibitions and partial reprints, this is the first time that all issues have been reprinted.
Destroy All Monsters Magazine is available directly through Primary Information's website www.primaryinformation.org and is distributed through Distributed Art Publishers worldwide. For further information or to order Destroy All Monsters Magazine, please contact Primary Information at info@primaryinformation.org
Primary Information is a 501(c)3 organization. The organization receives generous support through grants from The Andy Warhol Foundation for the Visual Arts, the Stichting Egress Foundation, the Buddy Taub Foundation, and individuals worldwide.