We are unable to reach everyone who would appreciate these events.   If you know anyone who would be interested, please forward this information on to them.  Thank you for your continued support.


Sunday June 5th at Book Beat: Comic Drawing Exhibition & Black Eye Launch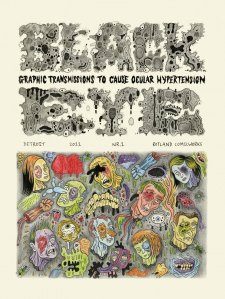 ON Sunday, June 5, from 3-5 PM Book Beat will be hosting an exhibition, MOROSE DELECTATION, in conjunction with Ryan Standfest's new drawing and comic collection, Black Eye: Graphic Transmissions To Cause Ocular Hypertension. This will be the local book launch for Black Eye.
The first scheduled event to coincide with the publication of BLACK EYE 1: Graphic Transmissions to Cause Ocular Hypertension, will be a companion exhibition of works by ten of the book's contributors. However, the work included in MOROSE DELECTATION will not be drawn from that in BLACK EYE, but will be work that has been newly-created for the exhibition as well as older, unpublished works. The following is the press release:
MOROSE DELECTATION
An Exhibition of Works on Paper, Occasioned by the Release of
BLACK EYE 1: Graphic Transmissions to Cause Ocular Hypertension
A New Comics Anthology of Black and Absurdist Humor by 41 International Artists and Writers, Edited by Ryan Standfest and Published by Rotland Press + Comic Works, Detroit, Michigan.
WHERE: Book Beat Bookstore & Gallery, 26010 Greenfield Road / Oak Park, MI / 48237-1050 / (248) 968-1190
WHEN: JUNE 5th – AUGUST 5th, 2011; OPENING EVENT with discussion and signing on June 5th, from 3 to 5 PM.
The exhibition will include work by:
Max Clotfelter (Seattle, Washington)
Andy Gabrysiak (Plymouth, Michigan)
Ian Huebert (San Francisco, California)
Kaz (Hollywood, California)
James Moore (Brooklyn, New York)
Tom Neely (Los Angeles, California)
Paul Nudd (Chicago, Illinois)
Onsmith (Chicago, Illinois)
David Paleo (Buenos Aires, Argentina)
Stephen Schudlich (Dearborn, Michigan)
Curated by Cary Loren and Ryan Standfest
This exhibition, held at the Book Beat Gallery, showcases works on paper by ten artists who are contributors to the comics anthology BLACK EYE No. 1. The exhibition is meant to be a companion to the anthology, and the work presented here reflects a continuation of the sensibility presented in the pages of BLACK EYE, namely a focus on black and absurdist humor that sits uneasily on the border between what is funny and what is not.
The exhibition will have an OPENING EVENT ON SUNDAY, JUNE 5th, from 3 to 5pm, during which there will be a discussion concerning BLACK EYE and the nature of black humor, as well as a signing with some of the contributing artists present. A limited edition letterpress print by the artists Onsmith & Nudd will be available for purchase and for signing, along with copies of BLACK EYE.
Further information about BLACK EYE can be found at the Rotland Press + Comic Works site: http://rotlandpress.wordpress.com/
Black Eye was the subject of international controversy recently after the book was confiscated by Canadian border agents. Copies of the collection were being taken to a comics convention in Canada and agents considered it obscene material. Here is a link to the incident on the Comics Journal website.
Destroy All Monsters Magazine signing/discussion June 11th at PUBLIC POOL
A Detroit launch for the Destroy All Monsters Magazine (book) is scheduled for Saturday June 11th  8-10 PM  at Public Pool, 3309 Caniff in Hamtramck. A talk between local art critic Vincent Carducci and DAM member Cary Loren will begin at 8:30 PM, Q & A will follow.
Discussion of On the Road, Wednesday,  June 29th
The Book Beat reading group will meet for a discussion on Jack Kerouac's seminal beat novel "On the Road" on Wednesday June 29th at the Goldfish Teahouse in Royal Oak. For more information please contact the Book Beat, 248-968-1190.