DOUGLAS OF DETROIT: MASTERWORKS OF THE MALE FIGURE is an exhibition of rare works by a relatively unknown master of the male nude. These photographs will be exhibited at the Book Beat gallery, opening Thursday, May 8th and will continue on display through the end of July. An opening reception will be held on Thursday, May 8th at 7:30 PM. The Book Beat gallery is located at 26010 Greenfield in Oak Park, Please call 248-968-1190 for more information. The exhibition will be part of the Art Detroit Now project, a collective of Detroit area galleries highlighting art from the Detroit area.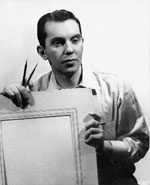 Douglas was a nationally known and highly respected photographer from the late 1940s until the late 1950s. He is considered to be one of the finest printers and innovators of male figurative photography in the world. His prints are highly valued and collected, known for their delicately rich dark tones and superb lighting. In the late 1950s, the photographer was involved in a famous censorship battle held in Detroit that destroyed his career and the lives of many of his models. The Detroit police ransacked his house, confiscating and burning almost all of the photographer's negatives and prints. The incident left Douglas in shambles and he never fully recovered. In the 1950s images of the male nude were banned under the law. Douglas was one of many casualties suffered by artists under a deranged and backwards justice system.
Douglas was born Douglas Juleff, in Detroit, 1919. After serving in the armed forces he took up photography specializing in the male figure. His work was published in dozens of fitness and bodybuilding magazines of the time. He kept correspondant with many artists around the world and collected and traded works of the male nude. His knowledge of photography was expansive. Douglas spent his entire life in Detroit and died in 1999.
The male nude has been a highly volitile and suppressed artform, especially during the first fifty years of the twentieth century. Douglas was one of a few masters of this genre. The exhibition at Book Beat is the first to ever feature his work. We will have some classic images including a few rare manipulted double exposed negatives and some early color works. In addition there will be a few historic images by other photographers of the male nude including Lon of New York, Don Whitman and Bruce of Los Angeles, from the collection of Cary Loren, curator of the exhibit.
Douglas of Detroit images can be seen at the online gallery: Douglas of Detroit. In 1998 Jansen Verlag of Germany published the only monograph of his work. The book helped bring Douglas a brief period of fame and print sales. The book sold out quickly and is now a scarcity on the rare book market. An online biography of Douglas is maintained by photographer, author and collector Reed Massengill.
For more Information on this exhibit please contact the Book Beat at 248-968-1190.