John Coltrane Memorial Poetry &
Destroy All Monsters DVD
Psychedelic News Alert! Full self-promotion disclosure: Book Beat bookstore & End is Here press, publish very occasional books, CDs, DVDs, lmt. editions and other documents for retail & wholesale to select & discriminating collectors, bookstores, museum shops, record stores & distributors. These two recent items are available now, and recommend for aficionados of the midwest freakout.
---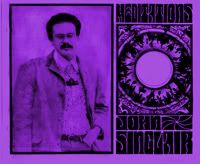 MEDITATIONS: A SUITE FOR JOHN COLTRANE by John Sinclair, is a facsimile edition of a poetry book first published in 1967 by the Detroit Artists Workshop Press. Size is 7×9" oblong, printed on orchid paper with purple cardstock covers, 22 pps., staple bound, with two photos by Leni Sinclair and cover art by Gary Grimshaw. Original cover is pictured at left. New edition will contain an image of Sinclair from the Belle Isle Love-in, 1967. Available May 3rd, 2007. 40th anniversary edition of 500 copies, published on the occassion of John Sinclair's reading at Book Beat on May 3rd, and in Memorial of John Coltrane's death in 1967. Signed copies will be available on request for orders before May 3rd, 2007.

---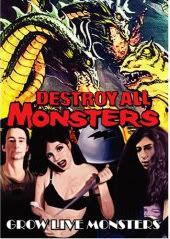 GROW LIVE MONSTERS (DVD) by Destroy All Monsters, is a selection from short home-made no-budget 8mm, super 8 and 16mm film fantasies made between 1971-1976. Most of the films revolved around a group of artist friends and the wall of noise they would create in basement cellars and in live performance around Ann Arbor, Michigan. Most of the footage features the irrepressible artist/chanteuse Niagara, in a variety of scintillating roles such as Mermaid, Cannibal, Vampire, Manson victim, whipping post, Monster bride, light bulb princess, etc… music by Jim Shaw, Cary Loren and Mike Kelley, Destroy All Monsters is like nothing else. Ever. Psychedelic meets noise meets high and low brow art in a Midwestern blender. Say goodbye to your retinas. Bonus features include: DAM INVADES SEATTLE: Performance footage from Seattle, 2000., MONSTERS REDUX: outtakes, concert footage, band memorabilia, and photos., SHAKE A LIZARD TAIL or RUST BELT RUMP: Montage of late night TV adverts, Z-grade horror out-takes & Detroit techno dancers. HOMETOWN HORRORS: Band photo and production stills. +(secret Easter egg) about 148 minutes, w/8 page booklet "Son of the Creature" interview, co-produced by MVD video. A short excerpt can be screened at YOU TUBE: Grow Live Monsters.

---
Still available: DAM: SWAMP GAS CD, BACKYARD MONSTER TUBE /PIG CD, DAM: LIVE IN TOKYO, DETROIT ORATORIO, SILVER ANNIVERSARY and the final copies of DAM: GEISHA THIS (book) "Ooga-Booga" lmt. upside down edition, Monster Island & John Sinclair: PEYOTEMIND CD, Monster Island: DREAM TIGER CD, Music is Revolution buttons, "It Melts in Your Mind" sticker collection and more… please request a price list or check our online DESTROY ALL MONSTERS CATALOG.
---
If you are an outlet, or retailer and wish to subscribe to the infrequent Book Beat wholesale list, please send an email to info@thebookbeat.com.