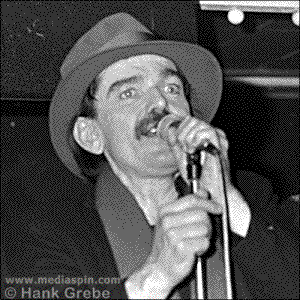 "I don't want to sell my music, because where I got it, you didn't have to pay for it." –Don Van Vliet, 1970
"The first Captain Beefheart concert I saw was at a small club in Ithaca, NY, late 1970 or early 1971, with former Magic Band member, Ry Cooder, as the show opener. Seating was on the dance floor of the club. Ry Cooder opened with a very confident deliverance of his new solo album material. Why not be confident… he was the Rolling Stones session guitar and mandolin player! I recall Don Van Vliet appeared to be conducting the band's jamming by showing them pages from his sketch book of colored drawings." –Hank Grebe from his "mediaspin" website. Hank was a photographer who followed the Magic band other rockers in the late 60s early 70s. See some great images of The Magic Band in action at THE CAPTAIN BEEFHEART Pages. There are links to live recordings, videos and other Beefheartiana.
Trout Mask Replica was one of the first mind-altering records I ever encountered. It shattered every rule in the book, and I studied it like gospel. I once hitchicked to Eugene, Oregon when I was 15-years-old to hear them record the follow-up: Lick My Decals Off, Baby. I never made it. Don't forget to visit THE CAPTAIN BEEFHEART RADAR STATION it's a gallery chock-full of zonker abstract Van Vliet paintings + lots of rare unreleased mp3s + magic downloads + rare videos & info, fan stories, poems, & lots more ear/eye candy. I'm diggn' out my signed copy of Shiny Beast, right now.