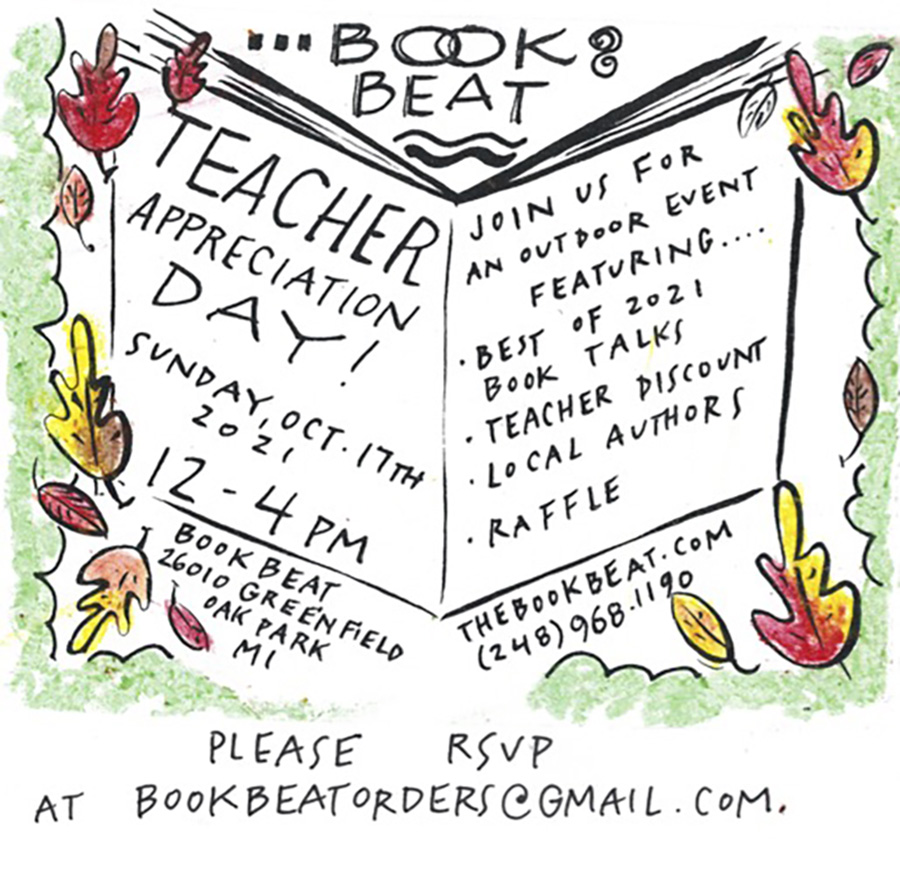 We are excited to announce our first ever Teacher Appreciation Sale that will take place on Sunday, October 17th from 12-4:30 PM. Local authors with new releases will be here to sell their books and our staff will be giving talks about some noteworthy titles we want teachers to know about! The Book Beat is located at 26010 Greenfield in Oak Park, MI 48237, call (248) 968-1190 for more info.
Local authors for this event will be here from 1-3:00 PM:
•Andrea Contos, Young Adult Titles: Throwaway Girls, Out of the Fire (released 12/7, we are taking pre-orders)
•Jean Alicia Elster, Young Adult Titles: How It Happens. Middle Grade Titles:The Colored Car, Who's Jim Hines?
•Shelley Johannes, Picture Book Titles: More Than Sunny, Middle Grade Titles: Beatrice Zinker: Upside Down Thinker, Beatrice Zinker: Incognito, Beatrice Zinker: Sabotage
•Lisabeth Posthuma, Young Adult Title: Baby and Solo
Here are the details: There will be a special sale, a raffle, and some tasty treats. The Masks By St. Yvonne will also be here selling handmade masks with custom designs for adults and children. Colleen and Gwyn from Book Beat, as well as special guests will present new releases of note for use in classrooms and libraries. For One Day Only, we are extending our traditional 20% educator discount on books "for classroom and library use", to also apply on books that educators buy for their personal use. The event is primarily outdoors to keep everyone safe, we will have a tent, but please bring a sweater in case it gets chilly! We require masks to be worn during the event. Participating teachers, librarians, and media specialists should RSVP and bring their teacher identification in order to recieve their educator discount.
Please email us at bookbeatorders@gmail.com to let us know you are coming and feel free to tell your colleagues about the event, too! Everyone is invited to attend the event, however only school teachers, media specialists, and librarians will be able to participate in the sale and raffle. We appreciate all that educators do for our community and families, and this event is to celebrate them and all the work they have done throughout the pandemic. If you have any questions, please call us at 248-968-1190 or email us at bookbeatorders@gmail.com!
—