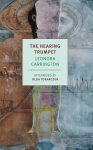 If you'd like to read further, we have UK copies in stock The Surreal Life of Leonora Carrington by Joanna Moorehead. "Her book deals engagingly with Carrington's short-lived reunion with a still-smitten Ernst in Lisbon and New York, her two marriages, and in particular her friendship in Mexico City with Remedios Varo, the painter and wife of the surrealist poet Benjamin Péret." —The Guardian
The Book Beat reading group will meet live at Zoom online on Wednesday May 26, at 7 PM. Our next selection is The Hearing Trumpet by Leonora Carrington. Books are in stock now and reading group books purchased at the store receive a 15% discount. A link to the Zoom meeting will be sent either the day before or on the morning of the meeting. If you'd like to be added to our reading group, please send us your name, email and phone number.
Leonora Carrington, painter, playwright, and novelist, was a surrealist trickster par excellence, and The Hearing Trumpet is the witty, celebratory key to her anarchic and allusive body of work. The novel begins in the bourgeois comfort of a residential corner of a Mexican city and ends with a man-made apocalypse that promises to usher in the earth's rebirth. In between we are swept off to a most curious old-age home run by a self-improvement cult and drawn several centuries back in time with a cross-dressing Abbess who is on a quest to restore the Holy Grail to its rightful owner, the Goddess Venus. Guiding us is one of the most unexpected heroines in twentieth-century literature, a nonagenarian vegetarian named Marian Leatherby, who, as Olga Tokarczuk writes in her afterword, is "hard of hearing" but "full of life."
[O]ne of the great comic novels of the twentieth century, The Hearing Trumpet reads like a spectacular reassemblage of old and new genres, the campy, illegitimate offspring of Margaret Cavendish's romances and Robert Graves's histories, with Thomas Pynchon's riotous paranoia spliced in to keep it limber and receptive to the political anxieties of its moment.
—Merve Emre, The New Yorker
Her 1974 novel, The Hearing Trumpet, newly reissued, stands out as something at last truly radical, undoing not only our expectations of time and space, but of the psyche and its boundaries. . . . [A] mind-flaying masterpiece, held together by Carrington's gifts of wit, imagination and suspense.
—Blake Butler, The New York Times
A version of Carrington's episode in the sanatorium also found its way into a novel, The Hearing Trumpet, written in the fifties or early sixties. But it's not lightly fictionalized autobiography along the lines of The Bell Jar. Here the experience is transformed into something more fabulist, and much more interesting than the memoir. In the novel, delusions of grandeur become real powers.
—Eliza Gabbert, The Paris Review
The Hearing Trumpet . . . reads on its parodic surface like an Agatha Christie domestic mystery, but one melted, dissolved by extreme heat into something unthinkably other, and reconstructed as the casebook of an alchemist. . . . It asks its readers to allow the dark, allow the wild and rethink how power works. It is a work of massive optimism. . . . One of the most original, joyful, satisfying, and quietly visionary novels of the twentieth century.
—Ali Smith
The Hearing Trumpet is so inspiring! Free-flowing, spiky imagination. I love its freedom, its humour and how it invents its own laws.
—Björk, The Guardian
In The Hearing Trumpet, Carrington leans into her starkest eccentricities, depicting the subversive power of womanhood with more imaginative zeal than almost any other 20th Century novelist.
—Brady Brickner-Wood, Ploughshares
Those of us who are young or middle-aged and who have never been taught how to grow old, will find in this book a perfect model.
—Margot Farnham, Zero
Reading The Hearing Trumpet liberates us from the miserable reality of our days.
—Luis Buñuel
Briton Leonora Carrington is better known as a Mexican surrealist painter, but here she creates an extraordinary feminist fantasy, in which old age becomes a riotous adventure.
—The Guardian, "1000 novels everyone must read"
Even when the plot turns grim, the prose is jaunty, a sign of its author's reveling in her own perverse imagination.
—Matthew Sharpe
---
The Home of Surrealist Leonora Carrington
It was back in June 2017 that the Metropolitan Autonomous University of Mexico (UAM) bought the property from Leonora's younger son Pablo. He had been looking for an organisation to run the house as a centre for scholars to research his mother's life as well as for general visitors, and the university's vision coincided closely with his own.
"He gave us the place with everything in it: her art works, the furniture, the everyday objects like the spice jars in the rack in the kitchen. We even got her clothes and those of her late husband, Chiki [Weisz]," says Osorio, the university's academic and cultural director.
She and her team visited other recreated historic houses for inspiration, including Frida Kahlo's Casa Azul and the house where Leon Trotsky lived until he was assassinated there in 1940, both a few miles away in Coyoacán, as well as the house of the architect Luis Barragán in the city's Miguel Hidalgo district.
Take a virtual tour of the Mexican city house where Leonora Carrington lived for 65 years: CASA CARRINGTON
---
"For Carrington, humanity was a seductive costume donned by dummies. To step out of the costume risked deranging the self that one unthinkingly inhabited, courting madness, the dissolution of the belief in the human world as the arbiter of reality. But it was also to draw closer to Great Nature, in the quest for a new, liberating art. —How Leonora Carrington Feminized Surrealism, The New Yorker
---
Carrington was born into an upper-class, Irish-Catholic family in England, but struggled to conform to societal standards (her father wanted her to be a debutante, for example). She found refuge in art, and in 1936 she enrolled in new art academy founded by painter Amédée Ozenfant in London.
Carrington met Surrealist Max Ernst in London in 1937, and lived with him in southern France after he divorced his wife. Most critics dismissed women Surrealists, but Ernst encouraged Carrington, and she exhibited with the Surrealists internationally.
World War II put an end to Surrealism in Europe. Ernst was temporarily imprisoned at an internment camp, and Carrington fled to Spain. There, she was institutionalized at a psychiatric hospital, suffering from extreme emotional distress. She and Ernst never resumed their relationship. Carrington eventually married Mexican diplomat Renato Leduc to facilitate her flight from Europe.
Following a period in New York, where she was reunited with many expatriate Surrealists, Carrington traveled to Mexico with Leduc. In Mexico, Carrington found a vibrant artistic community, including fellow Surrealist Remedios Varo. She remained in Mexico City for the rest of her life.
Eventually she divorced Leduc and married Hungarian photographer Emeric Weisz, with whom she had two sons. She was honored with her first one-woman exhibition at New York's Pierre Matisse Gallery in 1948, followed by solo and group shows around the world. Carrington died in 2011, one of the last living links to the Surrealist movement. –Source: National Museum of Women in the Arts