Dear Friends and Readers,
Welcome to Spring! This month we'd like to share a Bookshop catalog created by the staff of Book Beat with some of our favorite spring books. The reading suggestions are a mix of new, older releases and about to be released hardcovers deserving attention. Our catalog: Springtime Favorites from Book Beat is again linked to Bookshop.org — an independent online bookstore which serves indie bookstores nationwide.
If you have easy access to Book Beat, please consider ordering books by calling us at: (248) 968-1190 or use email: bookbeatorders@gmail.com – we are still selling by curbside pickup or by appointment for instore browsing.
This month we're discussing Pale Fire, by Vladimir Nabokov for our reading group. Pale Fire is an amazing novel inside a poem within a novel and surrounded with its own odd "commentary." Many consider Pale Fire the greatest novel of the century. Since the meeting is virtual, our reading group is open to anyone with access to a computer. If you're interested in attending a world lit reading group, contact us and we'll add your name and email to the group. The meetings are free and we appreciate your support by buying at Book Beat when you can.
Happy Poetry Month! Small press reviews this month are 100% poetry by Tom Bowden. His column "i arrogantly recommend…" reviews fifteen recent poetry releases.
Signed Books!
Recently we held an online program featuring the Door's drummer John Densmore and Rubén Funkahuatl Guevara of Ruben & the Jets –an event co-sponsored by The Detroit Writers Guild. The Seekers: Meetings with Remarkable Musicians is a collection of personal reflections and biographies of the musicians and artists Densmore has known. It's a great gift for music lovers or students for graduation. Guevara's book : Confessions of a Radical Chicano Doo-Wop Singer is an underground guide to the East Los Angeles music scene. Signed copies of both books are available in store or by mail-order.
We now have signed copies of The Henna Artist by Alka Joshi– a New York Times bestseller, new in paperback. Signed first edition copies of the acclaimed new novel Hummingbird Salamander by Jeff Vandermeer have recently arrived. And signed first edition copies of the great book Caste by Isabel Wilkerson are still available for instore sales.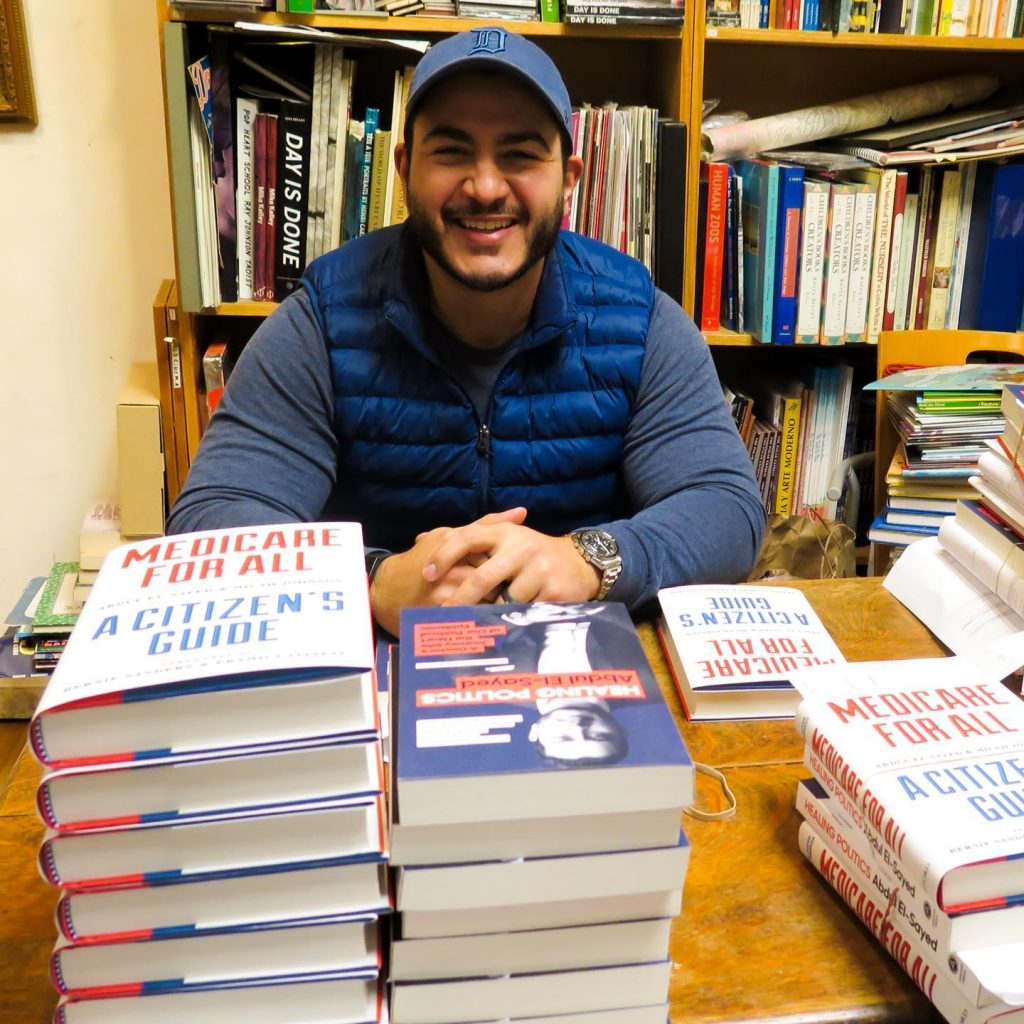 Dr. Abdul El-Sayed is a physician, epidemiologist, educator, author, speaker, and podcast host. He is a commentator at CNN and his newsletter, The Incision, cuts into the trends shaping our moment. He recently stopped by Book Beat and signed copies of his two recent books: Medicare for All: A Citizen's Guide (new in hardcover from Oxford University Press) and Healing Politics: A Doctor's Journey into the Heart of Our Political Epidemic (Abrams, New in Paperback!)
Independent Bookstore Day!
Saturday April 24 is Independent Bookstore Day— to celebrate we are planning an outdoor SEED & PLANT SWAP and Book Sale! From 1:30 PM-3:30 PM, special guest authors Peter Werbe and Jimmy Doom will be signing (and possibly reading, weather permitting) outdoors. Peter Werbe is the author of Summer on Fire a novel of 1967 Detroit, which is now sold out, but we have reserved a couple dozen copies for indie bookstore day. Jimmy Doom is a local legend and the author of Humans, Being, 365 100 word short stories which reads like Charles Bukowski if he lived in Detroit. Laura Grimshaw will also be here exhibiting Gary Grimshaw poster art and artifacts.
Stay tuned… a Flash bulletin update on NEW INDIE BOOKSTORE DAY events may be coming soon!
Poetry on Bookstore Day: An Evening Event
On Saturday, April 24 at 7:00 PM, Book Beat will be hosting an online poetry webinar with Special Guests; Edward Hirsch, Maria Mazziotti Gillian, Dunya Mikhail, Diane DeCillis, M. L. Liebler, and Zilka Joseph. This is a FREE virtual Zoom webinar with advance registration. Register online now at Eventbrite. Signed books will be available in store.
Stay safe and keep reading. Our motto: Plant Seeds, Read!
We hope to see you soon.
Warm regards,
Cary, Colleen and the Staff at Book Beat
---
Gardening for Peace of Mind
I cannot say exactly how nature exerts its calming and organizing effects on our brains, but I have seen in my patients the restorative and healing powers of nature and gardens, even for those who are deeply disabled neurologically. In many cases, gardens and nature are more powerful than any medication. –Oliver Sacks
"I work like a gardener," the great painter Joan Miró wrote in his meditation on the proper pace for creative work. It is hardly a coincidence that Virginia Woolf had her electrifying epiphany about what it means to be an artist while walking amid the flower beds in the garden at St. Ives. Indeed, to garden — even merely to be in a garden — is nothing less than a triumph of resistance against the merciless race of modern life, so compulsively focused on productivity at the cost of creativity, of lucidity, of sanity; a reminder that we are creatures enmeshed with the great web of being… –Maria Popova on the Healing Powers of Gardening
"Just spending quiet peaceful time in the garden lowers your stress factor," said Jim Hines of Ventura, a former nursery owner, landscaper and designer of healing gardens. "The greenery and flowers in bloom calm the soul … the garden is almost magical in its powers to heal." —The Healing Power of Gardening in a Frantic World
Gardening books are featured now on our bookshelves and front window. Visit our online catalog of Gardening, Indoor Plants, Trees and Mushrooms at Bookshop.
A Searchable Digitized Louvre
A few weeks back, the Louvre launched a new website where digitized, high-resolution versions of more than 482,000 artworks can be viewed—including many that are in storage. "That's 75 percent of the Louvre's entire collection, per a representative from the museum. A host of details accompanies each listing: materials and techniques, date and place of production, and object history, as well as an interactive map." –source: Artnet News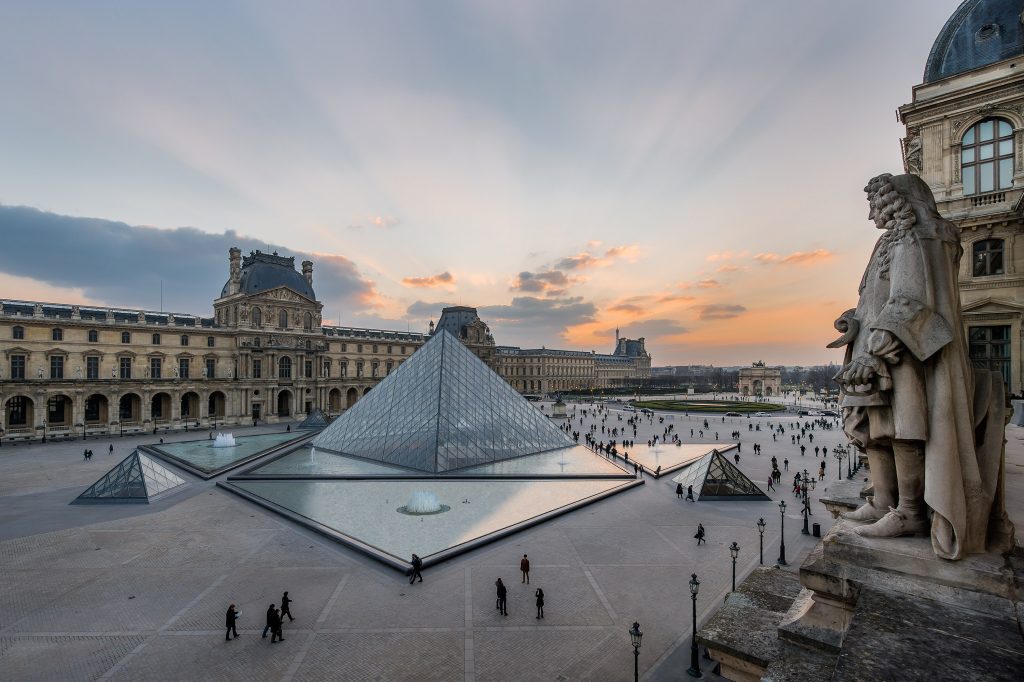 ---
To what purpose, April, do you return again?
Beauty is not enough.
You can no longer quiet me with the redness
Of little leaves opening stickily.
I know what I know.
The sun is hot on my neck as I observe
The spikes of the crocus.
The smell of the earth is good.
It is apparent that there is no death.
But what does that signify?
Not only under ground are the brains of men
Eaten by maggots.
–Spring by Edna St. Vincent Millay – 1892-1950