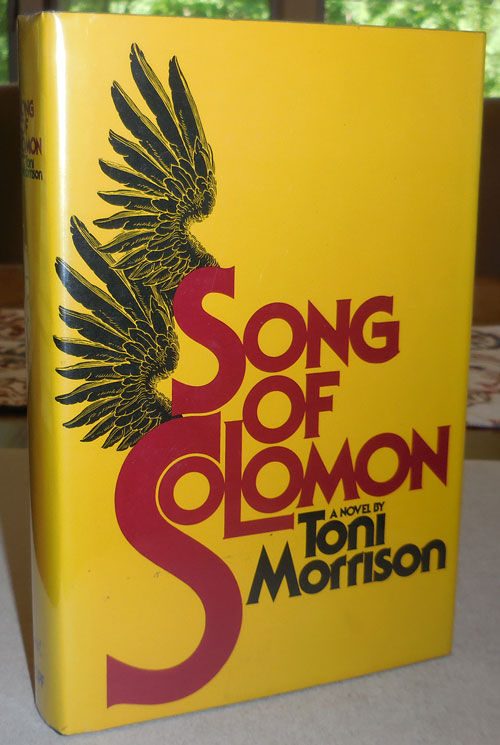 The Book Beat reading group selection for February is Toni Morrison's novel Song of Solomon (1977). This will be a virtual meeting held on Wednesday, February 24 at 7 PM. Books are available in the store and are discounted 15% – if you would like to attend, and are not on our reading group list, please RSVP with your name, phone number and email and we will send you the Zoom registration info one week before the meeting.
"When you know your name, you should hang on to it, for unless it is noted down and remembered, it will die when you die." –Toni Morrison, Song of Solomon
"Song of Solomon, Toni Morrison's lyrical third novel, begins with an arresting scene — a man on a roof threatening to jump, a woman standing on the ground, singing, and another woman entering labor. The child born of that labor is Macon "Milkman" Dead III; Song of Solomon is the epic story of his life-time journey toward an understanding of his own identity and ancestry. Milkman is born burdened with the materialistic values of his father and the weight of a racist society; over the course of his odyssey he reconnects to his deeper family values and history, rids himself of the burden of his father's expectations and society's limitations, and literally learns to fly. […]
In telling the story of Milkman's quest to discover the hidden history of the Deads, Morrison expertly weaves together elements of myth, magic, and folklore. She grapples with fundamental issues of class and race, ancestry and identity, while never losing sight of Milkman's compelling story. The language in Song of Solomon, Morrison's only novel with a male protagonist, is earthy and poetic, the characters eccentric, and the detail vivid and convincing. The result is a novel that is at once emotionally intense, provocative, and inspiring in its description of how one man rediscovered the latent power within him.
Song of Solomon is considered to be Toni Morrison's masterpiece and is in the top echelon of literary works produced by any American writer. — reviewed in Sacred Fire
Read Signifying Circe in Toni Morrison's Song of Solomon by Judith Fletcher.
About the Author
Toni Morrison (1931–2019) was a Nobel Prize- and Pulitzer Prize-winning novelist, editor and professor. Her novels are known for their epic themes, exquisite language and richly detailed African American characters who are central to their narratives. Among her best-known novels are The Bluest Eye, Sula, Song of Solomon, Beloved, Jazz, Love and A Mercy. Morrison earned a plethora of book-world accolades and honorary degrees, also receiving the Presidential Medal of Freedom in 2012.