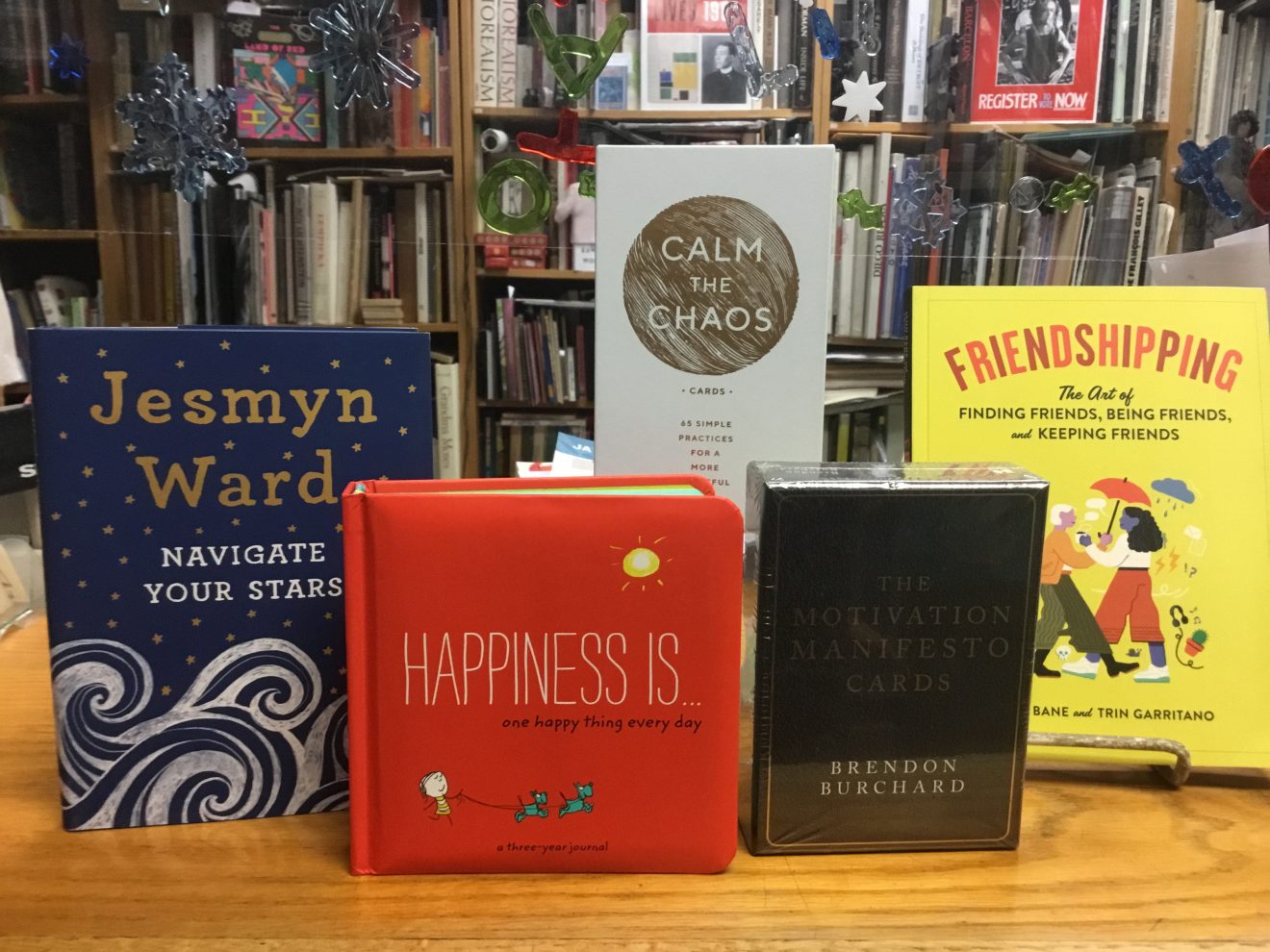 Navigate Your Stars
By Jesmyn Ward
Beautifully illustrated in full color by Gina Triplett, this gorgeous and profound book will charm a generation of students–and their parents. Ward's inimitable voice shines through as she shares her experience as a Southern black woman and addresses the themes of grit, adversity, and the importance of family bonds. Navigate Your Stars is a perfect gift for anyone in need of inspiration from the author of Salvage the Bones, Men We Reaped, and Sing, Unburied, Sing.
---
Calm the Chaos Cards: 65 Simple Practices for a More Peaceful Life
For anyone overwhelmed by the stresses of daily life, this deck is a simple tool to promote calm and well-being. Here are 65 soothing cards, each featuring an encouraging mantra on the front and a short practice on the back, including exercises for mindfulness, self-care, awareness, grounding, gratitude, and more. Users can pull one card each morning to center themselves, or pick a few at a time to set a bigger intention for the week. Presented in a lovely portable package with foil stamping, Calm the Chaos Cards make it easy to foster moments of peace and clarity, anytime and anywhere.
•A CREATIVE WAY TO PRACTICE SELF-CARE: Manage daily stress, quell anxiety, and build happiness habits with the 65 cards in this deck.
•CULTIVATE MORE MINDFULNESS: These cards will help you practice daily reflection, record gratitude, and set achievable goals.
•USE DAILY, WEEKLY, OR WHENEVER YOU NEED CALM: Pull a card each morning to find a mantra and inspiration for your day, or choose one card a week to set a larger intention.
•HANDY FORMAT: 65 cards in a gorgeous foil-stamped box with sliding tray makes this a portable and attractive way to find balance and peace.
•A LOVELY GIFT: This beautifully designed package makes a perfect gift for moms, girlfriends, or anyone trying to balance the busy-ness of their life.
---
Happines Is… One Happy Thing Every Day
Ralph Lazar (Author) Lisa Swerling (Author)
For anyone in search of a happier life, this delightful journal provides a place to record one happy thing each day for three years. Once the journal is filled, readers have an album of their happiest memories–from the big things like a job promotion to the little things like a perfect cup of coffee–and the habit of seeking out happiness every day.
---
"The Motivation Manifesto is a poetic and powerful call to reclaim our lives and find our own personal freedom. It's a triumphant work that transcends the title, lifting the reader from mere motivation into a soaringly purposeful and meaningful life. I love this book. –Paulo Coelho
---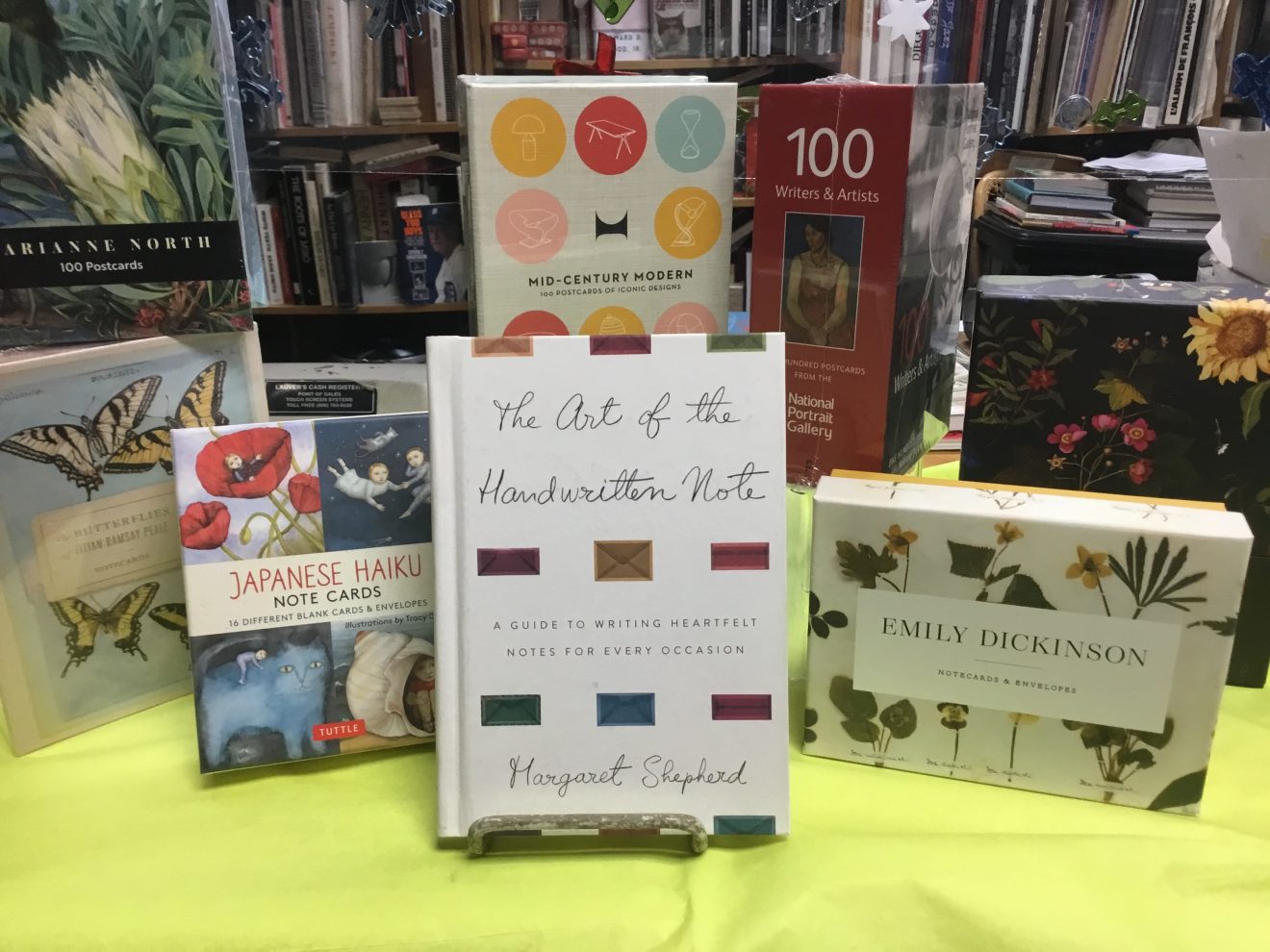 More than kisses, letters mingle souls

–John Donne
Letter writing Notecards & Postcards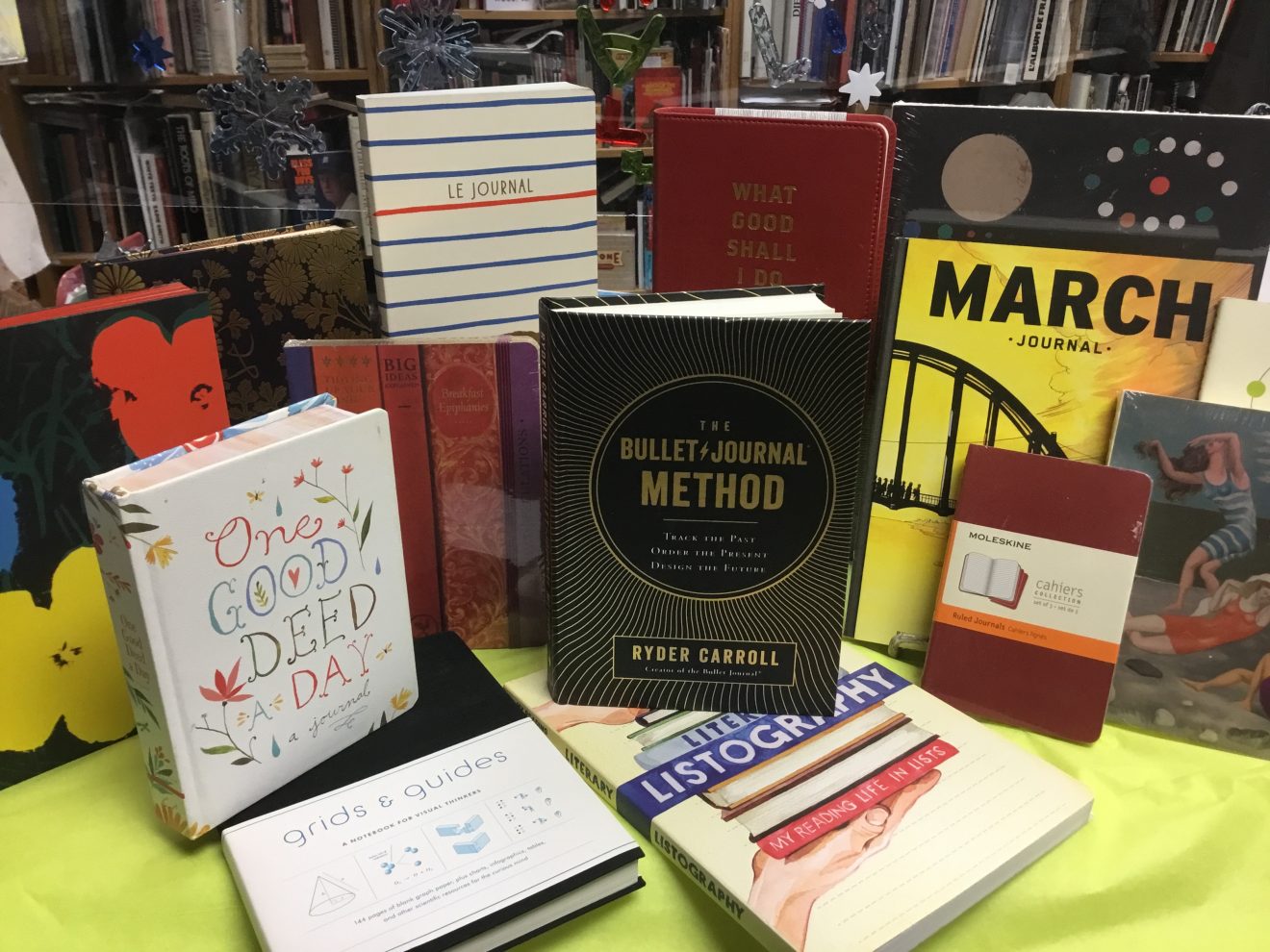 Journals, Sketchbooks and Diaries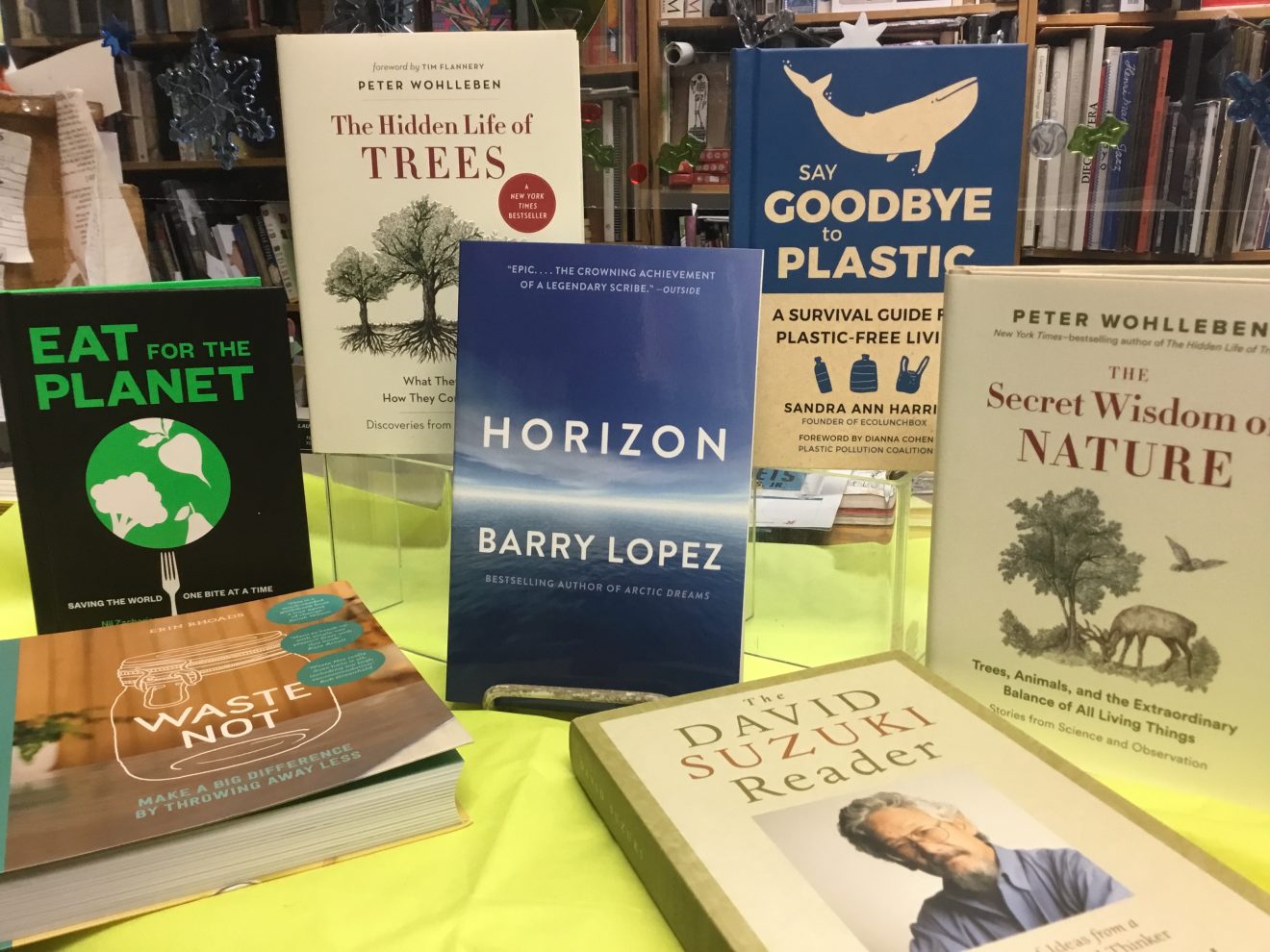 Horizon
Barry Lopez (Author)
NAMED BEST BOOK OF THE YEAR: NPR – NEW YORK TIMES – THE GUARDIAN
"At once reverie and urgent appeal, Horizon is beautiful and brutal–a story of the universal human condition, set in some of the most distinctive places on earth."
—The New York Times Book Review
"Epic. . . . The crowning achievement of a legendary scribe."
—Outside Magazine
"Sublime, dreamlike. . . . Lopez is a welcoming host as he brings you across the world."
—NPR
"Literary journalism, memoir and travelogue: so compelling it deserves its own genre."
—The Washington Post
"Extraordinary. . . . A capacious blend of popular science, travel writing and autobiography."
—The Wall Street Journal
"A contemporary epic. . . . Superb . . . challenging and symphonic; a beautiful book, 35 years in the writing, but still speaking to the present moment."
—The Guardian
"An interrogative autobiography. . . . In Horizon, Lopez is remapping the world, revisiting places of surprising starkness and beauty, bring[ing] enormous questions down to earth by rooting them in a series of landscapes."
–Verlyn Klinkenborg, The New York Review of Books
---
The Hidden Life of Trees: What They Feel, How They Communicate–Discoveries from a Secret World</strong>
Peter Wohlleben (Author)
"You will never look at a tree the same way after reading Peter Wohlleben's The Hidden Life of Trees, which reveals the mind-boggling properties and behavior of these terrestrial giants. Read this electrifying book, then go out and hug a tree — with admiration and gratitude."
–David Suzuki
---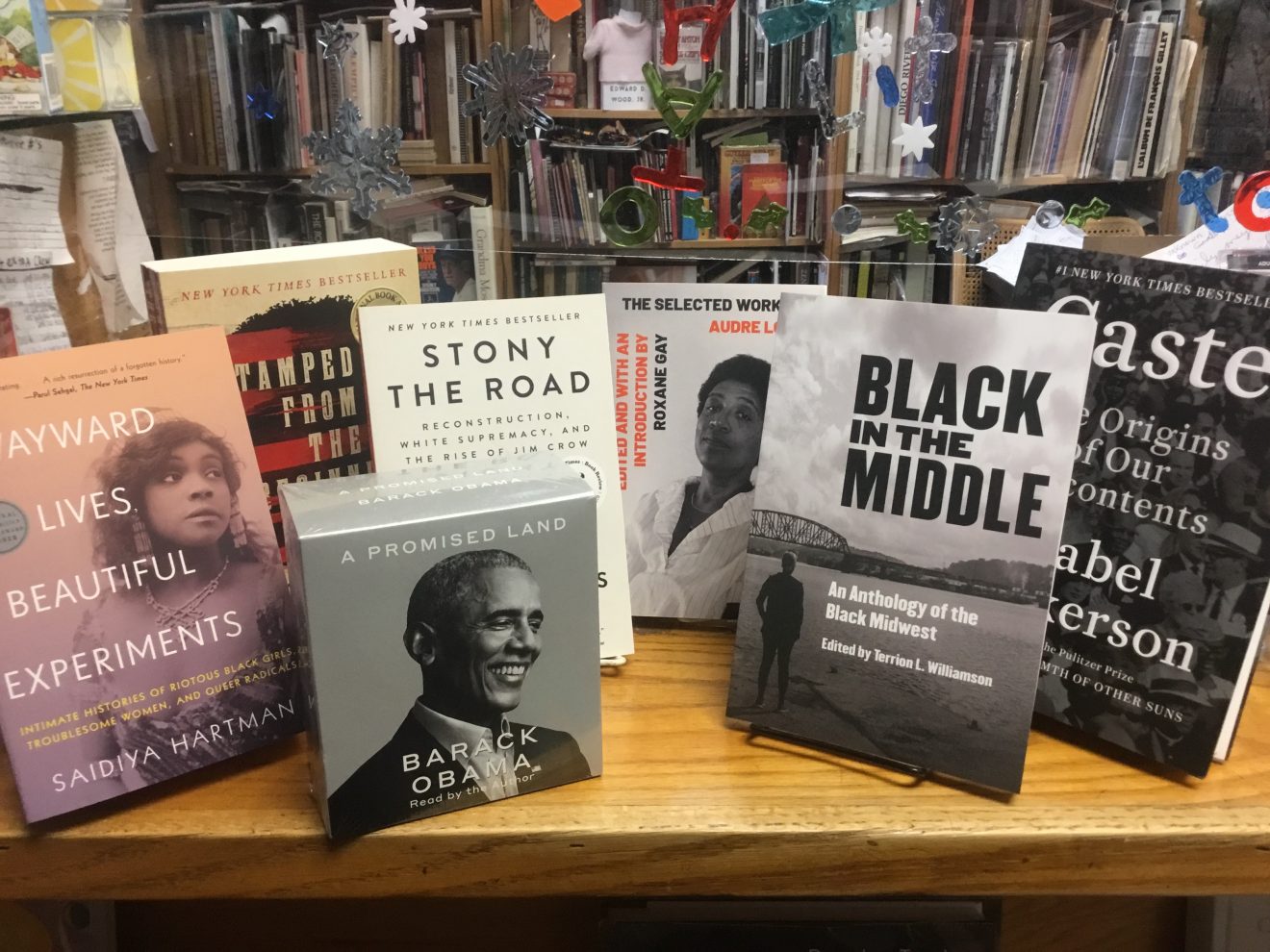 African-American History and Non-fiction
In Wayward Lives, Beautiful Experiments: Intimate Histories of Riotous Black Girls, Troublesome Women, and Queer Radicals, historian Saidiya Hartman engages in a project of mapping. Her subjects are errant Black women and the gender non-conforming of New York and Philadelphia in the early twentieth century. Hartman uses diaries, photographs, newsletters, and case files to reconstruct the contours of these lives, fleshing them out with speculative narratives.
She imagines a film made of the life of Gladys Bentley, a trans masculine Harlem Renaissance entertainer who had several wives.
Hartman gives her readers detailed accounts of the lives of female breadwinners and of young girls traveling alone to northern cities, participating in the Great Migration. She allows us to map the routes of these wayward lives down to the hallways and stairwells of the tenement homes. Her subjects lived a hundred or more years ago, carving out new lives in the shadow of Reconstruction. But it's still possible to see them as models of queer living, and occasionally thriving, in hostile and haphazard worlds. –Tara Jay, 2020
---
Black in the Middle: An Anthology of the Black Midwest
Edited By Terrion L. Williamson
Black in the Middle brings the voices of Black Midwesterners front and center. Filled with compelling personal narratives, thought-provoking art, and searing commentaries, this anthology explores the various meanings and experiences of blackness throughout the Rust Belt, the Midwest, and the Great Plains. Bringing together people from major metropolitan centers like Detroit and Chicago as well as smaller cities and rural areas where the lives of Black residents have too often gone unacknowledged, this collection is a much-needed corrective to the narrative of the region.
---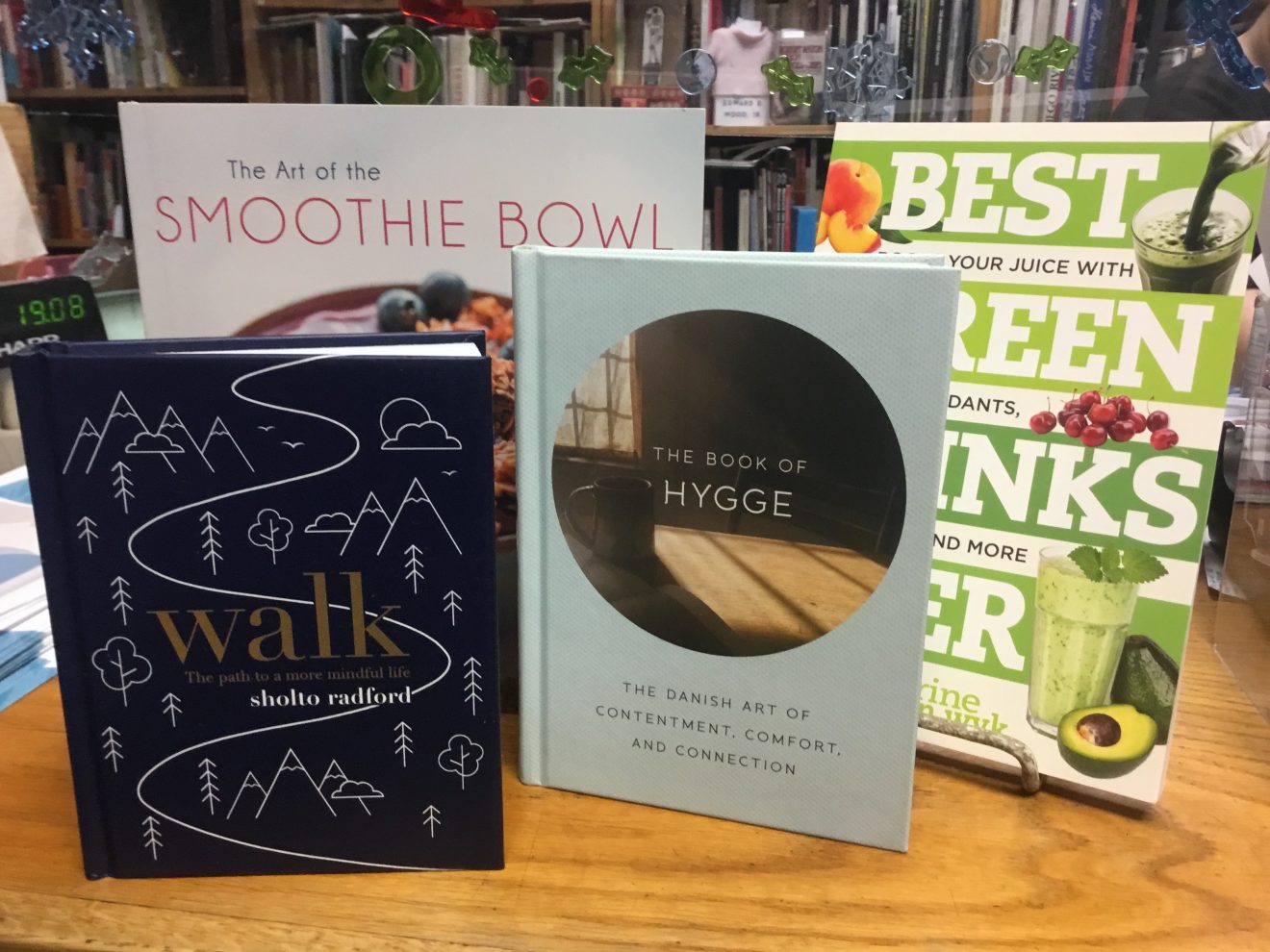 The Book of Hygge: The Danish Art of Contentment, Comfort, and Connection
By Louisa Thomsen Brits
Hygge (hoo-gah) is a Danish word for a feeling of being warm, safe, comforted, and sheltered–an experience of belonging to the moment and to each other. When life gets hectic, work grows stressful, and the days fly by, unplug and tune in. This definitive guide to hygge deserves a place on your coffee table–and in your heart.
Hygge anchors us, reminding us to slow down, to connect with place and with one another, to dwell and savor rather than rush and spend.
When you curl up by the fire with a blanket, or have a simple meal with friends, that is hygge. When you acknowledge the sacred in the secular, or focus on people rather than things, or when you express love through small gestures, that is hygge.
---
Walk the Path to a More Mindful Life
Sholto Radford (Author) Robbie Porter (Illustrator)
Drawing on Sholto's extensive experience working with mindfulness-based practices, this book offers guidance and practical exercises for cultivating present moment awareness and bringing curiosity to the nature of our experience and the world around us. Walk aims to inspire you to move beyond the pages, step outside, and awaken your senses as you make walking part of your life.
---
Best Green Drinks Ever: Boost Your Juice with Antioxidants, Protein and More
Katrine Van Wyk (Author) Frank Lipman (Foreword by)
Model-turned-nutritionist Katrine van Wyk shows you how to take your veggie smoothie to the next level, by enhancing its benefits with added protein, fiber, and superfoods like as acai and bee pollen—all to make sure your body's enjoying, truly , the best green drink ever.