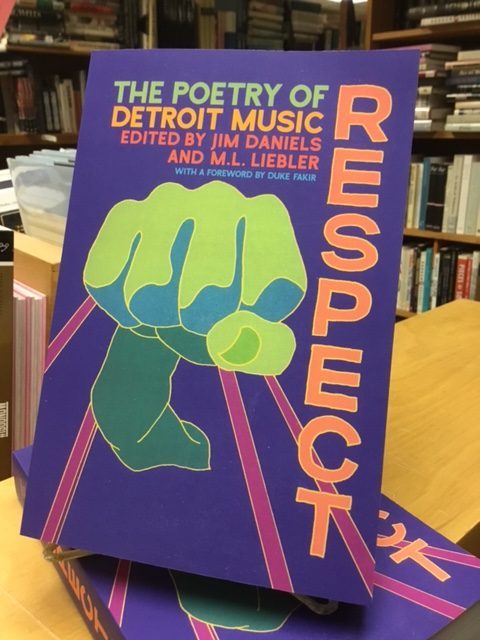 Join us for a live ZOOM party for Respect: The Poetry of Detroit Music, edited by Jim Daniels and M.L. Liebler. It's all happening live Sunday, December 6 at 2 PM: on Facebook:
featuring Melba Joyce Boyd, John Sinclair, Charles Brice, Jim Daniels, M. L. Liebler, Carolyn Striho, Robin Eichele, James Kenyon, Champtown,Rev. Robert B. Jones, Linda Nemec Foster, John Jeffire & Frederick Glaysher reading Robert Hayden
Live on Bookbeat and ML Liebler's webpage. Videos of Gordon Lightfoot and Fats Domino will also be screened from 2-3 PM, Sunday, Dec. 6, copies of Respect will be available from Book Beat by direct sale for curbside pickup pr mailed out for $3 shipping anywhere in the USA. Books are also available from our Bookshop affiliate site.
More than two years in the compiling, the book showcases over 140 versifiers, from John Sinclair to Fred "Sonic" Smith, Fats Domino to the Electrifying Mojo, all with one connecting thread: a fascination with and admiration for the city of Detroit and our diverse, wondrous musical heritage. ––Metro Times review of Respect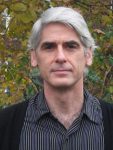 Jim Daniels
Jim Daniels is the author of numerous collections of poetry, most recently The Middle Ages (Red Mountain Press, 2018) and Street Calligraphy (Steel Toe Books, 2017). His third collection, Places/Everyone (University of Wisconsin Press, 1985), won the inaugural Brittingham Prize in Poetry in 1985. He lives in Pittsburgh and is the Thomas Stockham University Professor of English at Carnegie Mellon University and is co-editor of Respect.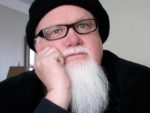 M. L. Liebler
M. L. Liebler is the author of fifteen books and has been on faculty in the English department at Wayne State University since 1980. He is an internationally known and widely published Detroit poet, university professor, literary arts activist, and arts organizer. He received the 2017-2018 Murray E. Jackson Scholar in the Arts Award at Wayne State University, the Barnes & Noble Writers for Writers Award in 2010, and the 2018 PEN Oakland/Josephine Miles Literary Award. He is currently the President of the Detroit Writers' Guild and is co-editor of Respect.
Charles Brice
Charlie Brice is a psychoanalyst and freelance writer living in Pittsburgh, Pennsylvania. His poetry has been nominated for a Pushcart Prize and has appeared in over forty publications including The Kentucky Review, The Atlanta Review, Hawaii Review, Chiron Review, The Dunes Review, Fifth Wednesday Journal, Sport Literate, The Paterson Literary Review, The Pittsburgh Post-Gazette, The Pittsburgh Poetry Review, Spitball, Barbaric Yawp, VerseWrights, The Writing Disorder, and elsewhere.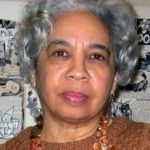 Melba Joyce Boyd
Melba Joyce Boyd is the author of nine books of poetry and the recipient of numerous grants and awards. She is a Distinguished University Professor and Chair of the Department of Africana Studies at Wayne State University and an Adjunct Professor in the Department of Afroamerican and African Studies at the University of Michigan. Melba has presented her poetry in Africa, Europe and the Republic of China. She often performs her work with jazz musicians.
Russell Thorburn
Russell Thorburn was the first poet laureate of Michigan's Upper Peninsula. The Marquette resident and Northern Michigan University professor has also been honored by the National Endowment for the Arts, and is the author of several books of prose and poetry. His newest poetry collection is called Somewhere We'll Leave the World (Wayne State University Press, 2017).
Linda Nemec Foster
Linda Nemec Foster is the author of eleven collections of poetry including The Lake Michigan Mermaid, Talking Diamonds, Amber Necklace from Gdansk, Listen to the Landscape, and Living in the Fire Nest. Foster was selected to be the first Poet Laureate of Grand Rapids, Michigan from 2003-2005. She is the founder of the Contemporary Writers Series at Aquinas College.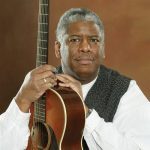 Rev. Robert B. Jones
Rev. Robert Jones, Sr. is a native Detroiter and an inspirational storyteller and musician celebrating the history, humor, and power of American Roots music. His deep love for traditional African American and American traditional music is shared in live performances that interweave timeless stories with original and traditional songs. For more than thirty years Robert has entertained and educated audiences of all ages in schools, colleges, libraries, union halls, prisons, churches, and civil rights organizations. At the heart of his message is the belief that our cultural diversity tells a story that should celebrate, not just tolerate.
Frederick Glaysher Reading Robert Hayden
FREDERICK GLAYSHER is an epic poet, rhapsode, poet-critic, and the author or editor of ten books. He is in charge of The Robert Hayden Estate & Archives. Glaysher studied writing under a private tutorial, at the University of Michigan, with the poet Robert Hayden and edited Hayden's prose and poetry. He holds two degrees from the University of Michigan, has lived and taught in Japan and on the Colorado River Indian Tribes Reservation in Arizona, traveled widely in China, was a Fulbright-Hays scholar to China and a National Endowment for the Humanities scholar on India.
A MAMMOTH 362 PAGE POETRY ANTHOLOGY OF MUSIC APPRECIATION
"While there have been countless books written about Detroit, none have captured its incredible musical history like this one. This collection of poems and lyrics covers numerous genres including jazz, blues, doo-wop, Motown, classic rock, punk, hip-hop, and techno. Detroit artists have forged the paths in many of these genres, producing waves of creative energy that continue to reverberate across the country and around the world. While documenting and celebrating this part of Detroit's history, this book captures the emotions that the music inspired in its creators and in its listeners. The range of contributors speaks to the global impact of Detroit's music scene—Grammy winners, Pulitzer Prize winners, Rock and Roll Hall of Fame inductees, and poet laureates all come together in this rich and varied anthology, including such icons as Eminem, June Jordan, Fred "Sonic" Smith, Rita Dove, Jack White, Robbie Robertson, Paul Simon, Nikki Giovanni, Philip Levine, Sasha Frere-Jones, Patricia Smith, Billy Bragg, Andrei Codrescu, Toi Derricotte, and Cornelius Eady." –Publisher's website