The Book Beat World Lit Reading Group Returns
"Books are mirrors: you only see in them what you already have inside you." ~ Carlos Ruiz Zafón
After a 10 month siesta our World Lit reading group will resume as a virtual meeting. This method will not be ideal for everyone, but until we can all safely meet in person, we will see how this works out. Shadow of the Wind is a book about books– and should make an interesting discussion. Books are in stock now and discounted 15%, mail orders are welcome and ship for $3 within the USA.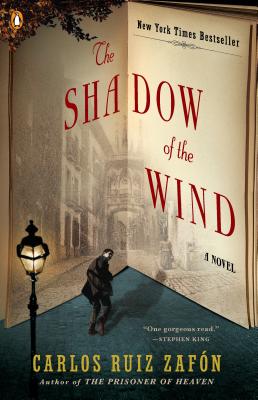 We will be trying out our first meeting online on: Wednesday, January 27th at 7PM. The platform has not been decided yet, but we will announce it in our January newsletter and email book group members the information and code to join the meeting. Our selection for January will be Shadow of the Wind by Carlos Ruiz Zafón. Since this will be a virtual meeting, we will accept participants from outside the area. Participants will need to RSVP at: BookBeatOrders@gmail.com — after you RSVP we will add you to our reading group subscription and send you notices of future meetings.
The Book Beat reading group has met monthly (except for the month of December) for over twenty years. Books are chosen by staff members or by suggestions with a focus on world lit and books in translation. Past selections can be viewed at: reading group selections.
"Anyone who enjoys novels that are scary, erotic, touching, tragic and thrilling should rush right out to the nearest bookstore and pick up The Shadow of the Wind. Really, you should."
—Michael Dirda, The Washington Post
"Gabriel Garcia Marquez meets Umberto Eco meets Jorge Luis Borges for a sprawling magic show." —The New York Times Book Review
Barcelona, 1945: A city slowly heals in the aftermath of the Spanish Civil War. Daniel, an antiquarian book dealer's son who mourns the loss of his mother, finds solace in what he finds in the "cemetery of lost books," a mysterious book entitled The Shadow of the Wind, by one Julián Carax. But when he sets out to find the author's other works, he makes a shocking discovery: someone has been systematically destroying every copy of every book Carax has written. In fact, Daniel may have the last of Carax's books in existence. Soon Daniel's seemingly innocent quest opens a door into one of Barcelona's darkest secrets–an epic story of murder, madness, and doomed love.
---
Carlos Ruiz Zafón (1964-2020) is a Spanish novelist and composer. Born in Barcelona, he has lived in Los Angeles, United States, since 1993, and works as a scriptwriter aside from writing novels. His first novel, El príncipe de la niebla (The Prince of Mist, 1993), earned the Edebé literary prize for young adult fiction.
In 2001 he published the novel La sombra del viento (The Shadow of the Wind), his first "adult" novel, which has sold millions of copies worldwide, more than a million copies in the UK alone. Since its publication, La sombra del viento has garnered critical acclaim around the world and has won numerous international awards. Ruiz Zafón's works have been published in 45 countries and have been translated into more than 30 languages. According to these figures, Ruiz Zafón is the most successful contemporary Spanish writer along with Javier Sierra (published in 42 countries) and Juan Gómez-Jurado.