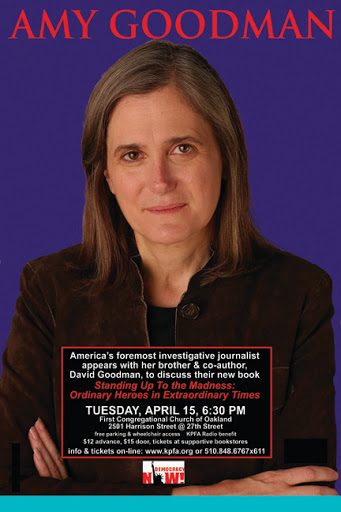 Amy Goodman, a keynote speaker at the Book Expo of America conference gave a stirring speech and presentation aimed at bringing awareness to independent booksellers across America. The following is a live report from day two of the BEA:
President of the ABA, Gayle Shanks of Changing Hands introduced Amy Goodman, co-host of Democracy Now! and co-author of Standing Up to the Madness: Ordinary Heroes in Extraordinary Times. Introducing Goodman, Shanks said, "[She] reminds me why I'm a bookseller, and how important it is to put authors, books, and the community together. Amy doesn't practice trickle-down journalism. She goes where the silence is and breaks the sound barrier."
Amy Goodman autographed copies of Standing Up to the Madness for a number of booksellers who were moved by her address. Goodman launched into her talk by declaring independent bookstores "sanctuaries of dissent … where people can go to get independent information." Disseminating a wide spectrum of information is especially critical now, she said, with a presidential election in the offing and when thousands of young men and women are being killed in Iraq.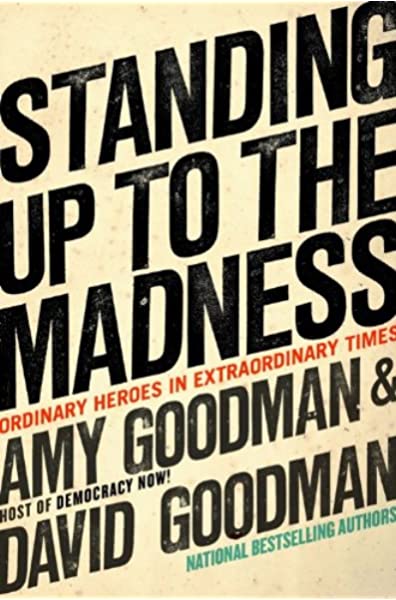 In outlining some of the stories of the ordinary people doing extraordinary things who are featured in Standing Up to the Madness, Goodman told the story of the four Connecticut librarians who successfully fought the U.S. government when they refused to relinquish patron records. She chronicled the experience of four students in Wilton, Connecticut, who when told by their principal they would not be performing their play based on the letters of U.S. soldiers who fought in Iraq, took their show to the New York stage. And she mentioned that, in 1955, Mamie Till Mobley stood up and demanded an open casket for her violently murdered son Emmett Till, so the public would know of, and see, the "brutality of racism." Goodman also went on tell the story of the White Rose, a pamphlet written during Nazi Germany by Christian students who protested against the Third Reich. Six of the core members, including brother and sister Hans and Sophie Scholl, were caught and beheaded. The motto of the White Rose was "We will not be silent."
"Independent booksellers and independent media are all part of the same media landscape, and they're all under threat," said Goodman, "That's a concern that cuts across political spectrums — conservative, liberal, progressive, independent…. the diversity of ideas, religions, and opinions in this country is our glory, is the strength of the U.S. And I think that's why independent bookstores, which are the sanctuaries of that diversity of opinion, are just so important. They are our intellectual watering holes."
Speaking out and standing up, said Goodman, was the coin of the realm for booksellers and librarians. "They are the freedom fighters of our time," she said, closing to a standing ovation. "We will not be silent. That motto should be the Hippocratic Oath of the media landscape. Democracy now!" -more of Amy Goodman's interview at: Bookselling This Week
Amy and David Goodman on Standing Up to Madness