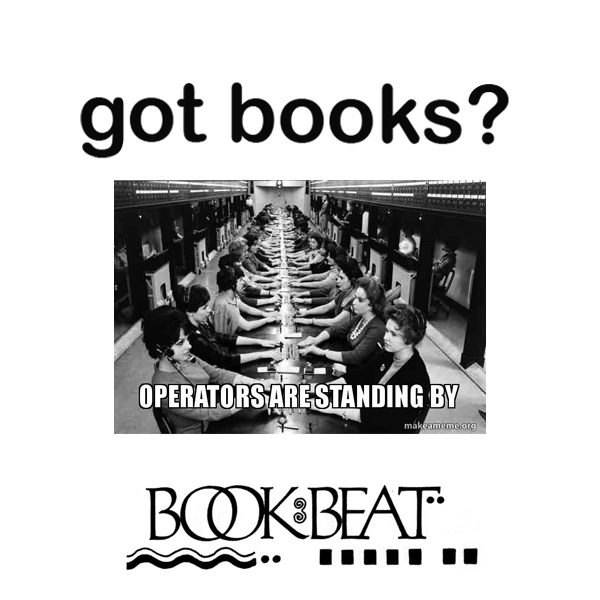 Dear Readers,
We hope you are well, safe, and finding new hobbies and discovering new great books.
The real heroes of this tragic moment, have been those in the medical field. The grave tragedy has been the destruction of those weakest and most vulnerable. Unfortunately our government has not reacted in the best interest of its people to alleviate suffering, and we are left to deal with this situation without leadership. The American people have been left behind by this current administration, one that only sees ways to fulfill its own selfish interests.
We are slowly adapting to this new reality, and learning through trusted news sources and experts in the medical field. Retailers everywhere are hurting, and Book Beat is also struggling through this pandemic.
The pandemic arrived like a perfect storm and our doors are now closed to the public. For 37 years we've been here for our local community; serving walk-in traffic, libraries, artists, parents, educators, children, and book lovers of every variety. We hope to still be here while we're healthy.
Sadly, we've had to temporarily trim our staff down to a skeleton crew and are learning online bookselling.
Before the virus attack, our income came mainly from walk-in traffic and the rest came from schools and educators. Now both income streams have dried up. We want to still be here when the pandemic is over, but running a bookstore without daily walk-in traffic is close to impossible.
We decided that selling books via mail order and curbside, could help us survive and serve our community. Your continued support for Book Beat is essential for us to be here tomorrow for you. The famous author Neil Gaiman, once said, "A town isn't a town without a bookstore. It may call itself a town, but unless it's got a bookstore, it knows it's not foolin' a soul."
We offer friendly (and SAFE!) curbside pickup during store hours and nationwide shipping for $3 a box. Safety is our main concern in getting books to you. Inside the store we practice safe distancing and are following CDC guidelines with a small two-person crew. Like many smaller bookstores we did not have a website ready to take orders. Luckily we discovered Bookshop.org –an indie co-op and friendly alternative to Amazon. It arrived for us just in time.
Here is a recent article on how Bookshop works: Thanks to Bookshop, There's No Reason to Buy at Amazon
The author James Paterson recently donated $500,000 to help save independent bookstores. "I'm concerned about the survival of independent bookstores, which are at the heart of main streets across the country," Patterson said. "I believe that books are essential. They make us kinder, more empathetic human beings. And they have the power to take us away — even momentarily — from feeling overwhelmed, anxious, and scared." —Huffington Post Patterson's support has been valuable and translated into a $750 check to us.
With the closing of schools and libraries, we felt a responsibility to step up and offer creative options for readers. Call us and talk to a real live bookseller who can take an order, suggest titles and answer questions.
A recent Forbes Magazine article commented on the 300 million children mow being homeschooled; "Education without schooling is not a crisis but an opportunity." We are trying to view this predicament in the same way — an opportunity to refine our online presence, and look at the books we buy in a closer, less commercial and more personal way –to reflect on what is essential, and allow great books to transform our lives. Rather than stopping book clubs, this may be the beginning of an online golden age of reading groups and sharing our thoughts with others.
At Book Beat we specialize in children's books, and can give expert care, selection and advice to those facing educational or homeschooling challenges. Before you go to Amazon, think about your community and what you are doing to enhance your neighborhood.
Taking special orders helps sustain us. If you have a book club, consider buying your books from us. When a community looses a bookstore, it chips away at our humanity.
We are not asking for a handout or a GoFundMe page (unless as a last resort). What we do ask, is that you think about reading a little more. Buy a book for a friend, family member or child in need. Use your time to reflect and be kind to others –find beauty and sustenance in books and culture. If you want us to be here after this disaster, please support us today.
The past few months have been a hectic life changer for us all. Let's stay healthy and read more books. Subscribe to our newsletter, recommend us to a friend.
We sincerely thank everyone who reached out and have shown concern for our welfare. Thank you for your continued kindness, support and love. We are here and will get through this together.
Virtual hugs,
–Cary, Colleen and the Book Beat staff #SaveBookstoresNow
"Books are in a way an ideal medium for this moment: Reading is a solitary act, and people who are sheltering in place may turn to books for escape, solace and connection." —New York Times
Here are ways to get in touch with us:
Order By Phone:
Calling us with an order is the best way to help. Our phone is: (248) 968-1190. Call us or send an email order to BookBeatOrders@gmail.com –we will try and get you the titles you need. If books are in stock, they can be picked up outside the door/curb-side, during our new store hours; Mon.-Sat. 10 AM-5 PM. Most books available at our distributer can arrive in 2-3 days. Publisher orders may be delayed. We will ship to any location within the USA for $3 an order.If you live close by or are in quarantine, we will try and deliver to your door.
Order Online:
We have created many new online catalogs through an affiliate program with Bookshop.org. Orders made online will not only profit Book Beat, but a percentage of sales will be shared with all independent bookstores. Our catalogs are a resource for getting books outside the clutches of Amazon. Visit our Detroit river "Amazon Free Zone" and shop amid 300 other independent booksellers — a rebel alliance fighting the Seattle empire. Browse 24 hours a day at: Bookshop.org/shop/Bookbeat
If you don't see what you're looking for, or the title is out-of-stock, please let us know and we will try and help.
Browse our catalogs and you'll find many books to help with homeschooling, beginning readers, middle school readers, science, math, games, puzzles and boredom busters. These books and games will help you and your children cope and get through.
Browse many of our bestselling books and new arrivals in a variety of subjects. We are adding new catalogs and titles daily. The Bookshop.org distributer is Ingram books, the same company that services independent bookstores with their own websites.
Disruptions in publishing are common. Most publishers are delaying releases to be fair to their authors and promotion schedules."Though online sales might provide a temporary lifeline, many in the industry are worried about the lingering loss to the literary world," explained a recent New York Times article.
For Audiobooks
For Audio Book fans, we have become an affiliate of LIBRO.FM& When you start a membership with code SHOPBOOKSTORESNOW, you'll get two audiobooks for the price of one ($14.99), and 100% of your payment will go to your local bookstore. This offer is good until the end of March, so please act soon!Any sales of audio books will help us out if the link to Book Beat is used.
Rare and Out of Print Books
For scarce out-of-print books, collectible art and children's books, please visit our Biblio.com shop. This site is owned and operated by indie bookstores to help indie stores. We update our inventory on Biblio daily and ship orders within 24 hours.
Follow Us on Face Book, Instagram and Twitter
We update our FB page daily with book news, and reviews of interest at: Facebook.com/bookbeat At Instagram, our posts are similar to Facebook, and slightly more subversive but without links or video. On Twitter we share interesting found links and updated events.
Please think of reviewing us on Yelp, Facebook or google. Reviews will help others discover Book Beat and that will help us to stick around.
What do we live for, if it is not to make life less difficult for each other?

– George Eliot