Some things are just too unjust for words, and too ambiguous for either speech or ideas. –Ralph Ellison, Invisible Man
1.Ralph Ellison, Invisible Man (1952)
Inexhaustible in its greatness, Ellison's novel tells you more about the complexities of African American identity and how race ricochets through the American experience than any other fiction or non-fiction. Ellison delivers the story — about an unnamed black protagonist who remains invisible because people simply refuse to see him — in transcendent prose rich in metaphor, feeling, nuance, and rhythm. (Further reading: Shadow and Act, Ellison's essential essay collection.)
2. Albert Murray, The Omni-Americans(1970)
Murray's penetrating collection of cultural essays remains as relevant today as when first published 50 years ago. Fearlessly dismantling limiting orthodoxies of the political and cultural left and right, he explores the centrality of black culture to mainstream America and the way in which American culture is a composite — "incontestably Mulatto" in his memorable phrase. (Further reading: Stomping the Blues, Murray's deep dive into the aesthetics of jazz.)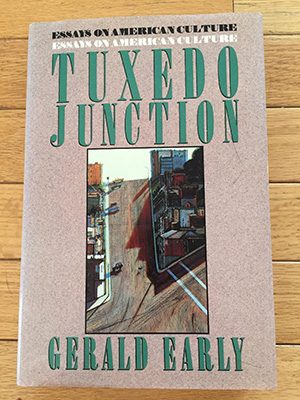 3. Gerald Early, Tuxedo Junction (1989)
Early, an eminent scholar of African American and American culture, covers a lot of territory in these revelatory essays — merciless takedowns of The Color Purple (film and book); virtuoso explorations of boxing's racial dynamics; insightful commentaries about Jesse Jackson, Langston Hughes, Amiri Baraka, Melville, and Jackie Robinson; and sophisticated meditations on jazzmen (Basie, Monk, Armstrong Hines, Mingus, Stitt) that anchor the music, its makers, and audiences within the intricate marrow of African American life and culture.
4. Nat Hentoff, Jazz Is (1976)
Reading Jazz Is at age 15 changed my life. I was so captivated by the vivid profiles of Duke Ellington, Charlie Parker, John Coltrane, and others that it made me want to write about the music. Hentoff captured their personalities, the emotional power of their music and the political economy of jazz. You can draw a straight line between Jazz Is and my own Jazz from Detroit.
5. John Rockwell, All American Music (1983)
Rockwell's learned eclecticism proved liberating to critics who followed in his wake, including me. These 20 profiles sweep confidently though the full landscape of contemporary American composition — from Elliott Carter and Milton Babbitt to Philip Glass, Ornette Coleman, Stephen Sondheim, Laurie Anderson, and The Talking Heads. Rockwell gets at core aesthetic issues in tight, lucid prose.
6. John McPhee, Pieces of the Frame (1975)
McPhee elevates nonfiction writing — journalism — into art. These 11 magazine pieces from the 1970s range in subject from the Loch Ness monster to road-kill eating conservationists in Georgia. McPhee's expressive command of structure, ability to breakdown technical processes into meaningful prose, and skill at delineating scenes and character — without shining a spotlight on himself — are peerless.
Reader, by now you must be sure
you know just where we are,
deep in symbolic woods.
Irony, self-accusation,
someone else's suffering.
The search is that of art.
–William Matthews, from Search Party
7. William Matthews, Search Party: Collected Poems (2005)
Matthews' death at 55 in 1997 robbed America of one of its most gifted poets. Full of sly wit, sensuous imagery, intense self-awareness, and sometimes startling beauty, Matthews' poetry is alive to the world. It unfolds with the casual mastery and flowing rhythm of a sublime jazz pianist. In fact, jazz is a favorite subject, as well as wine, sex, love, and human foibles. No wonder I love his work.
I've had it with these cheap sons of bitches who claim they love poetry but never buy a book.
–Kenneth Rexroth
8. Kenneth Rexroth, Selected Poems (1984)
An American treasure, Rexroth is often described as the Godfather to the Beat generation, but this shortchanges his self-invention and originality. Funneling the erudite and the everyday into direct language, Rexroth speaks with an emotional depth and soaring lyricism across myriad forms. His intense nature poetry and erotically charged love poems will leave you breathless. This slender but well-edited survey (by Bradford Morrow) brings together six decades of Rexroth's finest work.
9. Leo Marx, The Machine in the Garden (1964)
This landmark work of literary and cultural criticism hit me like a lightning bolt when I first read it as an undergraduate. Marx explores the impact of the industrial revolution on the 19th Century American literary imagination — the intrusion of technology (the machine) in America's cherished pastoral ideal (the garden). The way he connects the dots between history, culture, and the works of Hawthorne, Twain, Melville, Emerson and others was a revelation to me.
10. Kirk Varnedoe, A Fine Disregard (1990)
Varnedoe, a brilliant art historian and curator, burrows into what makes modern art modern. With dazzling authority, he rejects explanations that relegate artists to the role of mere pawns reflecting larger social, political, and technological forces. He champions instead the primacy of an artist's imagination. Though his subject concerns painting and sculpture, his ideas, especially how innovations often spring from a re-ordering of fundamentals, deepened my understanding of all the arts.
Mark Stryker is the author of Jazz from Detroit (2019) and Destiny: 100 Years of Music, Magic, and Community at Orchestra Hall in Detroit (2019). He was an arts reporter and critic covering classical music, jazz, and visual arts with the Detroit Free Press from 1995-2016.
A selection of Stryker's favorite books in print appears in our Bookshop.org catalog.