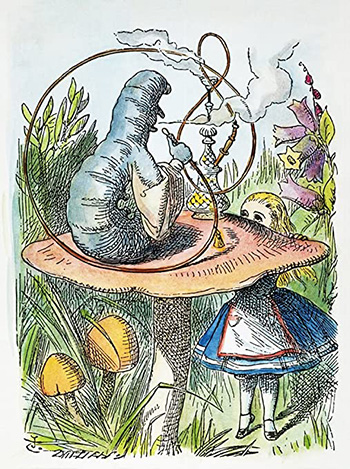 Lewis Carroll–Alice In Wonderland is one of my favorite books. The illustrations of John Tenniel were always most important to me since baby-hood and the strangeness help put me on a path of seeking the odd and offbeat.
James Joyce–Finnegans Wake— I have waded through this a few times. It is kind of like looking at every square inch of a Jackson Pollock with thousands of hidden footnotes or like staring at the surface of water when in a row boat. I am not an intellectual, but I read it anyway a few times and it does finally deliver something in little piles of references or topics revisited. And the musicality of the thing.
J G Ballard— Day of Creation— A later book. Most of his books have a similar structure– where consumers get what they want with chaotic outcomes led by charismatic madmen or where human life is threatened by some aberration of environment that is singular.
Philip K Dick— The Zap Gun— Like Zappa's music, Dick's books, and Ballard's, are of a piece, seems to me. I read them all fast when I was young and so they blend together. Near future spiritual idea fiction. Elsewhere, his exegesis is a slog, but one I enjoyed.
Lerone Bennett–Black Power USA— Lately I have been reading history to try to get a handle on America. This traces the moment when black people stepped into positions other than servitude for a moment after the Civil War and were crushed by the Proud Boys of the day.
David M Chalmers—Hooded Americanism— An exhaustive history of the klan. This is a slow read for me, but very interesting to see the various tides of racism being enabled by advertising, franchising and the the selling of outfits and hate by evangelistic ministers.
Perrine and Charles Herve-Gruyer— Miraculous Abundance— Explores in practice, ideas of micro farming derived from Paris city farms of past centuries. Ideas about interacting crops, soil enrichment rather than soil depletion farming, aqua-culture and forest planting. I am interested in small scale positive solutions to living. Micro-ecologies.
Ed Sanders— Shards of God— Crazy sci-fi recounting of the riots of the 1968 Democratic convention by someone who saw it clad in LSD spinach. Ed Sanders is always of interest to me. He is a peculiar writer, story teller, singer and an under-valued national treasure.
Michael Tisserand—George Herriman; A Life In Black and White— It was always suspected that the greatest cartoonist of the 20th century was of mixed race and this book works to prove that truth and to address the encoded issues of race in the wonderful Krazy Kat comics strips.
Flann O'Brien—At Swim Two Birds— I don't know if this will happen to you but I almost died laughing a few times reading this faulty novel, supposedly written by a lounging student, that lurches around like a runaway Stanley Steamer.


Gary Panter was born in Oklahoma and raised in Texas. He studied painting at the East Texas State University and moved to Los Angeles in 1977. In L.A. he worked on multiple fronts, including painting, design, comics, and commercial imagery, establishing a pattern of creating across traditional boundaries, and in multiple media, that endures to this day.
A selection of Gary Panter's favorite books can be found in our online catalog at Bookshop.org.