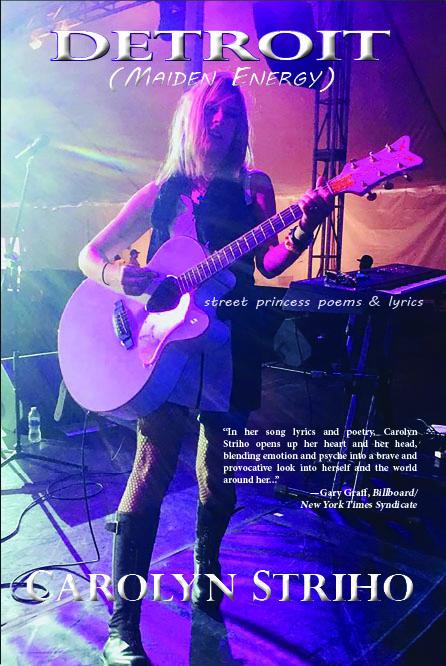 Join Detroit musican and songwriter, Carolyn Striho, at The Book Beat (26010 Greenfield Rd) on November 3rd from 3-4pm, for the release of her new collection of poetry and song lyrics, Detroit (Maiden Energy).
Striho has performed/recorded with Patti Smith, Don Was, Yoko Ono, Iggy Pop, Steve Earle, Tori Amos, Sinead O'Connor, The Ramones, Dave McMurray, Thornetta Davis, Grace Jones, Sponge and others and has performed in London, Rome, Japan, Toronto, Chicago, Lollapalooza, Detroit Jazz Festival, Arts Beats & Eats and more.
"Striho writes gorgeous psychedelic pop songs that come from the silver edge of midnight." — Thom Jurek, All Music Guide
"Carolyn Striho is the personification of Detroit Rock energy, charisma, beauty and talent. On stage, she is a force of nature, but this collection of her poems and lyrics allows us to experience this dynamic artist in a more intimate and personal way. Carolyn Striho is long overdue for a book just like this!" — Ann Delisi, Host, Essential Music, WDET-FM
"Warm and intoxicating, here's a singer who means it! Striho needn't have bothered naming her new album Honesty. It should be apparent to anyone who listens to the lovingly constructed record there's barely a note played or sung that Striho doesn't mean." — Brett Callwood, Detroit Metro Times
---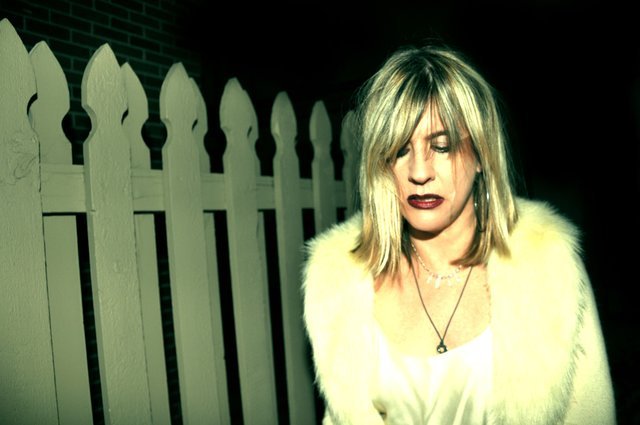 Carolyn Striho has been creating music in punk, folk, rock and roll, jazz, blues as a singer/songwriter musician and performer. She has received 11 Detroit Music Awards, a Billboard Music Award and was on the Grammy Awards 2018 Ballot for Best Rock Album for her latest album Afterthought.
She has been nominated for over sixty Detroit Music Awards since their inception in 1988, winning back to back wins for Outstanding Rock/Pop Songwriter in 2016 and 2015, Outstanding Acoustic/Americana Album in 2014, Outstanding Rock/Pop Album in 2010 and more.
She lives and performs in Detroit, with her guitarist/husband Scott Dailey.