Happy Thanksgiving & Happy Reading everyone!
Book Beat will be closed on Thanksgiving Day–Thursday, the 22nd. Enjoy your turkey day!
"Literacy is a bridge from misery to hope." —Kofi Annan
"Once you learn to read, you will be forever free." —Frederick Douglass
"Any book that helps a child to form a habit of reading, to make reading one of his needs, is good for him." —Maya Angelou
Below are some of our recent favorites for holiday reading and gift-giving… stop by soon for the best selection!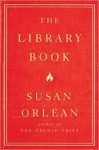 The Library Book by Susan Orlean
"Brimming with her signature wit, insight, compassion, and talent for deep research, The Library Book is Susan Orlean's thrilling journey through the stacks that reveals how these beloved institutions provide much more than just books—and why they remain an essential part of the heart, mind, and soul of our country. It is also a master journalist's reminder that, perhaps especially in the digital era, they are more necessary than ever."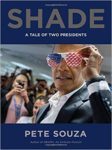 Shade: A Tale of Two Presidents by Pete Souza (SIGNED copies available!)
"As Chief Official White House Photographer, Pete Souza spent more time alongside President Barack Obama than almost anyone else. His years photographing the President gave him an intimate behind-the-scenes view of the unique gravity of the Office of the Presidency–and the tremendous responsibility that comes with it."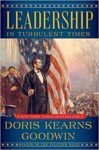 Leadership: In Turbulent Times by Doris Kearns Goodwin
"Are leaders born or made? Where does ambition come from? How does adversity affect the growth of leadership? Does the leader make the times or do the times make the leader?
In Leadership, Goodwin draws upon the four presidents she has studied most closely—Abraham Lincoln, Theodore Roosevelt, Franklin D. Roosevelt, and Lyndon B. Johnson (in civil rights)—to show how they recognized leadership qualities within themselves and were recognized as leaders by others. By looking back to their first entries into public life, we encounter them at a time when their paths were filled with confusion, fear, and hope."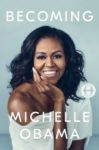 Becoming by Michelle Obama
"In her memoir, a work of deep reflection and mesmerizing storytelling, Michelle Obama invites readers into her world, chronicling the experiences that have shaped her—from her childhood on the South Side of Chicago to her years as an executive balancing the demands of motherhood and work, to her time spent at the world's most famous address. With unerring honesty and lively wit, she describes her triumphs and her disappointments, both public and private, telling her full story as she has lived it—in her own words and on her own terms. Warm, wise, and revelatory, Becoming is the deeply personal reckoning of a woman of soul and substance who has steadily defied expectations—and whose story inspires us to do the same."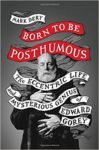 Born to be Posthumous: The Eccentric Life and Mysterious Genius of Edward Gorey by Mark Dery
From The Gashlycrumb Tinies to The Doubtful Guest, Edward Gorey's wickedly funny and deliciously sinister little books have influenced our culture in innumerable ways, from the works of Tim Burton and Neil Gaiman to Lemony Snicket. Some even call him the Grandfather of Goth
Based on newly uncovered correspondence and interviews with personalities as diverse as John Ashbery, Donald Hall, Lemony Snicket, Neil Gaiman, and Anna Sui, BORN TO BE POSTHUMOUS draws back the curtain on the eccentric genius and mysterious life of Edward Gorey.
Unsheltered: A Novel by Barbara Kingsolver
"Unsheltered is the compulsively readable story of two families, in two centuries, who live at the corner of Sixth and Plum in Vineland, New Jersey, navigating what seems to be the end of the world as they know it. With history as their tantalizing canvas, these characters paint a startlingly relevant portrait of life in precarious times when the foundations of the past have failed to prepare us for the future."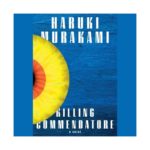 Killing Commendatore: A Novel by Haruki Murakami
"In Killing Commendatore, a 30-something portrait painter in Tokyo is abandoned by his wife and finds himself holed up in the mountain home of a famous artist, Tomohiko Amada. When he discovers a previously unseen painting in the attic, he unintentionally opens a circle of mysterious circumstances. To close it, he must complete a journey that involves a mysterious ringing bell, a two-foot-high physical manifestation of an Idea, a dapper businessman who lives across the valley, a precocious 13-year-old girl, a Nazi assassination attempt during World War II in Vienna, a pit in the woods behind the artist's home, and an underworld haunted by Double Metaphors.
A tour de force of love and loneliness, war and art – as well as a loving homage to The Great Gatsby – Killing Commendatore is a stunning work of imagination from one of our greatest writers."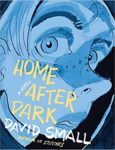 Home After Dark by David Small (SIGNED copies available!)
"Wildly kaleidoscopic and furiously cinematic, Home After Dark is a literary tour-de-force that renders the brutality of adolescence in the so-called nostalgic 1950s, evoking such classics as The Lord of the Flies. Thirteen-year-old Russell Pruitt, abandoned by his mother, follows his father to sun-splashed California in search of a dream. Suddenly forced to fend for himself, Russell struggles to survive in Marshfield, a dilapidated town haunted by a sadistic animal killer and a ring of malicious boys who bully Russell for being "queer." Rescued from his booze-swilling father by Wen and Jian Mah, a Chinese immigrant couple who long for a child, Russell betrays their generosity by running away with their restaurant's proceeds.
Told almost entirely through thousands of spliced images, once again "employ[ing] angled shots and silent montages worthy of Alfred Hitchcock" (Washington Post, on Stitches), Home After Dark becomes a new form of literature in this shocking graphic interpretation of cinema verité."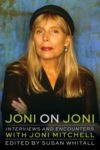 Joni on Joni: Interviews and Encounters with Joni Mitchell by Susan Whitall (SIGNED copies available!)
Joni on Joni is an authoritative, chronologically arranged anthology of some of Mitchell's most illuminating interviews, spanning the years 1966 to 2014. It includes revealing pieces from her early years in Canada and Detroit along with influential articles such as Cameron Crowe's never-before-anthologized Rolling Stone piece. Interspersed throughout the book are key quotes from dozens of additional Q&As. Together, this material paints a revealing picture of the artist— bragging and scornful, philosophical and deep, but also a beguiling flirt.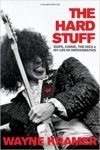 The Hard Stuff by Wayne Kramer (SIGNED copies available!)
"Kramer's story is (literally) a revolutionary one, but it's also the deeply personal struggle of an addict and an artist, a rebel with a great tale to tell. The '60s were not all peace and love, but Kramer shows that peace and love can be born out of turbulence and unrest. From the glory days of Detroit to the junk-sick streets of the East Village, from Key West to Nashville and sunny L.A., in and out of prison and on and off of drugs, his is the classic journeyman narrative, but with a twist: he's here to remind us that revolution is always an option."