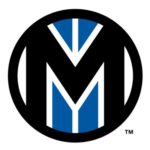 The Motor City Muscle (MCM) rock festival Aug 17-19 at Hart Plaza, is an event orchestrated by producer Carol Marvin. Her brain-child of combining a FREE rock music festival with muscle car eye-candy, and extending the Dream Cruise — bringing it to downtown Detroit is a summertime gift to the city. In a meeting this past June, Marvin asked me to curate a stage at MCM — literally in the underground of Hart Plaza.
What is it we want from music?
A vital experience, a transcendent beauty, a mysterious connection–a catharsis—a noise to shake us out of our frozen sea. New Music to unite and excite a free-thinking community.
The Underground is an area for local music, commerce and community. It's Detroit vaudeville. A wild and wooly weirdness. An inner-festival beneath the muscle of MCM for deeper diving musicians, vinyl record dealers, artists and collectors. A space to honor and praise the past.
"the underground" celebrates the local avant-garde; from Psych-pop to Blues; from Big band to free jazz; Space rock to John Cage, Occult Metal, Vampire rap, noise, cornball electronica, mechanical gamelan, drone music, poetry, puppet shows, comedy, trash video-art and more. A Michigan mystery revival of sound swolled by the river.
A free music weekend as a dystopian summer nightmare, an alternative to dream cruise lock-down, highlighting the talent and diversity of a strange beautiful city.
Opening the Underground space on Friday, Aug. 17th at 1:00 PM will be a film screening of Louder Than Love: The Grande Ballroom Story. Introducing the movie will be the film's director Tony D'Annunzio. It's FREE!! TAKE IT!!
Music at the Underground
John Sinclair, Planet D-Nonet, Chatoyant, ML Liebler, and Danny Kroha are the local griots of roots music, guardian poets of jazz, free-improv and blues, masters of rhythm and story, exploring the juicy riches of the past, keeping the local scene alive and vital.
The Matthew Smith Group, Wiccans, Impaler, Devotional and Windy & Carl, perform within an established vocabulary of songwriting and expand it outward and inwardly, subverting genres of pop rock, psychedelia, heavy metal, drones, mystic, rap and dark ambient. All using different systems yet continuing traditions, creating new forms from the familiar.
Ape-Technology, Empool, Cotton Museum, Michael Dykehouse, Ben Miller's Porcelain Hammer, Nate Young & Alivia, and Stephen Dueweke (an interpreter of John Cage) use traditional instruments, no instruments, drones, or electronic technology, combining new techniques and chance, exploring music as mutated, other-worldly, abstract, silent, noisy and transforming–constructing invented landscapes of sound and imagination.
Jimbo Easter's Living Furniture, Dune Tuner & The Hairy Eyeball, Maurice Greenia's Spaceband, and Princess Dragon-Mom are performative-musicians, using musical improv in theatrical ways, merging the boundaries of live music into radical theaters of action and mutant body politics, using props, noise, shadows and visual astonishment.
A schedule of musicians and starting times can be found at: Motor City Muscle
Authors at the Underground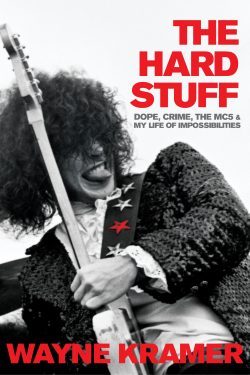 Musician-turned-author Wayne Kramer will be performing/ discussing his autobiography The Hard Stuff with producer-musician Don Was, along with Tino Gross and Ty Stone on Saturday,Aug. 18, at 6:15 PM, at the Underground stage, to mark the official Detroit book launch for The Hard Stuff. Uncovering the raw untamed stories from the MC5, The Hard Stuff is a riveting and redemptive saga–an essential inside read on the MC5.
If you're unable to attend and would like to order please contact Book Beat at (248) 968-1190/ or order from this review page: Cracking the Hard Stuff.
Wayne Kramer's story is an edgy tale of rock 'n' roll redemption. The MC5 crystallized the '60s counterculture movement at its most volatile and basically invented punk rock music. But Wayne's life proved to be as chaotic as his groundbreaking guitar playing. Rogue, rascal, rebel, revolutionary, artist, addict, inmate, poet, prisoner, and now proud papa, Brother Wayne Kramer is one of the wisest people I know, and he has earned that wisdom the hard way. The world needs to know this man's story. Here it is. —Tom Morello, guitarist of Rage Against the Machine, Audioslave, and Prophets of Rage
Kramer played an intrinsic role in the early institution of the punk rock movement, and has since released ten solo albums and been named one of Rolling Stone Magazine's top 100 guitarists of all time.If you're into rock and roll history then I wouldn't miss out on this one. It sounds like a hell of a read. –Forrest Cooke, Dying Scene
Former MC5 guitarist Wayne Kramer is lucky to be doing this interview — lucky to be alive. And he knows it. The legendary guitarist went from groundbreaking rocker to drug addict to prison inmate to would-be rock 'n' roll casualty in record time. Then, something magical happened. Mr. Kramer rediscovered his purpose in life: music and its ability to rehabilitate and heal. –Wane Kramer interview in The Washington Times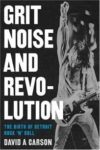 David Carson, author of Grit, Noise and Revolution: The Birth of Detroit Rock 'n' Roll, will give a multi-media presentation on Friday, August 17 at 5:15 PM.

What the book does magnificently is provide the context and show the connections within a music scene filled with powerful DJs, club owners, label heads and – oh, yeah – an abundance of badass visionary musicians. – Metro Times Detroit
A definitive history of Detroit's early rock scene…. Carson spends considerable space chronicling the rise of legendary bands such as the MC5, Iggy, and Alice Cooper, and he recounts the downfalls…. – Detroit Free Press
Michael Zadoorian will present selections from his latest novel Beautiful Music with a musical backdrop provided by Grammy and Oscar Award winning musician/composer Luis Resto, on Saturday, Aug. 18 at 8:00 PM. Zadoorian is a primary Detroit novelist, using the city as his canvas. In Beautiful Music, Zadoorian paints the background of 1970s Rock City in a mystic-realist manner. Beautiful Music evokes the passionate and obsessive relationship of young high-schooler Danny Yzemski to the Detroit sound, a coming-of-age story at once recognizable, entertaining and convincing.
"His third novel — Beautiful Music, about a radio-loving teen's transformation through music during the early '70s in Detroit . . . [is] rich with Detroit details (Korvette's, Bill Bonds, Iggy Pop), [and] follows Danny through racial tensions at high school, his changing body and his imploding family life."
—Detroit Free Press
"Zadoorian takes us back to Detroit in the 1970s, which was still throbbing from the 1967 rebellion, and was in the throes of the energy crisis and the sexual revolution. Protagonist Danny Yzemski finds that growing up in such times can be . . . complicated. But with a little help from Iggy Pop, the MC5, and Led Zeppelin, he finds just the boost he needs to survive—and even grow a bit."
—Detroit Metro Times
Susan Whitall will present a multi-media program of her two books Fever: Little Willie John's Fast Life, Mysterious Death and the Birth of Soul and The Women of Motown. Her presentation will begin Saturday, Aug. 18, at 1:00 PM.
Little Willie John lived for a fleeting 30 years, but his dynamic and daring sound left an indelible mark on the history of music. His deep blues, rollicking rock 'n' roll and swinging ballads inspired a generation of musicians, forming the basis for what we now know as soul music.
In this, the first official biography of one of the most important figures in rhythm & blues history, author Susan Whitall, with the help of Little Willie John's eldest son Kevin John, has interviewed some of the biggest names in the music industry and delved into the personal archive of the John family to produce an unprecedented account of the man who invented soul music.
"Little Willie John is the soul singer's soul singer." – Marvin Gaye
"My mother told me, if you call yourself 'Little' Stevie Wonder you'd better be as good as Little Willie John." – Stevie Wonder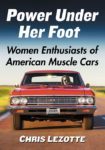 Chris Lezotte is a scholar and car expert. She will present her book Power Under Her Foot: Women Enthusiasts of American Muscle Cars on Sunday, August 19 at 12:45 PM. This is the first book to show how women interact and relate to American muscle cars.
Since their introduction in 1964, American muscle cars have been closely associated with masculinity. In the 21st century, women have been a growing presence in the muscle car world, exhibiting classic cars at automotive events and rumbling to work in modern Mustangs, Camaros and Challengers.Informed by the experiences of 88 female auto enthusiasts, this book highlights women's admiration and passion for American muscle, and reveals how restoring, showing and driving classic and modern cars provides a means to challenge longstanding perceptions of women drivers and advance ideas of identity and gender equality.
"This 190-page softcover details, through the experiences of 88 female musclecar enthusiasts, how women challenge the dominant stereotypes that limit their participation in the world of cars. As a small group representing a larger population, these women have proven themselves as engaged, knowledgeable, legitimate hobbyists who continue to redefine what it means to be a female driver. You don't have to be a gender-identity scholar to find this topic fascinating, and this book an important read." –Speedobilia, Hemmings Motor News
"In American culture, we tend to think of the woman driver in a very limited – soccer mom with a minivan – kind of way," says Lezotte. "In this book, I am attempting to show a very different – and perhaps surprising – aspect of women's car ownership. As I discovered when collecting these car stories, women love the American muscle car not only for its power and performance, but for the way it makes them feel while driving, for its ability to present a different side of their personalities, and for the experiences and relationships the car makes possible." –review in DBusiness
A Motor City native, Chris Lezotte spent much of her past life in the ad business as a VP Creative Group Supervisor, creating award-winning commercials for clients such as Buick and GMC Truck. After exiting her advertising career, Chris completed a Master's degree in Women's and Gender Studies at Eastern Michigan University in 2009, followed by a PhD in American Culture Studies at Bowling Green State University in 2015 [at the age of 66!] Chris was awarded a 2015-2016 Center for Popular Culture Studies Research Fellowship at BGSU and has recently been accepted into the National Coalition of Independent Scholars [NCIS]. Both of these appointments have provided her with the opportunity to continue her groundbreaking research on the subject of women and cars.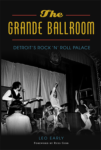 Leo Early will give a multi-media presentation for his book The Grande Ballroom: Detroit's Rock 'n' Roll Palace on Sunday, August 19 at 5:30 PM.
In the 1920s, a jewel of Detroit entertainment arose on the Westside—the Grande Ballroom. The venue flourished under the ownership of infamous gambler Harry Weitzman and management of dance scion Paul Strasburg. The advent of rock 'n' roll pushed the ballroom into hard times, but in 1966, local schoolteacher and disc jockey Russ Gibb resurrected it with the promise of live rock music. The new
psychedelic ballroom style attracted scores of suburban baby boomers and helped launch the careers of local legends like the MC5, Iggy Pop, Alice Cooper and Ted Nugent. Soon the ballroom's prestige attracted international acts like Cream, the Who and the Jeff Beck Group. Detroit music history expert Leo Early celebrates this beloved venue.
Leo Early is an author, musician, historian and preservationist. He enjoys researching and writing about Detroit history, focusing especially on Detroit's rise and reputation as a music capital. In 2003, Leo launched the GrandeBallroom.com to share his research, and the result was an unexpected groundswell of interest in the ballroom. Early has since met and corresponded with many who experienced the Grande firsthand and, in so doing, has inadvertently become a subject-matter expert on this building, a nexus of Detroit music.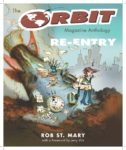 Rob St. Mary will present a multi-media presentation of his book Orbit: The Magazine Anthology on Friday, August 17, at 5:30 PM.
With a mischievous globe-headed mascot that appeared in every issue and even on Quentin Tarantino's T-shirt in Pulp Fiction, Orbit was an instantly recognizable arbiter of 1990s Detroit culture. But its irreverent tone and unique editorial features could be traced to two earlier local publications from creator Jerry Peterson, a.k.a. Jerry Vile—White Noise (1978–1980) andFun: The Magazine for Swinging Intelectuals [sic] (1986–1990). In The Orbit Magazine Anthology: Re-Entry, author Rob St. Mary details the full run of White Noise, Fun,and Orbit, collecting two decades' worth of Detroit's alternative publishing history into an oversized, heavily illustrated volume that situates the publications in the city's pop culture and media history.
A fascinating secret history of Motor City punk.– Mark Binelli, author of Detroit City Is the Place To Be
Released in early September 2015, "The Orbit Magazine Anthology" is Rob's first book The four year passion project focused on reprinting and telling the stories related to creation of Orbit, Fun, and White Noise magazines, their eclectic staffs, and prankster ringleader "Jerry Vile" Peterson. The book was selected by the Library of Michigan as one of 20 Michigan Notable Book Award winners for 2016. Rob St. Mary will have a booth in the Underground and will be selling his book.
Rob lives in Hamtramck with his wife, Erin, and their two cats – Holly & Max.
John Sinclair will appear on the Underground stage on Friday at 3:00 PM with a set of poetry backed by saxophonist Johnny 'Showtime' Evans. Sinclair will also close the night as a special guest alongside Planet D-Nonet at 9:00 PM.
Poet, blues and jazz historian, former manager of the MC5, radio host, and political activist all describe John Sinclair, but the consistent profile is one of a dedicated music enthusiast. Sinclair was born October 2, 1941, in Flint, MI, where he discovered rhythm & blues radio as a grade schooler. Disc jockeys like the Frantic Ernie D possessed the gift of consistently being able to speak in rhyme. —AllMusic.Com
Radio Free Amsterdam founder, producer, multiple host and program director John Sinclair is a poet from Michigan who has been programming music for his listeners since 1958 when he started spinning records at after-school record hops and house parties around his home town as Frantic John—Flint's Youngest Disc Jockey….Sinclair produces a new episode of The John Sinclair Radio Show every Monday from locations all over the world, with home base at the 420 Cafe in Amsterdam and programs emanating from Amsterdam, London, Paris, Rome, Genoa, Florence, Barcelona, Antwerp, Tokyo, Santiago, New York City, Los Angeles, Detroit, New Orleans, Chicago, Seattle, New England and points in between. –Radio Free Amsterdam
Underground Music Shops
Vinyl record dealers from Street Corner Music, Found Sound and Stormy Records will join artists Leni Sinclair, Laura Grimshaw (representing the art of Gary Grimshaw), Carl Lundgren and Dennis Loren, -all exhibiting original '60s art, photography and music posters.
Other venders will include; button, poster and ephemera dealer Morry "the Button Man" Greener, Lost in Sound makers of Detroit school tee-shirts, the Jett Plastic Recording label, Punk Rock historian and ephemera dealer Rob St. Mary, and the Book Book bookstore.